back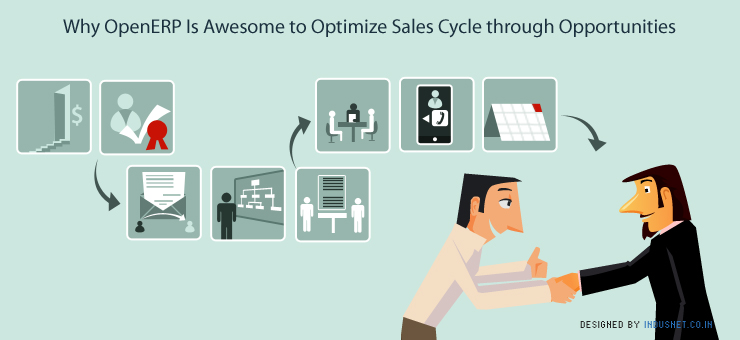 Design
Web Development
Why OpenERP Is Awesome to Optimize Sales Cycle through Opportunities
The sales cycle often confuses managers and executives alike. It is no wonder that most people depends upon enterprise resource planning solutions to handle all the data and to make contacts with leads, opportunities, customers and clients.
Software programs like OpenERP are very important and crucial in managing the health of sales cycles and to optimize your sales cycle, you will need to use software programs like OpenERP. OpenERP is an open source enterprise resource planning software which has often been described as one of the best tools to drive sales and increase productivity. It is a well known fact that increased productivity also leads to increased profitability.
How OpenERP Helps You Convert Leads into Sales Opportunities
OpenERP is specifically designed to help you to convert your leads into opportunities. Leads are usually handled by the dozens but when a program identifies opportunities, they are usually contacted on a one-to-one basis so that negotiations can take place that result in sales. Opportunities can be connected to email gateways in OpenERP and each time an email is sent and the lead responds, they may be added to the list of opportunities.
When it happens that a person is not responding to repeated sales emails, you may remove that person from the list of leads altogether. OpenERP is designed to help you choose whether you want to create a new partner or merge a contact with an existing partner. This allows you to know where a contact belongs. Once you know that a lead is certainly interested in what you are offering, you can mark them as opportunities in OpenERP.
OpenERP Helps in Sales Organization
If your sales organization is composed of several teams and individuals, you can make sure that OpenERP divides them according to certain criteria. This may include different products, different markets, certain demographics and also particular clients. Sales performance tracking can be done based on such reorganization which OpenERP helps you with.
OpenERP and Defining Key Steps of Sales Cycle
OpenERP allows you to create sales cycle that is unique to your company or organization. Each company works differently and thus OpenERP conveniently modifies itself based on how you prefer to work. OpenERP helps you to identify different stages and for each stage you can define certain criteria. Only when these criteria are met will OpenERP move to the next stage. For instance, you can define a stage as a territory which segments your opportunities.
When interest is generated or when you know they are interested, you may move them up to the stage of 'Qualified'. From there, you might want to move them up the ladder for 'Sales Proposition', where you can identify what the opportunity actually wants and if you can meet the demands of the client or customer. The next stage in OpenERP could be 'negotiations', which help you to know for sure if this opportunity will become a customer. Once you know that the opportunity has agreed to your sales proposition during negotiations, you can mark him or her as 'Customer'.
The next option would be to plan your next actions. These actions may be automated and OpenERP can also help you to plan your meetings and calls effectively. It all depends on timing and the right form of communication. OpenERP automates many of these procedures so that you do not need to spend a lot of time over it. Finally, you can get OpenERP to schedule and close dates. This will help you to know what is going on with certain clients and how best it is to move forward to increase revenue.
Sales cycle differs from company to company and every organization is not the same. OpenERP helps you to define your goals, your plans and your targets so that sales organization can be automated to the maximum level possible. OpenERP ensures that automation is as non-intrusive and robotic as possible as it involves human actions and decisions as well. This is what sets OpenERP apart from the rest of the software programs. If you would like to know which ERP solution is the best for your company, do contact our professionals. There are no one-fit-for-all software programs that can help every company's requirements but professional guidance will help you to choose and install the right software for your business.
Subscribe to our Newsletter