back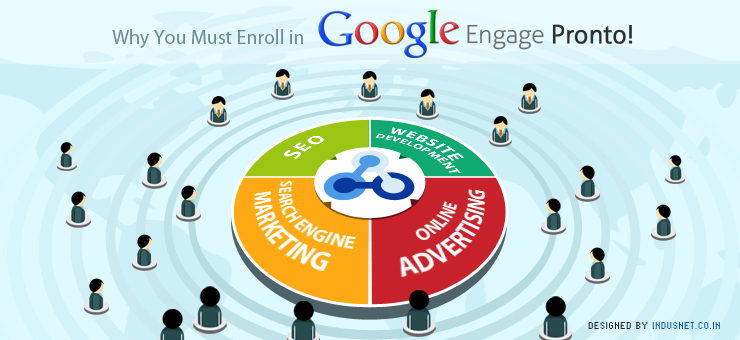 Internet Marketing
Marketing
Why You Must Enroll in Google Engage Pronto!
There is no dearth of Internet companies that help clients and businesses to effectively manage social media, SEO and SERP. These companies often depend upon not only their expertise which is no doubt commendable but also external factors like algorithms and rules that search engines often reveal. When we talk about search engines, Google can't be left far behind and is certainly the most important search engine we must take notice of. Google Ads for instance is one of the most important revenue drivers not only for small online companies but also publishing houses and large corporations. With that in mind, the SEO professional or a company that provides web related services to clients are often at loss, due to lack of information and support.
What Is Google Engage?
Google Engage is a great service that helps Internet companies to assist their clients better. Google Engage helps a company to grow with the help of an AdWords consultant and the registered person or company will gain access to phone support, webinars and online training sessions. All these information and material is provided by Google, which is undoubtedly very helpful to Internet companies.
Companies that offer Search Engine Optimization, Website development, online advertising and search engine marketing will doubly benefit from Google Engage as they will not only learn tricks and tips from the horse's mouth but will also be able to seek help regarding specific issues that concern their clients. In short, Google Engage is what every online marketing manager or SEO professional wished existed. In fact, there is also an opportunity to become a certified partner in order to insert dynamic keywords and earn badges, perks and freebies just for being a partner.
Google Engage for SEO Professionals
Google Engage is just right for anyone who seeks answers about AdWords, SEO and web marketing and wants information directly from the horse's mouth, which is Google. In fact, our SEO professionals have long maintained that following what Google has always asked web publishers to do, is the right way to go ahead. Unfortunately, what Google advises is a little difficult for most web professionals, small businesses and companies to understand. This is exactly where SEO professionals and Internet professionals will gain by signing up for Google Engage and helping those very clients that they couldn't help earlier. The only catch is, you need to be based either in Canada or the U.S.
Who Is Eligible for Google Engage Program?
Apart from being a Canadian or American business, you will also need to have an active My Client Center account and a functional website. Businesses that specialize or will begin specializing in web services will greatly benefit from Google Engage program. By mastering products and services that Google offers to webmasters, you shall be in a better position to assist your own clients and resolve their issues if they have any. Engage is particularly designed for small and medium sized business. If you are a large corporation, you might want to take a look at a similar program by Google called Agency Edge.
How to Enroll in Google Engage
Joining Google Engage is a very simple and straightforward procedure. All that you would need to do is complete a form that will not take more than 5 minutes. Once your application is approved, you can login and access your basic training and complete it. Once you finish your Google Engage program, you will be able to access member-only benefits that will help you to assist your clients and customers in an informed and confident manner.
It is understood that Search Engine Optimization professionals usually grope in the dark and find it difficult to arrive at a consensus of any sort. Also, web publishers rely upon unreliable information about Google AdWords and the best ways to monetize content. Answers to these dilemmas and problems can be found by joining Google Engage, which is as genuine and reliable as it can get, when it comes to Internet marketing or search engine optimization. If you were looking for a great tutor to teach your business about Google AdWords and other similar products by the Internet giant, all that you would need to do then is to start using Google Engage!
Subscribe to our Newsletter