back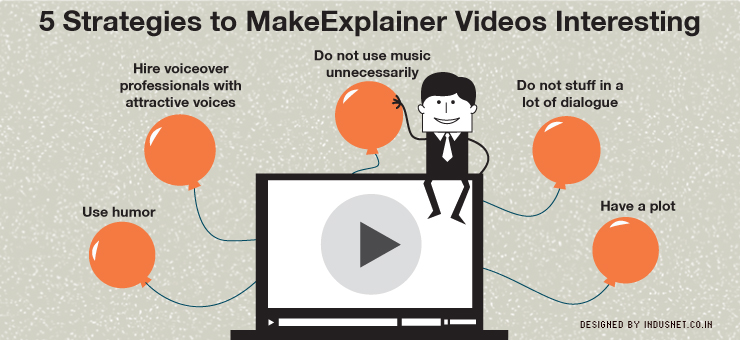 Explainer Video
Marketing
5 Strategies to Make Explainer Videos Interesting
Explainer videos are growing in their importance and more people have begun to understand why companies need to publish them more often. Explainer videos help people to understand your products and services better without having to read through lengthy textual content. Explainer videos can act as supportive media to your existing textual content.
Why explainer videos are important
We must remember that not many people like to pore over textual content. Many people who have reading difficulties, attention problems and other difficulties may prefer to watch a video than to read textual content. Thus, it is imperative that you create explainer videos for all your products and services. While it is a great practice to create explainer videos, many companies do not understand that there need to be important strategies that are well thought out. Such strategies help companies to create explainer videos that are interesting, note-worthy and shareable. At the end of the day, we are all trying to create explainer videos that can go viral so that people share them more on social networking sites and elsewhere.
• Use humor
There is nothing better than getting people to smile or laugh. Do not be crude or immature. Hire a good copywriter who can instill mature and subtle comedy in your script. This helps people to lighten and loosen up while also developing a favorable attitude towards your products and services. Many companies fear that getting people to smile or laugh will reduce the seriousness of the product. What we are saying is not to have a comedy show but to instill humor that helps people to see you positively.
•Hire voiceover professionals with attractive voices
By definition, voiceover professionals have attractive voices. However, choose those who seem to have an accent or tone that is more receptive to your target audience. If your target audience is someone aged between 45 and 65, do not hire a person who sounds like a teenager. If your target audience consists of teenagers, make sure that your voiceover professional does not sound aged. The voice should also not be too masculine or too feminine as that can annoy a lot of people. Try to choose a voiceover artist who is not too gendered.
•Do not stuff in a lot of dialogue
The purpose of creating an explainer video is to make sure that people watch them entirely. If you stuff your video with a lot of dialogues, people will feel as overwhelmed as reading through a verbose text. Make sure that your video finishes quickly and makes its case easily, without sounding overwhelming. Try to finish your video as quickly as possible and try to keep it as short and crisp as possible.
• Do not use music unnecessarily
Many explainer video creators have the habit of inserting a lot of music files even when they are not necessary. Music can be soothing and create a certain ambience. However, they can also distract your customer from your product presentation. Thus, do not play music unless it is necessary. It works best when a product is being shown and the voiceover artist is not speaking. Explainer videos do need music but not always.
• Have a plot
While product videos are great, it is always nice to have a plot within the explainer video. What we need to remember is that these are mini-films and need to have a story. The story should be engrossing and connected in some way to the product that you are selling. If there is a real connection, people will 'get it' and try to buy the product or respond to your CTA.
Following these tips will ensure that your explainer videos are short, brief and entertaining. They should also be memorable and attractive, and create enthusiasm among the viewer. If a video is interesting enough, people will begin to share them on social media, which is what you need to focus on. This will help you to gain a lot of audience and thereby, increase the chances of conversions. A clear call to action will also help in the success of your explainer video. Ensure that you are not misleading your clients or customers in any manner. A honest and entertaining explainer video is bound to bring success.
For more effective strategies about how to make interesting explainer videos, consult Oomphbox.
Subscribe to our Newsletter