back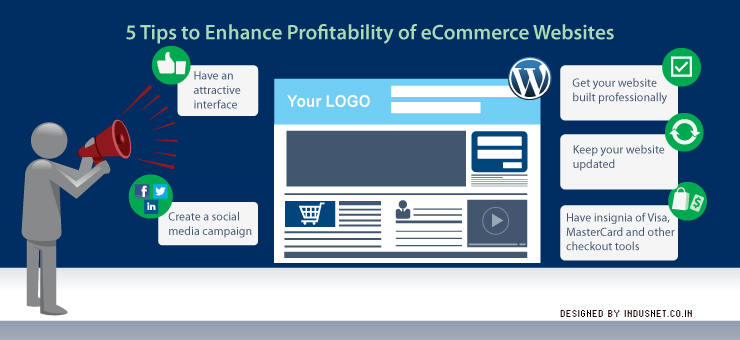 E-commerce
Web Development
5 Tips to Enhance Profitability of E-commerce Websites
When it comes to the profitability of e-commerce websites, there are a number of tips that can make your products rake in the profits. The most important fact is that you are selling something online and there is no face to face interaction between you and your customer. With this in mind, you need to make every effort to ensure that your customer feels safe and secure to shop on your website and checkout. Here are some of the most important tips that we think will help you to enhance the profitability of your e-commerce website.
Have an attractive interface
There is nothing more important than an attractive interface to make sure that your website is easy to use. If the content and images are not placed properly and if the website isn't designed well, people might just not proceed further to purchase whatever you are trying to sell. When a website is easy to use, people will find the information they want. They also will find it easier to go ahead and make a purchase, without being distracted by unnecessary limitations.
Create a social media campaign
One of the most important online tools is the various social networking sites. If you plan to sell your goods online, you must consider social media as one of the most important tools that you will ever find. Be it Facebook, Twitter or LinkedIn, you must make sure that your e-commerce website is talked about on all the social networking sites consistently. It is important to get people talking about your e-commerce website. The more number of people talk about your website, the better it is for your business.
Have insignia of Visa, MasterCard and other checkout tools
There is nothing more important than getting a Visa verified symbol on your website. It tells people that you are ready to take them in your trust and ensure that their credit card information remains safe with you. If you do not gain this trust, people may not trust you enough to part with their credit card details. Another important aspect is to ensure that you also accept PayPal payments. This is crucial because many people use PayPal to purchase online.
Get your website built professionally
One of the better ways to ensure that your website works well is to make sure that your website is built by a professional. There is nothing better than having a professional build your website. The several WordPress templates out there are great but if you want to stand apart and truly be successful in your online endeavor, you might want to get professional help when you can afford it. It comes with a number of benefits that you might be surprised of when you see the traffic to your website increase.
Keep your website updated
Always make sure that you post updated content on your website. It is one of the most important things that one can ever do. If a website is replete with outdated content nobody will want to read, let alone purchase. This is one of the main reasons why you should go ahead and update content regularly. Hire a professional writer and publish regular blog posts and well written product description. You might also want to publish e-books, whitepapers and other content regularly and give them away for free, so that people begin to understand that you are an expert in your field.
What you should be bearing in mind
It is not easy to gain success in the e-commerce field. It is already overcrowded and too many people have begun to try their success at it. You might also not be able to follow all the tips that you see everywhere else. Just make sure that your website is clean, well-written and that the checkout process is smooth. By taking the help of professional web designers, content writers and SEO professionals, you can ensure that people visit your website more often, leading to more number of sales. This is one of the reasons why we stress on the importance of getting your website designed professionally. It might cost a little more than using a template on WordPress but the payoffs are always very satisfying.
Subscribe to our Newsletter