back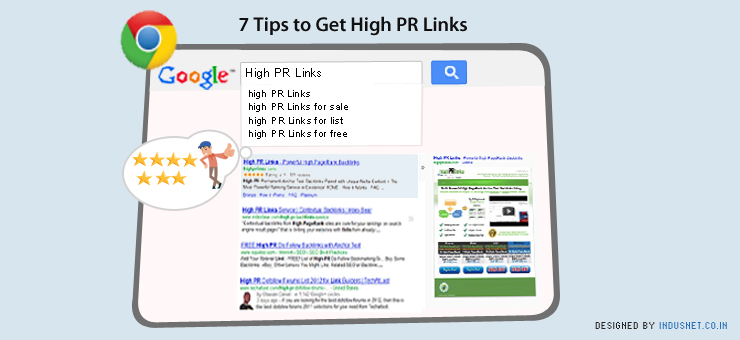 Internet Marketing
Marketing
7 Tips to Get High PR Links
Since the beginning of the days of blogging and content optimized websites, getting high PR links has always been on the priority list of SEO professionals. High PR links helps to get your website ranked higher in search results for a given keyword or keyword phrase. Getting ranked higher also implies that more number of people click on your link when they search for that particular keyword. All this leads to an increased traffic and eventual monetization. With that in mind, here are some of the most important tips to get high PR links.
Keyword Rich Content
One of the most important tips is to write content that is keyword rich. However, this does not mean that you can stuff your content with keywords as that would render your content spammy. The idea is to use keywords and keyword phrases pertinently and prudently. When you choose keywords, it is important to make sure that they are unique and relevant to your business. Once high quality keyword optimized content is published, it can be submitted to high PR article submission websites. This leads to those precious back links that cope your way and help you achieve higher website page ranking.
Commenting and Interacting
It is not all about writing a great keyword optimized post and forgetting about it. One needs to be active and visit other blogs, websites and web pages and leave sensible comments and engage in conversations. While doing so, you could leave a link to your blog post that is relevant to the discussion. Asking people nicely to visit your website or blog works, but leaving a link everywhere you comment will get you thrown out of forums, and comments sections. Ideally, use your prudence and leave links to your blog posts only when you know it is apt to do so.
Hosting, Domains and Themes
It is always important to choose a unique domain that is easy to be remembered. Moreover, host your domain on with a hosting service that allows you to have a unique IP. Always self-host your blogs, and do not host them on generic blogging sites like blogger.com or wordpress.com. Buy a domain, host it yourself and use WordPress or other CMS to publish content. Personalized themes always work better than sponsored ones. Make your website stand out from the rest of them in the market.
Identifying Niche
This has been repeated several times over but that is because of its importance. It is extremely important to carve a niche for yourself within the identified niche topic. Identify your interests, expertise and knowledge and once that is done, write blog posts that answer questions about a niche area. This helps in attracting back links from authority websites who may be looking for your expert opinion.
Link Exchanges and PR Directories
It is important for you to make sure that each link comes from a different IP. It is also important to make sure that you avoid touts and brokers who ask for money or fees in return for links. Submit your articles and links to high PR directories where do-follow links are allowed. This helps in achieving good links as well, leading to a high PR.
Interviews, Guest Blogs and Features
It is always wise to feature interviews with thought leaders, business entities and CEOs as that adds to the originality of your website. This leads to high PR links as well. Moreover, asking guest bloggers who are thought leaders themselves to write an article or two for your blog can take you a long way in achieving quality links. Make it a point to publish 'features' that add value to your website and bring traffic. These features have the ability to go viral and help you achieve high PR links.
Discipline, Consistency and Timeliness of Posts
Make sure that you plan your month ahead and be consistent in publishing posts. Do not make readers visit your website only to see old posts. There has to be something new each time readers visit your blog or website. Also it is always a good idea to write timely posts that reflect current happenings and news within your identified niche.
These 7 tips will certainly help your blog to become credible, trusted and respected within your niche. Only when you build your credibility will you be able to attract high quality PR links. Hard work always pays well but so does consistency and creativity.
Subscribe to our Newsletter