back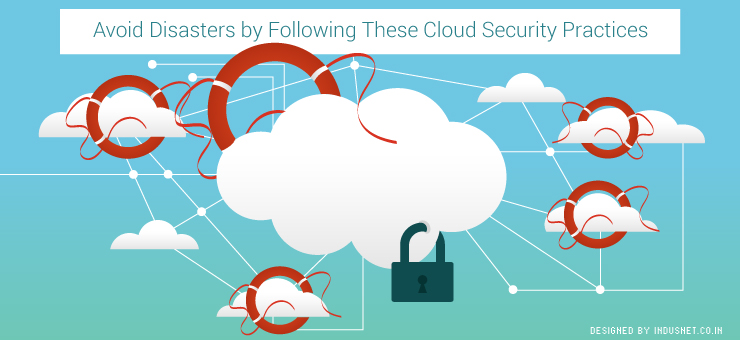 Web Development
Avoid Disasters by Following These Cloud Security Practices
Cloud computing has made its place in IT industries, and a lot of companies are storing there data on the cloud. One of the major concerns that prevail is that of security. Security concerns related to cloud seem never ending, but they can't be neglected as well. A lot of companies who want to use cloud hesitate due to the ambiguity about its security. One of the reasons for the skepticism is, most cloud computing models are based on a shared platform.
This means, a company's data is stored on a server which is also shared by another company. When a malicious company tries to steal data from another company, it could do so, provided it has the technology and capability to do it. However, in reality, this is not quite possible and is only a theoretical risk. While documented security lapses exist, they can always be attributed to the negligence factor or the lack of security measures factor.
Taking responsibility
Cloud security is a big task as it has different service types like PaaS, IaaS, external and internal. Moreover, you can follow certain security practices and discard your worries. Don't think that handing over a function to a cloud provider is enough. You must manage it by using policies to secure and monitor. Before signing up with a cloud service you must also ensure that your internal security is up to date.
"Cloud services cut both ways in terms of security: you get off-site backup and disaster recovery, but you entrust your secrets to somebody else's hands", said Barton Gellman and there is no better way to describe the condition of cloud users. Although, you don't have to worry about security measures anymore, follow the given security practices and be assured that you can now avoid security disasters.
1. Secure-by-design approach
Cloud stores tons of data and this creates a sense of worry for the companies about the security of their data. One of the best security practices is securing the data through the way it is designed. IT organizations should focus on finding controls to check the lack of direct access to information.
By using the secure-by-design approach, the companies can secure foundation and approach security needs depending on the data present in the cloud. This also helps in implementing resiliency and audit capabilities. It also allows the companies to extend their ideas of secure cloud.
2. Alternative deployment
You can also try to identify alternative deployment locations which you can use as a security strategy. Once you find alternative deployment locations, you can redeploy your data easily. You should concentrate on finding new environments that can adapt to the company's requirements. Organizations should look for vendors who do not create "lock-in" conditions of cloud. Flexibility gained by this can help organizations to respond to changing trends with minimal hindrance to running a business.
3. Implement an active monitoring solution
Availability or stable conditions of cloud regarding data content is crucial, if there are problems in this sector, you may lose many of your customers. You can avoid such a situation by implementing an active monitoring system which can have automated procedures to respond to related instances, thus, ensuring customer satisfaction and avoiding loss of customers.
Active monitoring helps you to identify problems as and when they are about to occur. This may also help in averting threats and taking preventive measures. One of the advantages of cloud computing is, you can understand potential threats even before they occur, provided you spend your time and resources to avert threats.
4. Investigate the contracts
Before signing contracts, make sure you scrutinize the contracts carefully. Check whether the service provider will take responsibility for your data, and will they provide security guarantees? Is the service transparent about security events and responses? Will they help you in monitoring by providing monitoring tools or will they monitor for you? How often will they send you reports? If you terminate the services then what happens to your data? These are the questions that you should know answers to before even deciding to choose a particular vendor.
Security is the most important link to connect to your present and potential clients. Don't commit blunders when it comes to investigating contracts. While most vendors stick to industry standard ethics and codes, you must speak to an attorney and have him or her run through the contract if you do not understand legal parlance.
5. Evaluate your own compliance
Once you choose a service provider and are satisfied with all the clarifications, don't just accept the provider's standard contracts. You can always negotiate and get the best deal drafted for you. Conduct a thorough research and find out what terms suit you the best. Hire a team of lawyers who are compliance savvy to negotiate contracts in a way that you can reap benefits out of it. Can also opt for hybrid model where you can negotiate the control over and the data can be stored internally.
It is very important to be satisfied with security on your terms to maintain a healthy productivity; otherwise, you will waste your energy on worrying about security and not concentrate on production or growth of the company. Hiring attorneys can help you to avoid many risks that companies often feel trapped into. Moreover, it helps you to evaluate your own compliance as well, to the contract.
6. Visibility
It is a basic thing to understand that you can only control the things that you can see. Hence, companies must ensure visibility and that too all the time around the clock. You must understand what you have got, how it works and what it's doing all the time. It may seem very trivial, but with the automated, elastic and highly complex virtual infrastructure, visibility has become a challenge.
It won't be wrong if we call it a blight of modern virtual technology. Once you understand the nuances of your data, infrastructure, applications and users, you can chalk out a plan to work around the limitations and take advantage of the service to its fullest.
7. Exposure management
Exposure management basically refers to adding context to the visibility. Once you have achieved transparency, you must invest in trying to find and discard things that could cause vulnerability. The old devices, monitoring tools and out dated systems, that can increase the risk of exposure of data need to be get rid off as soon as possible. This will help in smooth functioning of the analysis and diligent assessment of your data.
Even if you don't use cloud, your employees must use it in all chances. Therefore, the IT should evaluate corporate applications and business processes according to the values of their organizations. What can be deployed and what can't be deployed must be thought out thoroughly.
Some applications that can be deployed also come with precautions to be taken. Make a list of cloud services that have acceptable security. Don't be in a hurry, start using cloud with low-risk, non–core functions until your company understands the security issues. Avoid testing software in cloud using live or sensitive information.
Looking forward
Even if there are certain doubts and concerns about using cloud due to security, it is still unavoidable to use the cloud. The security concerns are not impossible to manage and cloud is a sure shot option to increase your company's growth.
Make a well informed decision about the cloud service you want to use and ensure it is secure; this will automatically boost your company to reach new targets. We need to understand that the cloud is the present and the future. Companies will not want to invest in either infrastructure or platform. So, as we move towards a more cloud oriented environment, it will become equally important for us to focus on the security aspects.
By evaluating your situation with the help of a team of attorneys, security consultants, your vendors and your own employee, you can ensure that all risks that can possibly take place in the cloud can be arrested even before they happen. It just needs a little foresight and planning. Going forward, IT security will include cloud security and in fact, the two terms may become synonymous in the future. Right now, companies still differentiate between IT and cloud computing but in the future, this will not be the case, as all IT development will take place on the cloud, more or less.
Subscribe to our Newsletter