back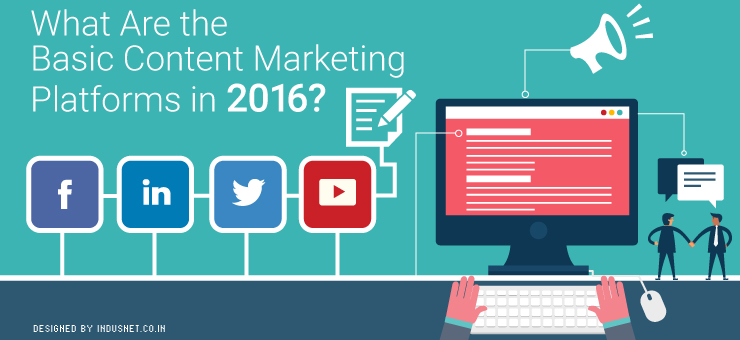 Content Marketing
What Are the Basic Content Marketing Platforms in 2016?
In the latest report published by the Content Marketing Institute about content marketing trends for B2b organizations in 2016, they list that only 30% of those who were surveyed are effectively using content marketing, down from 38%. Those who are successfully using content marketing document their strategy, their editorial mission statement and communicate frequently with their teams.
76% of those interviewed also said they will produce more content than ever while 19% said they will stick to the same level of content that is being produced at the moment. 93% are going to use social media content while another 82% said they would also focus on case studies. An astounding 81% are still sticking to blogs and enewsletters as their preferred medium of content marketing.
The most popular social networking platforms to engage in content marketing are going to be LinkedIn at 94%, Twitter at 87%, FaceBook at 84% and YouTube at 74%. This only proves that we must continue to emphasise on writing great social media content focused on LinkedIn, Twitter and Facebook, while regularly publishing blogs, enewsletters, videos and whitepapers. Now, let us consider the importance of LinkedIn and twitter as against Facebook for B2B marketing.
More focus on LinkedIn and twitter is required
LinkedIn is certainly the most important of all the B2B channels out there. Surprisingly, most small companies do not use LinkedIn as a viable platform for their content marketing. This is strange because this platform evolved as a professional networking site. If you are looking at targeting business clients, you should first think about sprucing up your LinkedIn account more than anything else. This involves setting up a company page, regularly publishing blogs on LinkedIn, networking with the right kind of people and also being part of groups or starting your own.
Similarly, Twitter is yet another tool that you will need to sue along with LinkedIn. The immediacy and interactivity that Twitter provides is really unbeatable. You could either ask your social media team to manage twitter accounts or outsource the entire process. But the most important factor is you must be able to use Twitter as much as possible, preferably alongside LinkedIn. Twitter can also prove to be a great place to propagate content that you regularly publish and use it as a tool to look for business leads. Most important professionals are available on Twitter and you only need to look so far to fight the right people.
What about Facebook and videos?
Though Facebook is a popular platform for content marketing, it is more of a B2C channel than a B2B channel. Thus, you might benefit from investing more money and time on creating great explainer videos which can be published on YouTube. This can also be shared on LinkedIn and Twitter, which will have a symbiotic influence on your content marketing strategy. We must note that there are many people who may not want to read through blogs or whitepapers. For such people, it makes sense to publish videos that are informative and entertaining in nature.
Looking forward
It is clear that content marketing investment is likely to increase in 2016. With so many people saying that they will publish more, it makes sense to come up with better topics and content strategies to keep up with the B2B joneses. LinkedIn and Twitter are certainly the most important platforms and social media channels for you to concentrate on. If you can also manage to create videos to be shared on YouTube and other social networks, your content marketing strategy is likely to be very successful.
Subscribe to our Newsletter