back

Blockchain
General
RetailTech
Blockchain and IoT Revolutionizing Supply Chain Management
Supply chain management can be defined simply as a baseball game… You must be wondering how isn't it? All the participants in the supply chain management are baseball players – each having a role such as a shortstop, catcher, and pitcher. They are assigned specific duties such as hitting, throwing, and fielding – for the sole purpose of their team being successful. Similarly, in SCM a large number of people are actively involved in a number of processes for the successful completion of the assignment task – in short, the finished product reaching the end customer. Understanding the dedicated roles of each member of the SCM will help in developing winning strategies which can be implemented by the supply chain teammates.
A supply chain can be defined as all the individual and business contributors who are involved in the creation of a product, right from the allocation of the raw materials to the end products.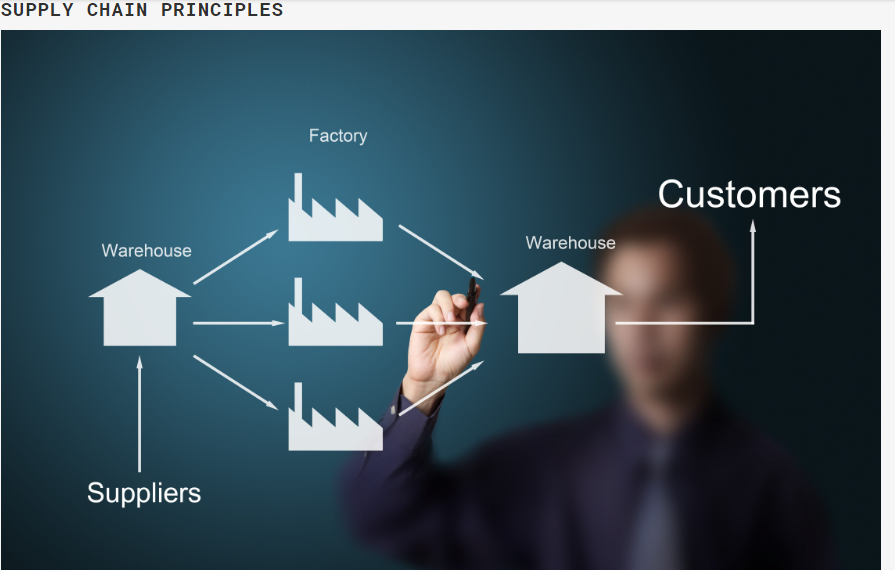 Source:https://applicature.com
Supply chain activities comprise of :
farming
refining
design
manufacturing
packaging
transportation
Global supply chain management is complicated both in terms of technologically and logistically. This is where blockchain integrated with IoT comes to simplify the process of SCM – making it more transparent, secure and traceable.
Today supply chain has become extraordinarily complex, considering the uncountable links to create and distribute goods. There can be a hundred stages of the supply chain, depending on the product in consideration to the several geographical locations, the number of invoices raised and payments made, the number of entities and people involved in the process and time span.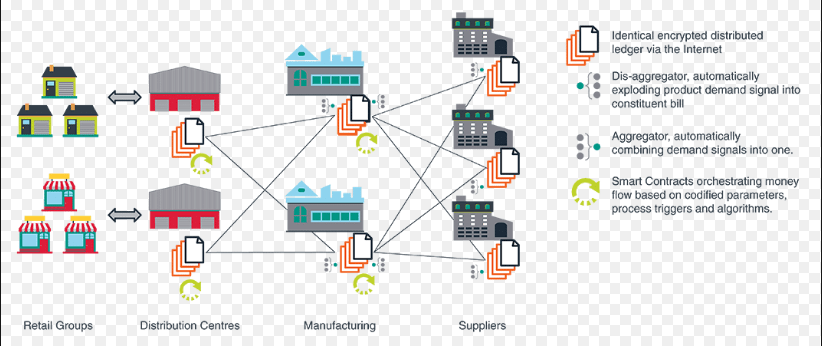 Source:https://applicature.com/blog/the-next-technological-revolution-blockchain-for-supply-chain-management
Blockchain can help in creating a persistent, transparent, public, append-only ledger as it creates a network system where you can add data to and not change previous data within it. It does this through a mechanism for creating consensus between distributed parties that do not need to trust each other – they just need to trust the mechanism by which their consensus is arrived at.
The blockchain is basically a distributed digital ledger which can be applied in numerous forms for any kind of agreements/contracts, tracking, payment and exchange activities. Every transaction is stored on a block, which in turn is distributed to uncountable nodes (devices) – creating multiple copies of the ledger all across the network. Every block is linked with its previous block and the next block – making it extremely secure and keeping the record immutable. This technology is decentralized which makes it quite efficient as well as scalable. In supply chain management, it can play an active role, right from storing of the products to the warehousing to their delivery to the settlement of the payment.
FOR EXAMPLE – in the food industry business networks where data such as location, temperature, vibration, and humidity needs to be shared. A permissioned blockchain can help in creating a tamper-evident record. This will helps to open up a new way of automating processes among partners without setting up an expensive centralized IT infrastructure and all participants will have access to the same data at every point of time So no worry of validating and depending on others.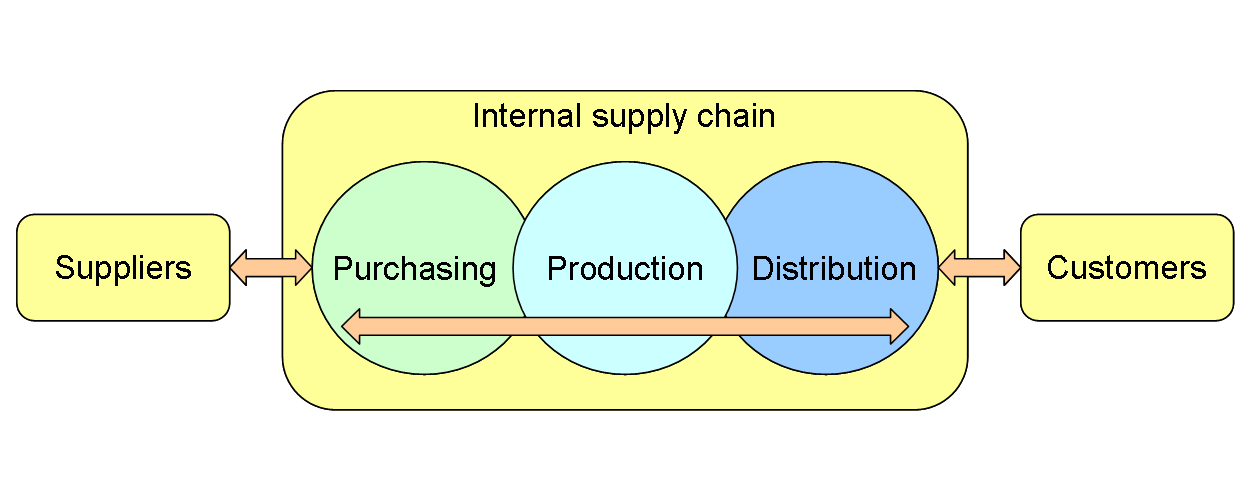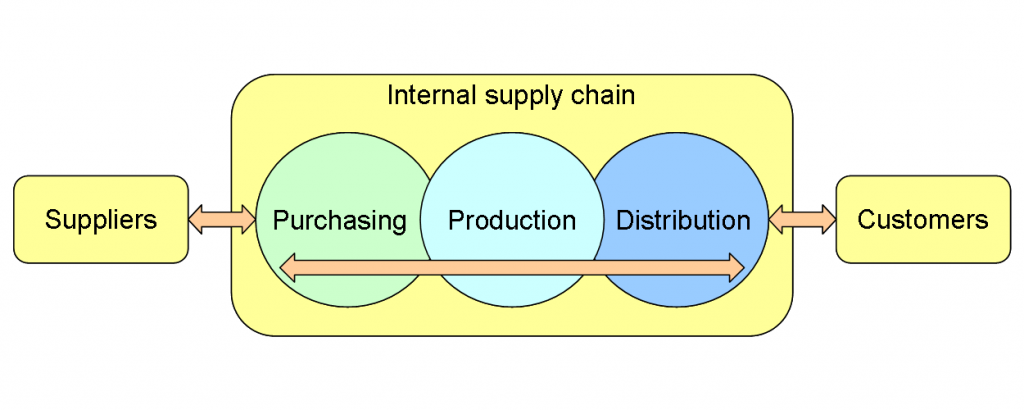 Fig: the flow of data by use of blockchain
Let us see how supply chain benefits from data sharing through permissioned blockchain and IoT:
STATUS DATA
The IoT enabled package will send the status data (temperature, location, etc) for passing through several carriers
BUSINESS CONTRACT
The business contract specifics will have to be met as we bring the shipment to the factory or to the store. The contract validation can be checked without any dependencies
SENSOR TRACKING
 A temperature sensor embedded will store package data locally and send it to the blockchain network through the IoT connected devices at wait points upon receiving connectivity.
NO CENTRAL AUTHORITY
Using blockchain, all the business partners (Producer, Processor, Distributor, Retailer, and Auditor) were allowed to access the same temperature data without the need for a central control.
THE FOOD TRUST – ORGANIZATIONS USING BLOCKCHAIN IN FOOD INDUSTRY
Some of the greatest retail giants of the food industry such as Walmart and Nestle SA along with eight other companies have founded the Food Trust which aims blockchain based food supply chain management. The use of Blockchain in this industry will help to possess a complete and accurate monitoring of the movements of the food items, ensuring no contaminated or damaged items reach the end consumers. The primary objective of the Food Trust is to avoid past crisis such as the E.coli bacteria contamination of romaine lettuce, which happened recently, affecting 35 states. The other companies who are members of the Food Trust are Unilever NV, Driscoll's Inc., Golden State Foods, Dole Food Co., Kroger, McCormick and Co, Tyson Foods, and McLane.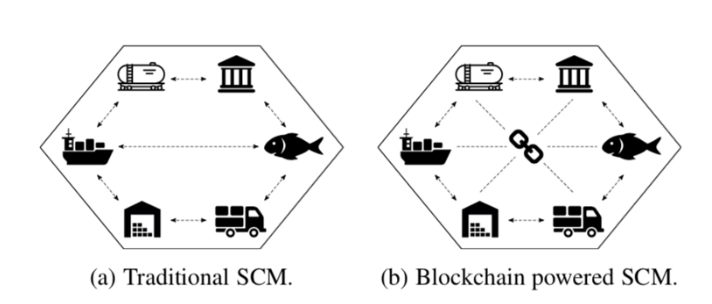 Source: https://hackernoon.com/to-blockchain-or-not-to-blockchain-45004a23e8a7
Walmart
Walmart has integrated advanced levels of traceability powered by blockchain technology across the global food supply chain management. Walmart, one of the top fortune 500 companies in the world has collaborated with blockchain to improve food traceability and tracking as well as food safety in China. The organization has already started implementing Blockchain based supply chain structure to accomplish greater transparency across the global food-supply chain, which includes mangoes in the U.S and pork in China.
Frank Yinass, Walmart vice president spoke on Walmart's food safety solutions based on Blockchain platform, "What we hope to do with Blockchain is to bring all food safety system stakeholders to collaborate, so that we can do it very quickly and efficiently."
Walmart extended the application of blockchain to reduce the growing instances of food-borne illnesses by tracing issues in the food chain and at the same time evading huge losses for suppliers and retailers during the recall. This food retail giant is using this new age technology to track vegetables from farm till store for quick detection of contaminated products. It has integrated the information of the vegetable suppliers in its blockchain database to trace every unit of vegetables.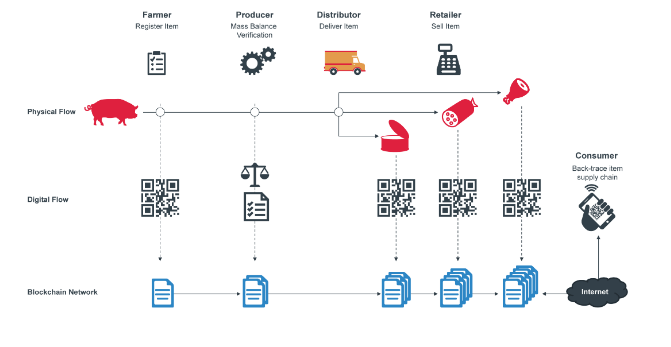 Source: https://www.pinterest.com/pin/612419249303061416/
Walmart's entry in the world of blockchain based ensured data privacy while integrating traceability for food safety both online and offline including quality management channels. Using blockchain technology sharing of information and selecting of standardized traceability solutions best suited for their legal as well as daily requirements has become easy for companies joining this alliance. With increased transparency in the system now it is the retail owners are creating safer food environment to ensure greater consumer experience.
Nestle
Nestlé SA, the Swiss food manufacturer, involved in a trail project on the use of blockchain to improve the worldwide food-ingredient supply chain via complete transparency, which in turn establish the higher confidence of consumers in food safety.
In the fall of 2017, this food and drinks behemoth started experimenting with this new age technology, using it to tracing single – ingredient baby food "Libby canned pumpkin" right from the farms to the retail stores. Nestle aims at blockchain-based infrastructure to address the present concerns of both the company and the end consumers. The consumer has the right to know what quality products they are buying for their babies. They need transparency regarding what all ingredients are present in the baby food and where it is coming from. Blockchain gives the consumer better transparency and at the same time facilitates the accurate tracking of the origins of damaged or contaminated ingredients quickly instead of wasting time for a recall. Nestle is now redeveloping its entire supply chain infrastructure, mainly shipping, processing, and trucking. This blockchain powered system will help the end consumers to track each and every ingredient of a product.
Blockchain in supply chain means that the consumers will have food items which they can trust. Implementing this new technology is offering quick recalls and innovative solutions to the existing problems related to supply chain management which the global food industry faced in the last few decades.
Get more Blockchain related article click here
Subscribe to our Newsletter