back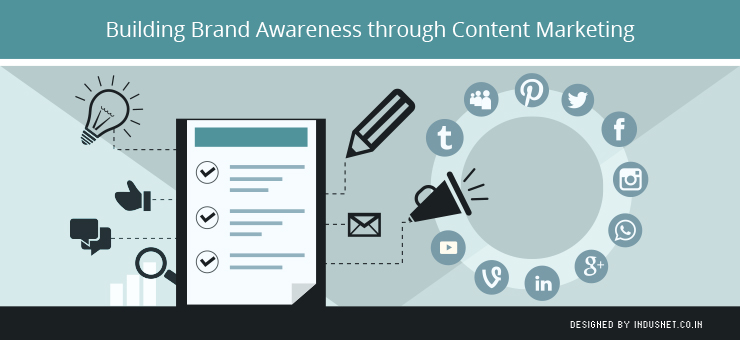 Content Marketing
Building Brand Awareness through Content Marketing
Brand awareness is important to get customers on board. With thousands of companies trying to establish their brand, you may find it difficult to build one of your own. A brand is said to be recognized when customers can associate with you, know your value, and are willing to pay for your product/services. A mix of various offline and online mediums is used by commercial and large companies to build their brand image.
Offline mediums may include print, outdoors, TV, radio while online mediums include digital marketing and advertising through emails, websites, blogs, social media, PPC etc.  It depends how these mediums are used by a business owner. They can be used for both marketing and advertising purposes.
For small business owners, online media is better
For a small business owner, it sounds more practical and economical to use online marketing to build a brand. And when online marketing is used to share specific and tailor-made content for customers, it is termed as content marketing.  The basis for content marketing is the fact that until and unless you provide relevant, valuable and quality content to your viewers, they won't take you seriously.
There is already a significant chunk of marketers trying to approach and win your customers. To beat the clutter, you have to assure your audience that you care for them and understand their needs the most. In the bid to educate your customers through content marketing, you are building your brand.
Content marketing is not direct marketing
Content marketing is a gradual phenomenon driven by patience and perseverance. It may take a couple of months if not years to establish a brand through content marketing. And, fortunately, a well-managed content marketing campaign helps you to conquer your audience. Content marketing is in no way a short-sighted strategy to make customers buy from you instantly. There is a significant gap between first contact with customer and purchase.
Content marketing rather takes an unusual route of inbound marketing. Inbound marketing is an approach where a marketer earns the attention of customers by producing interesting content so that they are self-driven to your web store or website. The prospects are so won over with information over time that either they become your customers or they definitely become content endorsers. For a marketer, it is a big achievement as it ultimately leads to their brand endorsement creating further awareness about the brand.
Brands are sensitive icons: proceed with care
Every brand enjoys some unique aspect, information or authority to it. It is the marketer who is responsible to build and leverage its value. Content marketing strategy aimed at brand awareness must be carefully designed keeping in mind the following essential parameters.
1. Refrain from posting excessive information – While in good intentions, you are trying to educate your customers; do not become obsessed with sharing too much information that you start sounding preachy. Frequent doses of laden information bore the viewers and they are likely to ignore you subsequently.
 2.  Share intriguing information – Interesting pieces of information supported by facts, figures and your personal experience intrigues the viewers. It increases their appetite to receive more challenging content that turns heads. However, this does not mean that you get too serious with content form. Besides being engaging and informative, your content can be fun to interact with.
 3. Handle criticism intelligently – When you are in the market, you are bound to be criticized for some or the other reason by your customers or competitors. Use the power of content to debunk the misunderstandings surrounding your brand. Request your loyal customers to testify your claims. This will help you to regain trust of customers and revive your brand.
Strategies to be adopted for content marketing and brand awareness
Whether you adopt a written, a visual or a video format for sharing content, it must reflect conviction. The content must add value to customers. A content marketer can't afford to be irregular or be inconsistent with the content marketing campaign. To realize its full potential, it is necessary to post consistently. Furthermore, your content should possess a consistent message and a consistent look across all the channels.  This is important to avoid confusion and portray a consistent brand image.
Share a story
Customers love to hear real stories. And what can be the best way to share a story than to share a success story of your customers? Create and share customer case studies with your audience to enlighten them on how effective your product solutions are. Present them in the form of explainer video or blog post.
Once a customer notices value in your product, they will care to remember your brand name. Gradually, brand recall performance goes up and every time they notice any post from your brand, they will be delighted to view it as they expect to enrich their knowledge.
Leverage the power of social media
Social media is the power center for sharing information with friends. Users love to share content on social media because they believe in the authenticity of the content testified by their friends. A content marketer should not take social media as a casual platform. It is important to produce content which is highly useful and sharable. Original, interesting, and exciting content has the potential to go viral on social media.
Social media has the authority to either make or break the brand. If you establish your brand image as a content marketer by consistently sharing quality content, it becomes easy to generate positive word-of-mouth. This effort is also a part of online reputation management which is done to maintain online brand image.
Since users are free to opine on social media, a brand should make an effort to engage with the audience through community discussion and one-on-one interaction. There are social media applications like Buffer that allow you to gather data and know the interests of your target audience. This facilitates to fine tune your content marketing campaign.
Distribute the content wherever your audience is active
Content marketing is not limited to blog post or social media. Identify all the channels where your audience is active and start distributing the content. There are online open house forums, community threads, email, YouTube etc. which can be exploited to push the content. It is a fact that higher the visibility of the content, higher is the familiarity of your brand. Consequently, your brand gets more traction.
Mobile marketing is expanding ardently as a large number of consumers, access content only through mobile. The content design should be mobile ready. The recent change in Google search algorithm gives priority to mobile-friendly content during search.
Measure the effectiveness of your campaign to track responses, feedback and engagement. Google Analytics is a great tool often used by marketer while planning for a content marketing strategy.
Curate content
Content creation is a time-consuming process. Marketers need a team of dedicated writers to produce original and quality content. Moreover, many marketers lack resources and time to create content. The best way out to stay on the track of content marketing is to curate content. Content curation involves aggregation of best pieces of information spread out across the web to deliver a concise and presentable form of content to the target audience.
It is a win-win strategy for both marketers and visitors. Marketers don't have to spend too much time in creating new content while the visitors don't have to look for various sources to seek information.
But to be a successful content curator, one again needs to maintain regularity so that visitors can turn back for more useful content. Curated content should be precisely focused on a particular topic. And a content curator should always be branded as a person, not a company, to influence the audience better and faster.
Conclusion
If Rome couldn't be built in a day, even brands can't be built in a day. It is a gradual phenomenon where marketers need to stay visible and accessible to the customers all the time. Content marketing is a highly effective tool to create brand awareness. If your content is influential and kindles customers, then you are moving in the right direction. Content does not have to be only related with your product. You can broaden your focus to talk about new technology, innovation in the field, market development, research and development or any other subject that is relevant and captures the attention of your target audience.
Subscribe to our Newsletter