back

Emerging technologies
Technology
How Businesses are using Chatbots today?
Exactly a year ago, Mark Zuckerberg had said that people will be able to talk to Messenger bots just like they talk to friends. Since then, there has been a lot of chatter about the evolution of chatbots and how these automated computer software programmes will make our job easier.
Presently in the world, messaging apps have become the easiest and most effective form of communication. In this age, chatbots, powered by Artificial Intelligence (AI), has become the key method customers interact with business.  
Chatbot is the newest kid in the world of tech. Chatbot is just like your personal customer service assistant. And, everybody (read: big, small and medium-sized companies) is obsessed with it.
From booking dinner reservations, ordering flowers to renewing insurance policies, chatbots have certainly made our life manageable, easier and productive.
What is a chatbot?
According to ChatbotsMagazine.com, "A chatbot is a service, powered by rules and sometimes artificial intelligence that you interact with via a chat interface."
You can explain your needs via text messages and chatbots, powered with AI, will help you to organize your life in a better way. And the best part is: the user does not have to download and install an app. All he/she needs to do is type some text and they will get answers instantaneously.
From WeChat, Slack, Kik, Telegram to Facebook Messenger and Amazon Alexa, bots are becoming the main interface between humans and machines. Chatbots have surely become the biggest thing in the world of technology.
2016 saw the evolution of chatbots in the business world, especially companies dealing with a huge database. Though chatbots are still in the early stages of adoption among the masses, however, the way chatbots are influencing the tech world; it's only a matter of time that the masses and businesses become increasingly dependent on this computer software programme.
According to a report (Humanity in the Machine) from media and marketing services company Mindshare, 63 % of people would consider messaging an online chatbot to get in touch with a brand or business. Yes, that's the enormous power of chatbots today.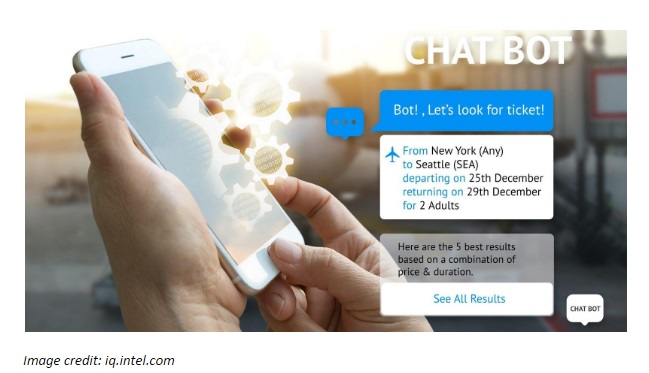 Biggest players such as Facebook, Google, Amazon, Apple, and Microsoft are already in the race of chatbots. Microsoft tested its new AI chatbot, "Zo", in December 2016. Understanding the disruptive potential of these chatbots, several companies across the globe are jumping onto this bandwagon of 'chatbots' and provide interesting services to customers.
Today, intelligent AI chatbots use machine learning so that the chatbots can understand the reference and perform much more intricate tasks than what a bot does.  AI-powered chatbots are not only helping consumers save time at work. They have given a huge thrust to the digital ecosystem, especially when it comes to e-commerce advice, automated customer support, and conversational experiences.  
Phil Libin, managing director at General Catalyst is all praise for bots. "Within a few years bots will be in the fabric of everything," he had reportedly said.  
Evolution of Chatbots
Chatbots aren't new. They have been in existence since 1966, when an MIT professor, Joseph Weizenbaum, developed an AI agent named ELIZA. In the early 2000s, Chatbot Smarterchild became popular when it was made available on AOL Instant Messenger and Windows Live Messenger (previously MSN Messenger).
As mentioned, 2016 was the year when the world started taking chatbots seriously. Today, chatbots are giving tough competition to mobile applications. According to an article in engadget, chatbots are new-age mobile apps. Businesses all across the globe are investing heavily in the chat economy.
And with the exponential rise in AI, tech companies are hell bent to develop functional and interactive bots to engage with consumers in a superior and effective way.
Chatbots can be found on platforms:
WeChat

Facebook Messenger

Kik

Telegram

Apple iMessage

Slack

SMS
In a recent survey by Oracle, 80% of business owners stated they want to implement chatbots by 2020. So, what are the main factors favouring chatbots?
Chatbots are always available unlike customer care executives, which work on hourly basis. This results in better customer interaction and increases the brand's engagement with the customers.  

Businesses can use chatbots to engage in one-on-one conversation with countless customers via messenger

Unlike a mobile app, you don't need to download a chatbot. Just search for a chatbot from within a messaging app and start chatting. Hence, it reduces the number of apps on your phone.

Developing a

chatbot is less expensive

and hassle-free in comparison to developing an app for a business

The simple and easy interface makes

chatbot

easy to use

Depending on the relevant data collected by the chatbots from the customer, the business owners can customize messages for the potential consumers, thus achieving higher

conversion

rates

Chatbots can help you streamline the operations of your business, analyze customer data 

and improve marketing and sales.

Chatbots

can be useful to promote new products by notifying the customers.
Though this hottest young technology is still finding its ground, it goes without saying that today large brands and also small businesses are rolling out chatbots to streamline their working operations. Here are the 5 key sectors where chatbots are creating maximum hullabaloo:
Banking and finance

Travel and hospitality

Restaurants

Healthcare

Ecommerce
Chatbots in banking and finance  
The banking and financial sector is one of the earliest adopters of chatbots. From handling everyday payments, balance enquiry and updates, history of transactions to the renewal of insurance policies, fraud redemption, and money transfers, AI-powered chatbots have moved out of the labs and is redefining the financial and banking operations. With chatbots, the banking and insurance officials can have a more effective customer engagement. Also, the work force replaced by chatbots can be employed for other crucial activities in the banking sector. In March 2017, Next Insurance launched their first chatbot for Facebook Messenger. This definitely benefitted the small businesses to buy insurance via chatbot.
Next Co-Founder and CEO Guy Goldstein, was quoted saying, "70% of our customers are buying insurance on their phones. Enabling customers to buy insurance through a chatbot on Facebook Messenger brings simplicity, transparency and easy access."
Here are the use cases of chatbots in the banking and insurance sector:
Bank of America

's new chatbot, Erica, will be available inside the bank's mobile app in the coming year. It will help customers manage their finance in a better way and take a smarter decision.

In March 2017,

HDFC

Life unveiled India's first life insurance chatbot in collaboration with Haptik, which is said to be India's largest chatbot platform.

DBS's

chatbot POSB digibank Virtual Assistant was rolled out on Facebook Messenger so that the customers can chat to bank online regarding account

balance, transfer funds, and card payments.

Chatbots in travel and hospitality
Though it might look easy and feasible to book hotels for travel with robust information available on the internet, it's not an easy task to book for travel. The travel sector is taking advantage of the disruptive potential of the emerging technologies to make travel booking easier and customer- friendly. This is where chatbots come into play and the travel industry has welcomed this hottest technology with open arms. The chatbots can reduce the pain points of the customers in the booking funnel.  Also, from getting updates about boarding pass to flight status, chatbots can impact the travel world, making travelling stress free and hassle free.  
Expedia chatbot for Facebook Messenger gives easy access to the travellers to scan hotel options and make a booking. Expedia has also launched another new chatbot on

Skype

, to help the travellers with their personalized travel plans.  

Chatbot

Hello Hipmunk

has a chipmunk, which is conversational friendly and responds to travel-related queries such as booking information of hotels and flights, on Skype, Facebook Messenger or Slack. The Skype version is a wonderful addition to this chatbot, especially because the travellers can plan trips with kith and kin, that too without leaving the chat room. Hello Hipmunk has two main features: Hello Email and Hello Calendar.

Facebook Messenger's first airline bot, the

KLM Royal Dutch Airlines

, helps the travellers with flight notifications, boarding passes and also send an update about flight status. The best part about this bot is that it provides the user with the option to talk to a human agent in case of further queries.

The conversational Skyscanner Bot simplifies the travel experience by searching flights and by also suggesting ideas about cheapest destinations from the nearest airport of the user.  
Chatbots in restaurants
Imagine ordering your favourite crusty Mexican Green Wave pizza through a chatbot. Domino's has launched its chatbot, Dom, wherein users can easily get pizza delivered at their home doorsteps. The chatbot is available on Facebook Messenger, Amazon Echo and Twitter.
Yes, ordering food has become that easy. A number of food companies are soon catching up with this trend and are making all kind of attempts to introduce "conversational user interfaces" and the best way is deploying chatbots.
Chatbots can conquer a lot of hurdles existing in the food industry, especially when it comes to handling the manual process. Many a time customers aren't happy while tracking the order. Bots help to simplify this process and make delivery and tracking order faster and transparent. Also, chatbots can identify repeated customers and notify the loyal customers about the special occasions when they ordered food and also offer loyalty points.
Chatbots in healthcare
AI's influence in the healthcare services is deep. And the rapid advancements in AI have made chatbots more powerful. The biggest technology companies also fully understand the disruptive potential of the chatbots in the healthcare sector and several chatbots have been unveiled to reduce the exuberant cost and also improve the quality of services in this sector. Also, chatbots can provide a huge boost to the health sector when it comes to starting a conversation with patients related to his health. It can also help the patients to book the next doctor's appointment. With a chatbot, users can ask health related questions and receive immediate responses in situations when doctors are not available. Health-bots, as they are popularly called, can also suggest personalized health tips for the patients.   
HealthTap, the chatbot on Facebook Messenger, responds to medical problems of the users and also suggests recommendation from doctors. That's not all. The moment a patient poses a question, it gets reviewed by any of the more than 100,000 doctors who also participate in

HealthTap

.

Imagine a situation when you need immediate healthcare advice but you don't have access to your doctor.

Your.MD,

a chatbot powered with AI, can be your go-to personal health assistant in this moment of crisis. Available on Facebook Messenger, this chatbot, which also works on Telegram, Slack, and Kik, ensures it gives the user the correct advice the moment the patient informs the bot about the health symptoms.
Chatbots in e-commerce
If there's one sector which has been robustly implementing chatbots for its business purpose its e-commerce. Reportedly, by mid-2017, AI-powered bots are expected to rise exponentially in the ecommerce and retail sector. Also, modern consumers today spend almost 90 % of their time on messaging apps via mobile than social media. Since chatbots do not require the installation of a native app, it makes it easier for the retailers and e-commerce owners to tap the potential clients and also nurture the existing ones. Through chatbots, e-commerce websites can increase brand loyalty by engaging with customers on a personal note. It also helps the retailers to send regular updates and promotional deals. The ultimate motive of the e-commerce sites implementing chatbots is to take care of customer support. Chatbots can also upsell and cross-sell by recommending different products on the basis of a customer's previous purchases.
Making a chatbot won't be taking much of your time. So, in case you are planning to create a bot, here are some websites you can refer to:
Conclusion
The constant advancements in AI and expansion of various messaging apps are boosting the rapid progression of chatbots.  Microsoft CEO Satya Nadella was quoted saying, "bots are the new apps," at the Microsoft's Build Conference in 2016. According to a recent research, by 2018, if companies don't implement chatbots in their business, then their sales will suffer.
According to Aji Issac Mathew, CEO & Co-Founder of Indus Net Techshu, chatbots will gain more momentum in near future. "The information available on the internet is too much for our brain to consume. Bots will consolidate the information, process it and pass it onto you in a simplified format. This result in better quality control and faster decision making," he says.  
Aji also informs that even a few years ago, this technology was mostly available to the big companies. But now, even the small companies can make use of the bots. In fact, start-ups are also considering developing chatbots.
According to Gartner by 2017, only one-third of the overall customer service interactions will need the efforts of a human being. Today, a lot of money is riding on chatbots and businesses are leveraging them to better their customer relationship management by engaging with more consumers 24X7.
Though it is too early to predict whether chatbots will replace mobile applications, but one thing is for certain: the future of chatbot looks promising. And for the time being, chatbots seem to be the latest face of technology.
Subscribe to our Newsletter