back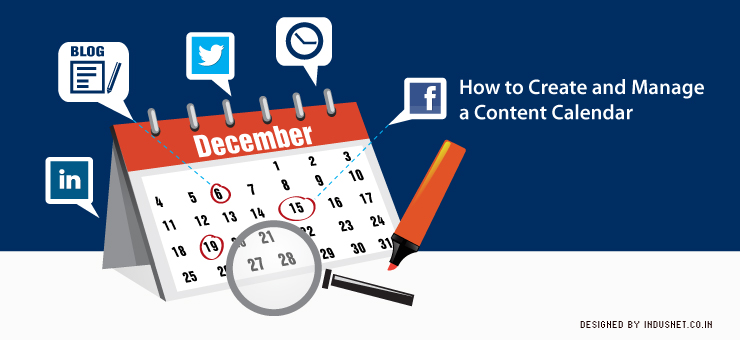 Digital Marketing
Marketing
How to Create and Manage a Content Calendar
Online content is a very important aspect of web marketing. Without content, websites will be blank and there will be nothing to communicate. With that in mind, it is very important to ensure that we have good content calendars that tell us what to publish when and also to organize our own content strategies. Below, we shall discuss what is included in online content and how a content calendar will help us to achieve our goals.
Before that, it must be stressed that a well planned content calendar can increase SEO and in order to build reputation, one must have fresh and reliable content. A monthly content calendar will help us to understand how to publish, share and engage with our audience. Before creating a content calendar, there are several things to consider:
• Seasonality
You need to take a few minutes away from your busy schedule and analyze if seasonality is affecting your business. Seasonality of products, services and even content publishing can affect your business. Based on how seasonality is affecting you, you can draw a customized content map.
• Content trends
Ensure that you read a lot and also know what is going on in your industry. If there is a major conference coming up, try and write something of value before the conference takes place. That ensures that people looking for information about that conference will visit your website and understand that you are relevant and important.
• Product and service launches
Content calendars are hugely impacted by how and when services and products are launched. If you have a product or service that is to be launched, create separate content calendars that reflect that phase during which you create interest about the product, announce the product, track its progress and follow its life cycle.
When you publish content online, you must ensure that all these aspects of online content are taken care of:
• Photos
• Videos
• Whitepapers
• Case studies
• eBooks
• Blog posts
• Articles
• Social sharing
• Blogs
Before you decide to randomly assign the number of blog posts, whitepapers, eBooks or other forms of content that are to be published, understand your audience. A small to medium sized business should post between 12-16 blog posts a month in order to remain relevant. These blog posts may be short (450-600 words) or slightly lengthier. Avoid publishing on weekends and also at odd hours. Try to find out when your readers are online the most, and publish your content at that time.
• Heavy content
eBooks, whitepapers and case studies should be published every month but their numbers can be limited. You may published 2 of each or if you are not able to do justice to these platforms, publish only 1 of each every month. Each time you publish a white paper, eBook or a case study, you may also write a corresponding blog post in order to optimize your content.
• Media
Photos and videos add visual depth to your posts. Ensure that you use these media to the fullest. However, use licensed images that are legally purchased, or create your own images. If you can't do either, images from Creative Commons license on Wiki Images can be used as well.
• Social sharing
Everything that you publish must be shared online on social networking websites. These include Twitter, LinkedIn, Facebook and Pinterest. Ensure that social sharing happens in a timely and engaging manner. If you choose to automate your social posts, also make sure that you take time to engage with your audience often. Do not be a social robot.
At the end of the day, make sure that you have a workable plan and a schedule. Ensure that you publish your content in a timely fashion and do not haphazardly post your content whenever you find time. If you are not able to create quality content on your own, you can always hire an experience content writer or editor, who will be able to help you further. Content is still the king, and the more number of Google updates we have seen, the clearer it has become that one must consistently and reliably create content that is of value to your target audience.
Subscribe to our Newsletter