back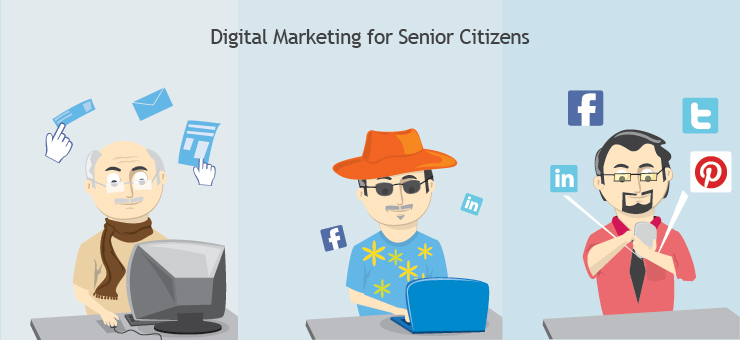 Internet Marketing
Marketing
Digital Marketing for Senior Citizens
Digital marketing strategies for senior citizens can be a tricky subject. Senior citizens in North America and Europe are wealthy, active and tend to spend more than other age groups in the society. This makes it extremely crucial for marketers to target this segment in an intelligent and effective manner.
Avoid Ageism
There are many myths and misconceptions related to senior citizens and a digital marketing campaign's success depends upon how well we break those myths and misconceptions. Most people profess ageist attitudes which invariably seep into marketing campaigns. Well meaning, harmless assumptions about 'senior citizens' can have a devastating effect on marketing results as they smack of ageism and prejudices related to age.
People of no age group wants to be treated with bias and prejudice, especially concerning their age. Most marketing campaigns tend to assume that senior citizens belong to a singular demographic, and they don't. Marketing professionals usually group senior citizens under 3 categories.
Digital Marketing for the GI Generation
The first group ranges above 74 years, knows as the GI generation. They do not use smartphones and tablets as much as younger senior citizens do. They prefer to use either desktops or laptops and use emails as their preferred means of online communication. They also prefer to find information through search engines rather than on social media. A marketing campaign that is targeted at this group needs to take into account certain cultural attitudes that were prevalent during the time of GI generation.
They prefer stability, trust and brands that are well known. If you are a company that is new and are not familiar to the GI generation, you might want to utilize strategic placement of banner ads. The toe of the language needs to be consistent, directive and almost imperative to take action. "Click here for more information", "Find out if you are eligible", "What's in it for me?", etc are some of the ways you can get the attraction of this age group.
Digital Marketing for the Silent Generation The second group among senior citizens is that of those who are currently aged between 65 and 74. They are often referred to as the silent generation. This demographic usually is very affluent, and tries to live a very active and independent life. They are also the ones who spend a lot of money on luxury travel. They use the Internet more avidly than the GI generation and tend to be well versed with important social media sites like Facebook and LinkedIn. They may however not use social media consistently enough to be targeted through social media ads. Instead, email marketing and strategic placement of banner ads seem to do the trick.
Digital Marketing for Baby Boomers
The third group consists of people who will achieve senior citizen status within the next 10 years. They are aged between 55 and 65 and typically belong to the Baby Boomer generation. Most of them are at the throes of their careers and hold very responsible posts, and tend to have a lot of disposable income. They also use smartphones and tablets similar to younger adults and are the easiest of the older demographics to reach.  Digital marketing strategies can include email marketing, Facebook, LinkedIn and Twitter marketing and banner ad placements.
Guidelines to Follow with Respect to Marketing
When it comes to senior citizens, marketing copywriters should never make in ageist remarks. Most importantly, you should not make seniors feel old. The key to marketing success is to have an effective search engine marketing campaign in place. As this group utilizes email more frequently than the rest of us, an effective email marketing campaign is important as well. Security certificates, trusted logos and licenses will help you to gain the trust of this skeptical demographic group, which means you must also be clear and concise with your communication style. It is good to use black text against white background and vibrant imagery. Using a direct and businesslike tone will appeal to them.
Following these guidelines will help marketing professionals to create a successful digital marketing campaign targeted at senior citizens. At the end of the day, clarity, truthfulness and business acumen will help in reaching out to this increasingly important demographic.
Subscribe to our Newsletter