back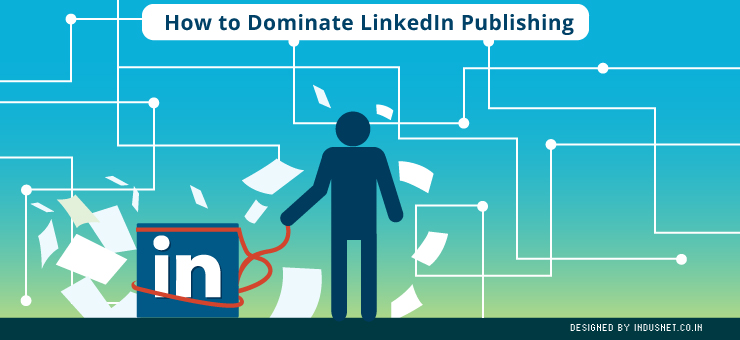 Digital Marketing
How to Dominate LinkedIn Publishing
LinkedIn recently announced that it has opened its publishing platform to all English-speaking countries. Publishing was a privilege that it initially gave to the likes of Richard Branson and President Obama. Later on, it started to give the opportunity to publish to active and influential users of LinkedIn. Today, there are more than a million posts and publishing will soon be open to more than 230 million English-speaking users of LinkedIn.
How are LinkedIn posts different from status updates?
Posts are not the same as status updates. Status updates are meant to be used to share your thoughts, views and opinions in a short and concise manner. Status updates can also be used to share links, which can again drive traffic to your own blog or website. On the other hand, posts are proper articles and blog posts.
If you've never used a blog before, the LinkedIn publishing platform provides an extremely simple way to share your story with the world. You do not have to worry about writing on another website or deal with complex things like launching your own site. The publishing process is extremely intuitive and easy to understand. In fact, when you want to publish a post, all you need to do is click on the pencil icon in the status update box. It takes you to a WordPress-like page where you can write and edit your article.
LinkedIn has also promised that publishing will be made available to all members and languages in the coming months. Publishing articles on LinkedIn may help you to gain a very influential and important audience on LinkedIn. In this article, let us take a look at how you can maximize LinkedIn publishing to your benefits.
Align your content to the likes of popular channels
LinkedIn works specifically as per the content of your post. Keep your content focused for it to show up often. Writing consistently in that area will highlight your post and make your presence more relevant on LinkedIn.
Before you start posting content, figure out your content strategy. LinkedIn members only look for professional, niche and original content. Avoid posting vague information which is not supported by facts. If you are posting a link on an important topic, curate the content by doing some value addition. It could be your personal opinion as well. Content related to social media, productivity, company culture, success and leadership are some of the most popular topics.
Be focused and regular
An important trick to remaining relevant is to actually be relevant in its real sense, which means, you have to show up. If you do not publish regularly, your presence will be forgotten. Use a blogger or a content provider to post on your behalf if you are unable to write posts on your own. It is perfectly to all right to outsource writing LinkedIn posts.
It is common to notice people who get all excited and post a few articles and after sometime, the pressure of having to come up with ideas and the drudgery of writing takes a toll. Thus, people simply give up. This is true in the case of blogging but is now going to be true on LinkedIn as well. The more you write on LinkedIn regularly, the more you will dominate the scene.
Whether you blog or not, take up LinkedIn publishing
If you've never used a blog before but want to improve your professional branding, you might as well start publishing on LinkedIn. As a company or a professional, you can leverage LinkedIn's new publishing platform to boost your social media presence if you are not willing to take up blogging full time.
If you are already a blogger or a content creator, it is still a great idea to publish unique content on LinkedIn so that your own articles on LinkedIn drive traffic to your own blog. In other words, it is actually a great idea to continue blogging on your website while also publishing unique posts on LinkedIn that may be of interest LinkedIn demographics. The more focused and regular you are with your LinkedIn posts, the greater the chances of you finding better leads on LinkedIn.
Subscribe to our Newsletter