back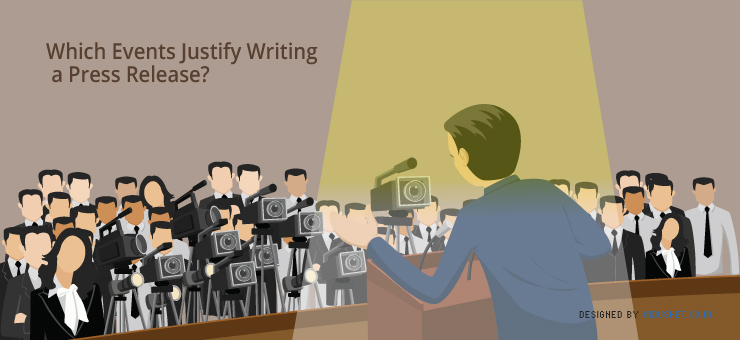 Inside Indus Net
Reviews
Which Events Justify Writing a Press Release?
A while ago when people still continued to misunderstand search engine optimization and web optimization, someone came up with the great idea of suing press releases to boost search engine rankings. It did work for some people but did not work for the rest of them. Let us take a deep look at why writing press releases did not work for many people later in this article. Before that, one must understand why press releases became so popular for website owners in the first place.
What is a press release anyway?
A press release is basically a professionally written piece of communication specifically targeted at journalists. A company that writes or publishes press releases hopes to be published or written about in any of the mainstream newspapers or magazine. When online journalism and lately, professional blogging took off, search engines began to rank these excellent online magazines and news websites higher than other websites. Companies and PR firms began to understand that if these online newspapers and magazines write about a company or its products, a tremendous amount of traffic would be directed to the company's website and its search engine ranking would be boosted.
Why journalists and bloggers usually discard press releases
Well, that was a naive way to think of things. While the format may look neat and simple, it is not very simple. Firstly, journalists and bloggers are inundated with press releases. They do not read 90% of the press releases they come across (well, we made up that statistic, and who doesn't?). It is safe to admit that a majority of bloggers, journalists and news writers do not read a number of press releases that come their way. That is because, they know that press releases are written only to gain traffic, search rankings and increased web presence. Consequently, they ignore much of the press releases that come their way. With that in mind, here are some of the occasions when companies small and large write press releases
When there is a product launch
When there is an event
When there is a celebrity coming 'home'
When financials are released
When a company makes profit
When a company chooses to write press releases
When a company does not choose to write press releases
When the weather is hot, cold, rainy or windy
As you can see, press releases are written all the time, without thinking much about whether it is really news worthy and if it is really going to be picked up by journalists and bloggers. While press releases can effectively boost traffic, rankings and build media mentions when they are used appropriately, one needs to know what these appropriate situations are. In other conditions, you might want to ask yourselves twice or even thrice before writing and publishing a press release.
Here are some of the most important circumstances that warrant writing a press release:
Product and service launches –
Whenever a new product or service is launched, it warrants a press release. However, firmware updates, software upgradations require press releases only if they are important enough. Otherwise, you can just tweet/blog/update your Facebook account with the news.
Celebrity endorsements –
This almost always requires a press release written and we shall not go deep into that.
Business collaborations –
Whenever you communicate or sign agreements with another company, you may write a press release.
Corporate responsibility activities –
When you do something good for the community, write a press release about it and organize a small event as well. However, if you donate a very small amount of money to an organization, you probably should not be writing a press release for that.

Awards and recognitions –
This is a touchy issue. You may write a press release if you have been awarded or recognized for your achievements only if the awarding body is significant. If a local organization that nobody has heard of provides you with a badge of honor, it is something you should not announce to journalists or bloggers.
Finally, do not write press releases unless you are sure that it is worthy enough to be published in an important blog, magazine or newspaper. Press release is an important form of communication and can easily boost business to business social media activity. Only, you must ensure that your press release is newsworthy.
Subscribe to our Newsletter