back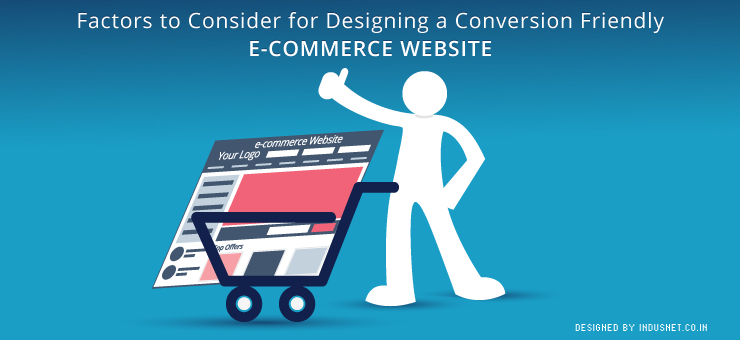 Design
Web design
Factors to Consider for Designing a Conversion Friendly e-commerce Website
A lot of people repeatedly ask us how to create the best eCommerce website that leads to conversions. There is already a lot of information about this and we have written several times how important it is to consider a few things before designing eCommerce websites. A successful eCommerce website is not about its looks but how much sales it can generate. A good eCommerce website should lead to conversions and not deter customers from returning.
There are a number of things to consider here. You must ask yourselves these questions:
Is your eCommerce website easily navigable?
Does it take a lot of time to load?

Is your website trustworthy or does it look trustworthy?

Do you have too many steps to complete before the customer finally makes a purchase?
Is your checkout process complicated?
Have you got your landing pages designed professionally?
Is your eCommerce website supported by great content?
Are your products easily shareable on social media?
These and several questions need to be considered before you can get a successful eCommerce website. In this article, let us take a look at the various factors that lead to successful conversions on eCommerce websites.
It is all about the landing page
Most companies do not realize how important it is to get good landing pages designed. A landing page for a single product that you are advertising online can act as a catalyst and boost sales of your other products. In order for your landing pages to work, they should be designed well and the copy should be crisp, persuasive and informative.
Taxonomy and search related efficiency
It is never easy to find a great product on huge ecommerce stores. If you have a number of products to sell on your eCommerce store, make sure that they are all categorized and made available in an easy taxonomy. You should categorize and make the products easily searchable as well. There is nothing annoying that not being able to find a product that is actually up there for sale on your website.
A lot of people decide to buy and they are impressed with your landing page. They proceed to enter their information and go through the checkout process. However, your checkout process is complex and it asks for a number of questions. Finally, the prospect gets irritated and leaves. He or she may never come back and you could lose that customer to a rival. Make sure that your checkout process is simple and fast. Do not ask for information that is not required. They should enter their credit card information and purchase as soon as possible.
When people enter their credit card details, they always worry if their information would be compromised. In order to allay their fears, make sure that you are always available to answer questions. Having a call center or a web based customer service chat service is a good idea. You must also have identifiable signs that scream trust and reliability. Examples are VeriSign, Visa and MasterCard.
All said and done, if you do not have good content written to support your products and services, people will not purchase them. No one wants to buy products from a company that does not look professional enough. In order to make sure that your content is top notch, you could hire professional content writers who can write great copy. Successful content marketing can help you boost your eCommerce website in a manner that can only be described as impressive.
These are some of the most important factors that we must consider when it comes to web designing for eCommerce websites. If you make sure that you took into consideration all these factors, you probably will land up with a lot of conversions. Most of the times, eCommerce sites fail because the websites are not well designed. A properly thought-out website will bring in more leads that will end up as conversions. Ensure that you speak to professional web designers to discuss how they can help you with your eCommerce store.
Subscribe to our Newsletter