back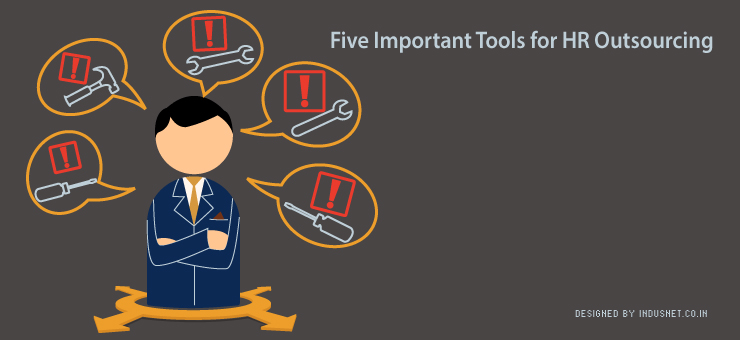 Offshore outsourcing
Strategy
Five Important Tools for HR Outsourcing
When a company hires a third party to perform all or a part of their HR functions, it's known as Human Resource Outsourcing. Most of the times it's the smaller firms that outsource their entire HR function. The larger firms prefer to outsource only few specialized functions like Pension & Health Plan administration, so that they can pay closer attention on the other important functions.
HRO
ENTERPRISE HRO
DISCREET HRO
Outsourcing of the entire HR Function
Outsourcing of a single process in the HR Function
There are many things that one must bear in mind before outsourcing one's HR functions.
Good human resource management software programs come with similar core functions. However many of them differ on various aspects that is difficult to describe in a single article. However, we have made a list of factors that you should most certainly look for while choosing an HRM tool. Some of the most important functions of HRM tools are:
• Managing personnel information:
The tool that you purchase or install must support all kinds of employees. Whether they are full time employees, contractual workers, interns or freelancers, their information should be properly entered in the HRM tool. In fact, a tool that works closely with Hr department must also be able to enter information of all kinds of working relationships.
• Self-service of management:
Whether it is an employee or a manager, they should be able to enter information and manage their records to an extent. The HRM tool should also provide users with facilities to access information, retrieve data and also make changes when required. Thus, even employees should be able to access certain areas of the HRM tool.
• Absence management:
There is nothing more important than managing your employees leaves and absences. Whether they fall sick or they are on leave because of official work, employees should be able to apply for leave permits on their own. This will reduce a lot of problems that a manager might encounter later on.
• Time and attendance:
A good HRM tool tracks at what time an employee logs in or enters an office's premises. It also tracks how long they stayed within the campus and when they left. IT makes sure that precious man-hours are not lost and that those precious hours are not lost in thin air.
• Benefits:
The HRM tool must also be able to monitor and configure insurance, provident funds, loans, pensions and healthcare. This will ensure that there are no disputes between employers and employees at a later stage. Moreover, it also ensures that a lot of time is saved. Such information will need to be pulled out occasionally and thus, accessing such information should be very easy.
• Payroll:
A good HRM tool must be able to calculate the number of hours worked, overtime, bonuses given to a particular employee, deductions, taxes, and contributions. All the information needs to be entered accessed easily. HRM tools that make this unnecessarily difficult will end up causing a lot of trouble to companies than helping them in any way.
• Position management:
An efficient HRM tool should be able to describe positions, list employees roles and their hierarchy, draw organizational charts, matrices and such other graphical information. It is crucial for HR managers to access this information on demand.
• Analytics:
A serious HRM tool will also provide enough analytics to predict and analyze future trends in workplace. It will offer crucial data about employee trends and how they may behave in the future.
• Mobile support:
Now that everyone carries a smartphone, an HRM tool must be available on every smartphone that is worth considering, including iOS devices, Android, Windows Mobile and BlackBerry.
We have listed 5 of the most used HRM tools today, especially from an outsourcing perspective. Given below are those 5 tools and a brief description of each of the 5 tools.
• SAP ERP HRM
SAP ERP HRM goes by the service name of ERP Human Capital management and is licensed by the parent company SAP. With more than 500 employees, SAP is one of the largest IT companies in the world. Without a doubt, SAP ERP HCM is also one of the most popular HRM tools around. The tool not only helps employees to achieve their career goals but also helps employers to attain and achieve their business objectives.
It leverages SAP ERP software and helps companies to streamline, automate, and run ERP and HRM processes that are often complex and difficult to handle. You could also go ahead and automate employee administration, which is one of the most important aspects of an HRM tool. SAP ERP HCM comes with features like time management, payroll administration, reporting of legal processes and a host of other features that make it very popular among users. It helps companies to attract and hire the right kind of people while making newly hired recruits more productive. Once they are recruited, their progress and contributions can be effectively tracked and monitored.
• Oracle Fusion
Oracle Fusion also goes by the name of Fusion Human Capital Management and is licensed by Oracle, one of the largest service providers in the world. With HIPAA and SAS 70 Type II compliance, Oracle Fusion is the HRM tool of choice for many people. It comes with telephone, email, online and 24 x 7 support that can be used to troubleshoot problems. It offers support for mobile devices and has a specialized iPad app.
The tool enables companies to engineer a global foundation of HR data that will ultimately help companies to improve business processes. It helps companies to increase productivity and lower costs by accelerating performance. Oracle HCM Cloud makes use of cloud computing to ensure that a lot of storage space is not occupied. Cloud services are available via subscription and are a great way to ensure that your data is safe and available at all times. It can be used for global HR processes, goal management, compensation, HR analytics and a host of other HR related functions that many tools do not provide.
• Ceridian Dayforce
Ceridian Dayforce by Ceridian is another great option for HRM. It focuses on workforce management and helps companies to track time, attendance, human resources, taxes, benefits and a host of other services. This particular software is a great tool for medium and large companies as it schedules a lot of things. Moreover, much of the tasks are automated reducing the need for unnecessary intervention in between.
• Workday
Workday is yet another popular HRM tool that offers mobile support on almost all the devices with the help of HTML 5. It also has specialized iPhone and iPad apps which make it hugely popular among those who are part of the Bring Your Own device practice. It was launched in November 2006 and offers support 24 x 7 online, over email and on telephone. Workday is a complete HR suite and it includes talent management, payroll, recruitment, HR administration and time tracking. It offers a plethora of services and features that most HR recruiters would find rather convenient. It also offers some of the best security features in the industry today, which makes it a very appealing choice for most of us.
• Kronos
Kronos is one of the lesser known HRM tools but it is a very efficient one nonetheless. It has specialized Android, iPhone, iPad and BlackBerry apps. Moreover, the company offers 24 x 7 support via telephone, email and online. With more than tens of thousands of customers, it is a hugely popular tool though many people still go after the more prominent ones. No major outages have been reported and it offers every HR function that a company could ever want.
There are several other HRM tools out there, each one better than the other. If you are confused about which tool you should use, it is always a good idea to speak to a specialized outsourcing agency or someone who knows about HRM tools in detail. These tools can be very powerful and can help in reducing costs and unnecessary man hours that are often spent on manual HR administration. Depending on the size of your organization, the software and tools can be customized in order to help you achieve the best results. There is nothing more worthwhile than saving time and money in the long term and HRM tools do just that.
Subscribe to our Newsletter