back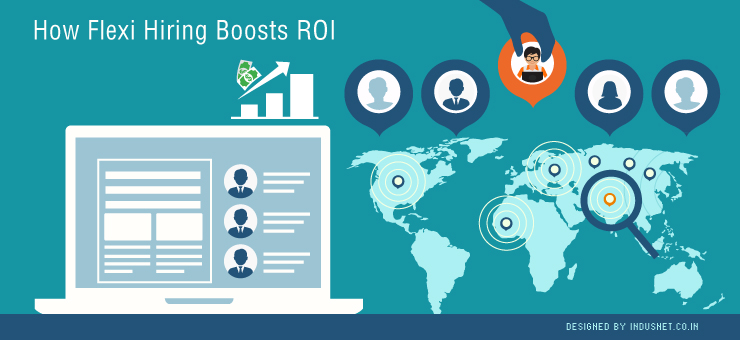 Outsourcing
How Flexi Hiring Boosts ROI
Flexi hiring refers to the process of hiring employees who work on a flexible structure. Usually, flexi hiring refers to hiring teams from agencies who are not really your employees but work for you as a team, while being on the payroll of another company. This works well because while they are paid full time by their employers, you only pay for the number of hours or projects that they work for you. You will not have to worry about hiring full time employees who will become a burden to your payroll eventually.
More often than not, we realize that we do not need full time employees. What companies really need are efficient employees or teams who will work for a specified number of hours or simply, in other words, on specific projects. Once a project is completed, you will no longer have to deal with those teams again, unless you choose to hire them again for a different project.
There are a number of advantages to the flexi hiring model. Cost reduction, access to professional skills that you may otherwise not find, flexibility in working style and many other advantages have attracted companies towards the flexi hiring model. What's more, flexi hiring also helps you increase your ROI.
In this article, let us take a look at some of the reasons why flexi hiring ultimately helps you to increase your ROI and profits.
Affordability and accessibility are hallmarks of flexi hiring
Flexi hiring allows you to hire the best employees your pockets can allow. You will have access to JAVA, Python or just about any expert that you might want, without having to pay a full time salary. The professional's parent company does that. All that you need to do is, pay the agency charges on an hourly basis or per project.
What you choose really depends on you and your vendor. The size of your team can also be increased or decreased depending on your needs. Most importantly, you will not spend money on overheads. You will not have to spend money on hardware or software, something that your flexi-employee brings to the table at no additional cost. All of that will be included in the hourly charges that you pay, usually of course.
Choose how you supervise and monitor your virtual teams
Also, you can manage your team remotely, without having to supervise them personally. What this really means is, you can rely on good old Skype to stay in touch with your flexi employees and focus on what is really important: building your own products and services without spending extra time or money on what is not very important. You will have complete control over your projects and the way you choose to plan them. Another advantage of flexi hiring is that you can cross boundaries, rhetorically speaking.
Do not feel restrained by boundaries
You will not be subjected to different labor laws in different countries. You will only have to ensure that you give clear instructions to your flexi teams, who will work on your project as is required by your project. There are obvious tax, legal and other benefits to an arrangement like this. As there are time differences between different countries, flexi teams often work at a time that is convenient for you to contact them. Or, you can request them to be available at designated times so that you can supervise them or ask them to join teleconferences.
All this ensures that there is a constant communication between you and your flexi team. Your flexi team may not be working for you but they are certainly accountable to their own employers, who in turn are answerable to you. So, you really do not have to worry about accountability.
HR and security related worries are a thing of the past
You also do not have to worry about common HR related problems such as attrition, exit interviews, retention and raises. You just have to focus on building and growing your company, while a flexi team ensures that all that is required to fuel your growth is done quickly and efficiently. If you like the work that they do, which is usually the case, you can also prolong the contracts and work on a long term basis. Some companies offer discounts if you choose to work with them on a long term basis. When you hire a flexi team, you are not only saving money but you are also saving a lot of time.
This is very important especially if you are looking at research and development and opportunities to innovate your existing products and services. All your data will also be stored carefully and in secure cloud locations, so you do not have to worry about security. Communication takes place over encrypted networks so that you do not have to worry about information that you send or receive. You can also choose to store all your information on your own cloud-based servers, so that flexi-employees have no control over it, unless you choose to give them.
Looking forward
If we look at the reasons above, it becomes clear that flexi hiring indeed reduces costs and boosts efficiency and innovation. In other words, this helps you to increase your ROI to a level that you didn't know was possible. After all, flexi hiring comes with many advantages that are usually not within the reach of a company.
Access to talent, software and hardware are enough to give a boost to a company that is struggling to make ends meet. If these three areas are taken care of by the flexi teams that a company hires, projects will be completed smoothly and quickly. Added to this, the investment that you make on flexi teams is far less than the benefits that you reap out in the end. Even this helps to increase the ROI and profits of a company at the end of a financial year.
As we can see, more and more companies are taking the flexi hiring route and it is certainly one of the best ways to overcome staff deficits and issues that a company might be facing. One will no longer have to hire a full time employee for every possible project. Though flexi hiring has existed in various forms in the past, its importance and stature is only growing in size right now. In the years to come, this model of hiring will become more common than ever.
Subscribe to our Newsletter