back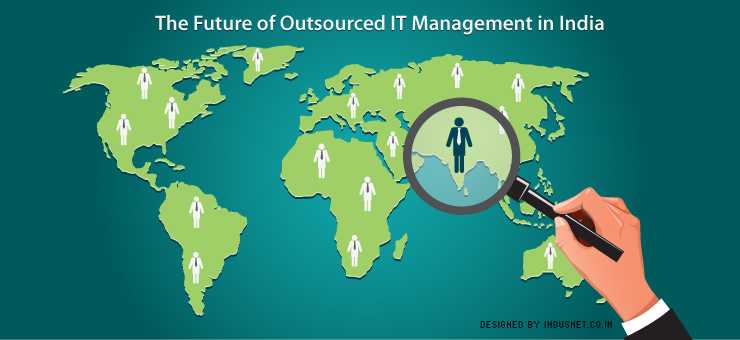 Offshore outsourcing
Strategy
The Future of Outsourced IT Management in India
The concept of outsourcing is nothing new and has existed for hundreds of years, if not for thousands. During the earlier days of Industrial revolution many of the businesses being frugal, started switching the production of their goods to countries with cheaper labour force. With a development in the routes of transport more countries started outsourcing their trade to other countries, gradually leading to outsourcing to India and other countries.
Today outsourcing is gaining more popularity due to a lot of reasons. Unlike earlier times, outsourcing is not done only to reduce costs but for several other reasons:
• Concentrate on core competencies
• Increase productivity
• Acquire skilled work force
• Provide the customers with low cost goods
Outsourcing is the process of hiring a third party to perform the non-core functions so that the business can pay more attention on its core competencies.
For e.g.  How many of us have the time or money to respond to every call and e-mail, buy gifts, and pay the bills?  A personal assistant could be hired to take care of all this but it might not be feasible. The solution for such problems is to hire a company that provides a group of skilled assistants to take care of these petty jobs at a much lesser cost.
Outsourcing can be broadly classified in to
• IT Outsourcing
• Knowledge Process Outsourcing
• Business Process Outsourcing
• All IT functions or a part of it is outsourced.
• Pay roll, internal auditing, billing, data entry, editing, answering phone calls etc.
• Content writing, legal services, animation, intellectual property research etc.
IT outsourcing and India
In this day and age, where information technology has become crucial to the existence of a business, it is essential that every business has a well-built IT system in place. The cost incurred in terms of money, time and people to build up your own IT management team is exorbitant. Hence almost every business prefers to have a third party handle the entire or a part of its IT function.
Despite having many major competitors like China, Japan, Mexico etc., India has managed to become the most favourable outsourcing destination. IT industry has existed in India for a very long time, but it was completely under the control of the government. A few decades ago, the Central government of India introduced policies to encourage commercial participation in the telecom industry.
India is one of the countries with a large English-speaking population. It has a big group of skilled work force who speaks English apart from their regional languages. The group of skilled work force is expanding with an increasing number of students graduating every year. IT companies have divided their work force in to night and day shifts to ensure 24×7 services. This helps in bridging the communication gap resulting from difference in time-zones of both the companies. India also has its own set of hi-tech infrastructural facilities and services that are aligned with the international standards like ISO, six-sigma and so on.
So it's not the number but the quality of the work force & infrastructural facilities that makes India as one of the most favourable outsourcing destination.
Future of outsourced IT management in India
The future of the outsourced IT management in India depends on how it tackles deals with the changing trends:
• According to the reports from NASSCOM Engineering Summit 2013 the future of outsourcing doesn't lie with the IT sector alone. There will be a gradual movement towards electronic, mechanical & aeronautical engineering. Research & Development has a crucial place in the development or advancement of any technology and it demands a group of skilled work force and infrastructural facilities.
India might have a large pool of multiple skilled people, but it lacks the ability to tap the right type of skilled worker and also the social security laws needed to conduct background verification of these workers. The development in terms of infrastructure is also negligible. Hence the companies and the government should work together to ensure adequate supply of skilled workforce and hi-tech infrastructural facilities.
For example: 'Power To Empower 2013' is a programme launched by India@75, Confederation of Indian Industry and the National Skill Development Corporation that aims at encouraging the young students and entrepreneurs. Another example would be: 'Aadhaar Diffusion Project' by NASSCOM, which aims at building an identity infrastructure that helps in authenticating an individual's identity anywhere and anytime.
• The IT Industry aims at providing customers with high quality goods at low prices. With increasing labour costs in larger cities, many outsourcing companies are actually encouraging attrition. This has lead to high levels of stress and chaos amongst the employees, which sometimes deteriorates the quality of their work. Hence companies should slowly move in to smaller cities where cost of labour is lesser.
• India is yet to realize the importance of patenting its intellectual property so that it can retain a competitive edge over the others in the market. It might be too late if a competitor patents IT processes before you do because this will prevent you from using the same processes.
• "You should do only what you do best in-house, and outsource the rest." – Late Dick Benson.
Over time, clients are going to outsource more of their business processes or services. Thus companies with experience in back office operation get an opportunity to deal with more complex processes or services.
It isn't as easy as it sounds. For a very long time India has had only IT clients and very little attention was paid to other aspects of business. If the company has to find a way up the value chain, it's essential that they learn to communicate effectively and work efficiently with other businesses too. This doesn't mean that the front office operations are more important while compared to back-office operations. One aspect cannot be prioritized over the other. For a country like India with a large group of work force with different skills, it would be easy to provide both the services.
• Due to the constant pressure from their government to not outsource business processes, some of the U.S based companies are moving on to automating processes with the help of technology. Thus India has to develop a service that offers automated process.
• India might be the most favourable outsourcing destination today. But there are other players in the outsourcing market like China, Japan, Indonesia etc. who provide cheap services. The major competitive edge India has over its competitors is multi-skilled work force and their ability to communicate in English.
Some of the other problems that we did not discuss here are mostly political and bureaucratic in nature. Despite being one of the most successful stories of outsourcing, India is not the easiest country in the world to start a business in. Bureaucratic hurdles and red tape accost entrepreneurs at every corner and that sometimes leads to a lack of motivation among Indian business people. However, persistence of the Indian IT community and entrepreneurial skills will always have an added advantage over bureaucratic hurdles.
The government on its part has begun to liberalize economy further, making it easier for individuals and groups of people to start firms. For instance, it is no longer necessary to have a sum of Rupees 100,000/- ($2000) to start a company. One can start a Limited Liability Partnership (LLP) at near-zero cost. These economic and business reforms will help Indian entrepreneurs to start many more businesses that will eventually lead to more foreign exchange coming through. At the end of the day, what matters is how good an entrepreneur really is, when it comes to offering non-core competencies to clients. Indians with their English skills and IT experience are able to provide more than what competitors in other outsourcing destinations can do, at a lesser cost.
The future of IT outsourcing industry is bright, provided the problems are addressed correctly at the right time. There also needs to be more enthusiasm and entrepreneurial spirit among Indian youth, who have long been used to working for a company rather than running their own companies. Such a cultural shift is difficult to happen overnight but one can already see that India's start-up community is very large and vibrant. With all this in mind, one can realistically hope that India's IT outsourcing industry will only grow larger.
Subscribe to our Newsletter