back

Digital Healthcare
Hackathon Diaries
Technology
Hackathon Diaries #2 HealthPouch: The Ultimate Health Companion
Introduction
The awe-inspiring INT. Hackathon 2023 encouraged all innovators, problem solvers, and tech enthusiasts among us to participate in order to take advantage of the opportunity to demonstrate their abilities, work with their peers, and realise their original ideas.
The previous edition of Hackathon Diaries showcased V2V (Vein to Vein) Monitoring and how it is transforming blood bank operations digitally. Our tech gigs didn't stop there, our CodeMedics team was locked and loaded with their innovative idea of HealthPouch, thus, this blog.
HealthPouch
Introducing the ultimate health companion – a revolutionary web and mobile app that puts all your medical information in one secure place to offer personalised health tips and insights. Rest assured, you'll never miss an appointment again.
It doesn't stop here, you can also share your medical documents with your healthcare providers seamlessly, keeping them informed and up-to-date. Say goodbye to medical paperwork headaches and hello to effortless health management with our all-in-one medical app.
Team Codemedics And Its Members:
Problem Statement
Managing personal medical information is a daunting task, especially when it's scattered across different healthcare providers and medical institutions. Keeping track of appointments and medical paperwork fetches challenges leading to missed appointments and important medical documents going astray.
Also, managing medical documents in healthcare organisations is inconvenient and time-consuming. Furthermore, a deficiency of personalised health tips and insights results in a lack of understanding of their health and hampers decisions about their wellness.
Fortunately, there's a growing need for a centralised location for managing all personal medical information, making it easier to keep track of appointments, access medical records, and share documents with healthcare providers.
Solution and Features
HealthPouch – the top-notch web and mobile app has the ability to detect:
Doctor's Prescriptions
Medical Test Reports
Offers the following features:
Prescription Analysis
Diagnostics Report Analysis
Health Tips
Health Trends
Doctor's Details
Clinic Network
Pathology Lab Network
Medicine Reports & Trends
Users will be able to filter and sort the reports as per the requirements:
For Prescriptions Analysis
For Diagnostics Reports Analysis
Health Trends
Health Tips
The facility to share the required details.
How this Works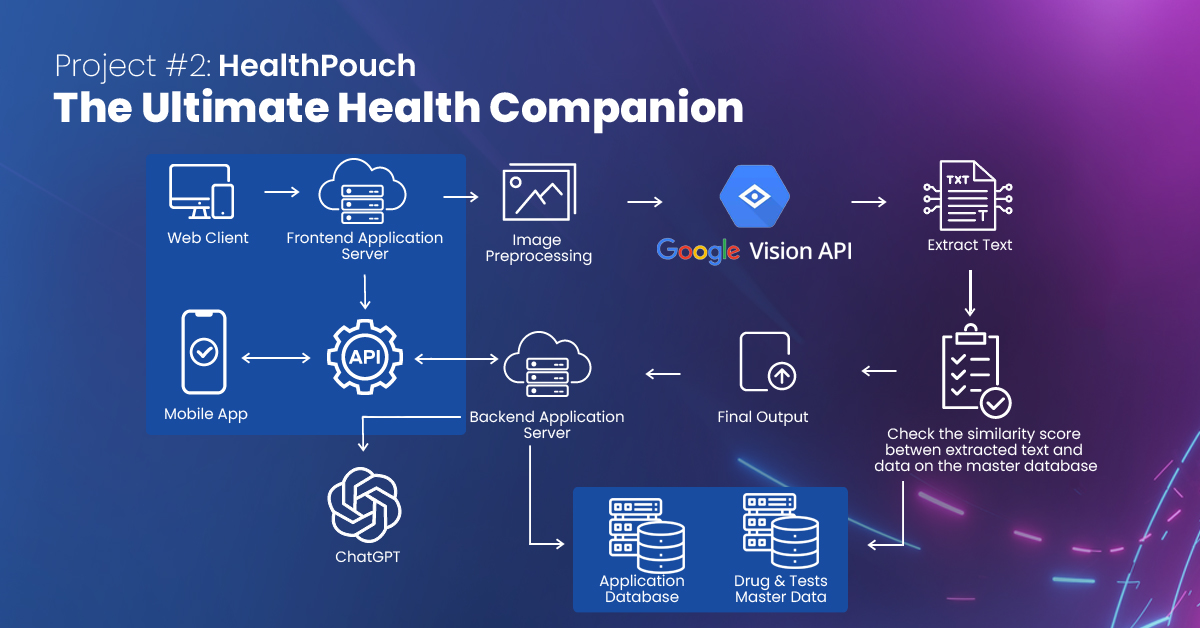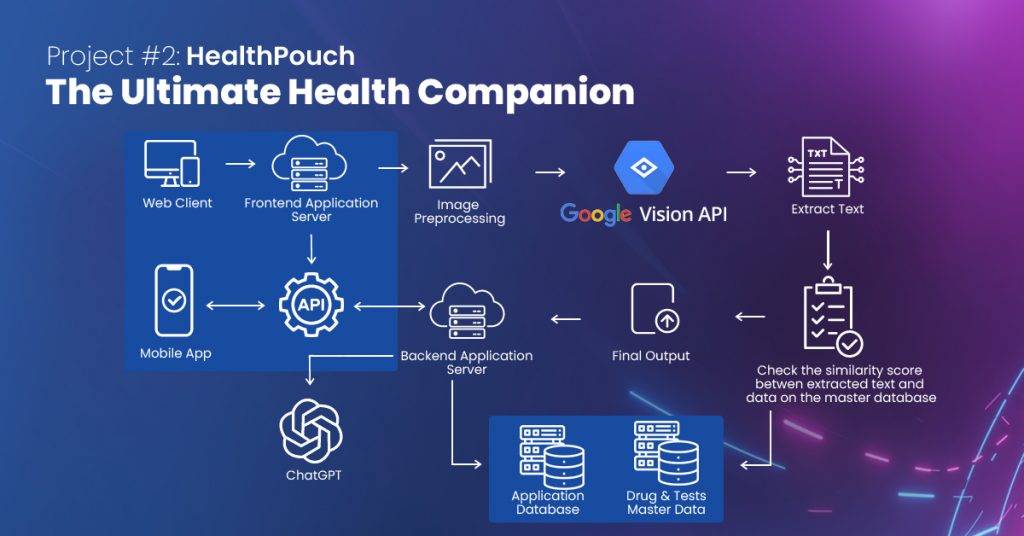 Tech Stack Used
NodeJS
ReactJS
React Native (Hybrid)
Python
Google Vision API
OpenAI
Postgresql
Benefits
User Perspective:
Centralised health data locker
Health tips and suggestions
Checking health trends
Doctor/Diagnostics Contacts and Network
Security Perspective:
Security policy
Encryption
Network security
Encrypted sensitive user data storing with a well-defined access mechanism
ROI Perspective:
Check penetration/demand of various drugs by doctor and area location which we can provide to pharmaceutical companies
Check preferred diagnostics by doctor and area location which will provide to diagnostics centres
Future Scope
Incorporation of location component with respect to patients, doctors, clinics etc.
Ability to add family members and their related reports on the system
Creating alerts for tests to be conducted at regular intervals
Enhancing the accuracy level of the learning model by feeding more data sets
Predicting genetic diseases and preventive actions
Comprehensive health analysis report
Subscribe to our Newsletter