back

Blockchain
Digital
Digital Transformation
DigitalSuccess
Web3.0
Hackathon Diaries #3 Digital Democracy: Web-app Vote, One-click Remote
The INT. Hackathon 2023 was a call to all the tech enthusiasts, problem solvers, and innovators at our company to be a part of an electrifying opportunity to showcase their abilities, collaborate with their peers and bring their groundbreaking ideas to life. This offered a platform that left every one of us awe-inspired and amazed through the unleashed creativity.
In this edition, our tech gigs focused on our commitment to the Digital India initiative as we are already serving a plethora of government bodies time and again. 'Digital Democracy' is what the team emphasised with the motto, 'No stress, no mess, just a simple click and your vote is expressed.'
Digital Democracy
Digital democracy is a cutting-edge web application to revolutionise democracy through a decentralised voting system. It harnesses the power of blockchain technology to ensure secure, transparent, and tamper-proof elections. It acquires the potential to avoid long queues and outdated voting systems to welcome a new era of democracy.
The Team
Market Potential
Increased demand for remote voting: The COVID-19 pandemic has accelerated the trend of remote voting, as more people are looking for safe and convenient voting remotely. 
Blockchain technology adoption: Blockchain technology is growing across a variety of industries, and its potential applications for voting and elections are increasingly being explored.
Potential cost savings: An online voting app with blockchain can provide cost-saving options compared to traditional voting methods, such as paper ballots and in-person voting.
Problem Statement
Voting: India is the largest democracy in the world, however only 67% of people vote
Security: Electronic voting machines are vulnerable to hacking, tampering, and other forms of interference hampering the voting procedure
Transparency: Voters face ambiguities in the counting of their votes and the accuracy of results
Reliability: The data stored in the database can be hampered and manipulated resulting in trust issues
Paper trail: Voting solutions lack a paper trail making it difficult to audit the results raising the possibility of disputes
Expensive: Current conventional voting system is costly
The Solution and Its Benefits
Digital Democracy – A Voting Web-App having the following features:
Decentralised identity verification through Blockchain technology allows each voter to create a unique digital identity that is linked to their physical identity
Tamper-proof and transparent ledger to provide an immutable record of all casted votes, making it more difficult to breach results
Maintaining privacy to keep an individual's vote secret
Voters would be incapable to give their voting rights to third parties
Easy voting and making everyone eligible to vote
Maintaining immutability by keeping the unmodifiable records of the casted votes on the blockchain
The system is easy to use and accessible to all voters, regardless of their technical abilities
Facilitating seamless verification of votes to ensure validity
The system upholds voter anonymity to ensure their choices remain private
The solution processes votes quickly and efficiently to make the results available on a real-time basis
The system is resilient to cyber-attacks and can withstand attempts to compromise the integrity of the voting process
How It Works
Workflow #1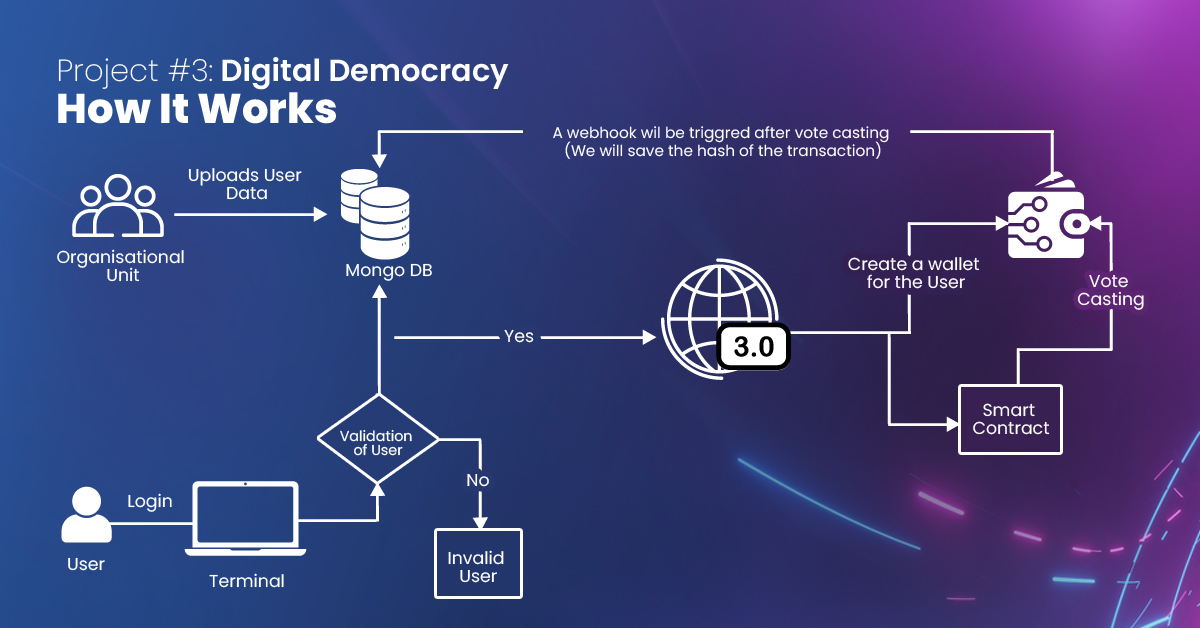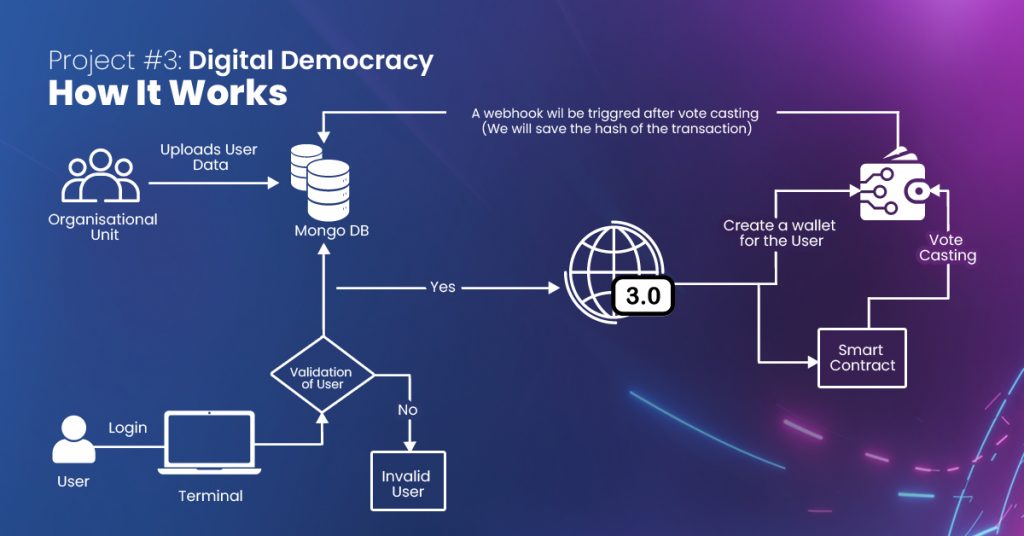 Workflow #2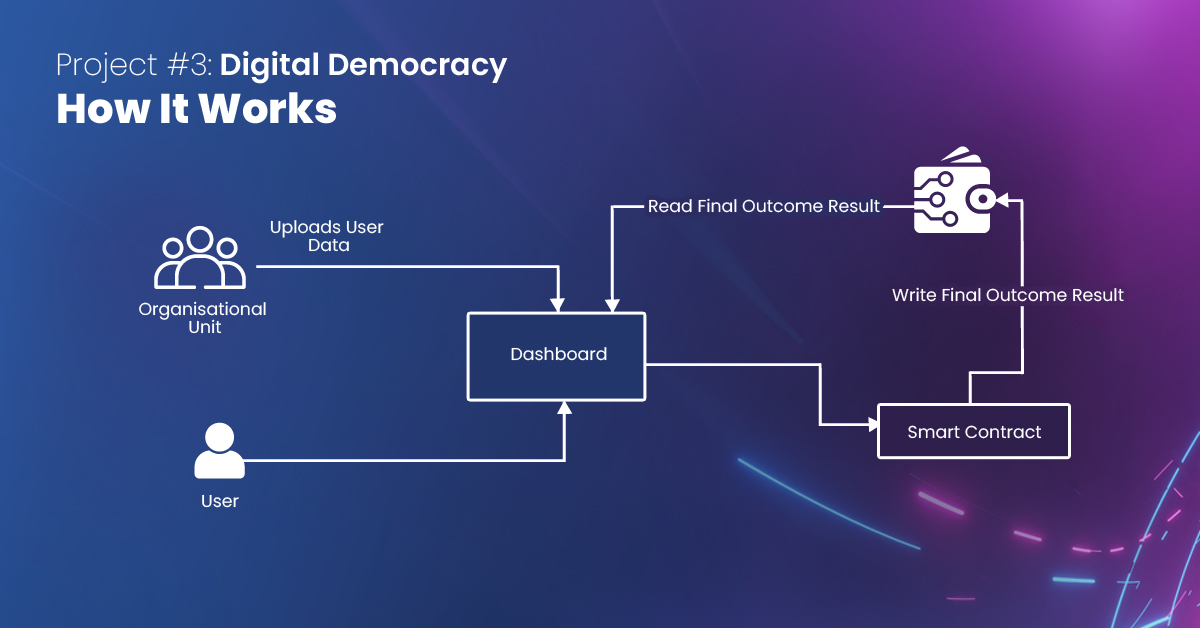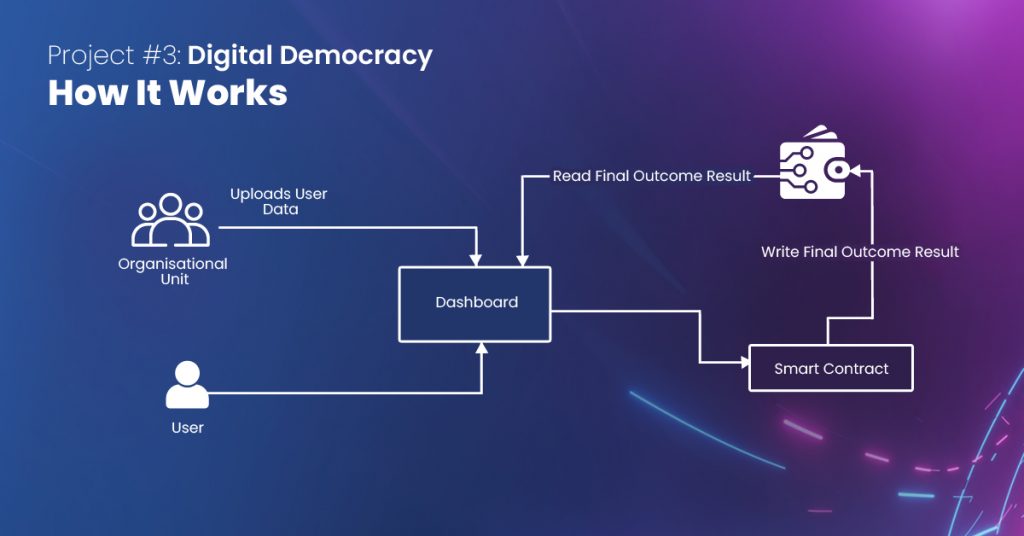 Tech Stack
FrontEnd: React Js
Backend: Node Js
Web 3.0: Metamask, Solidity, Polygon, and Hardhat
Database: MongoDB
Future Business Scopes
The platform can establish partnerships with other companies or organisations to offer additional services, such as voter education materials or voter outreach campaigns. These have the potential to generate revenue through joint marketing efforts or revenue-sharing agreements.
Tie up with the government and corporate sectors
The online voting system can offer customisation services for election authorities, like creating custom ballots or integrating the system with existing voter databases
Subscribe to our Newsletter