back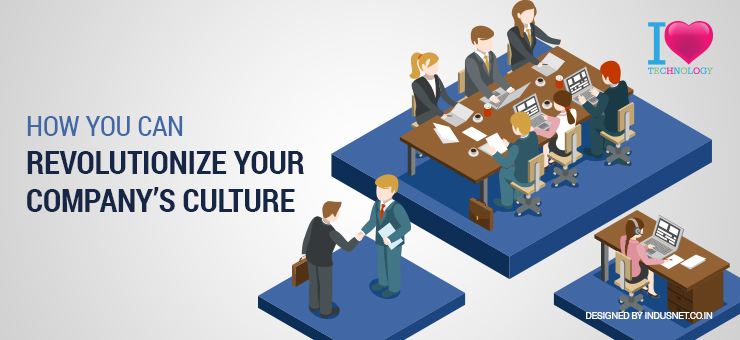 General
Management
How You Can Revolutionize Your Company's Culture
People always want to know about company's work culture before joining it.  It serves as a great means of attraction for hiring vibrant and quality talent. Many business leaders have realized that if internal work culture is not healthy, an organization cannot grow.
A company's culture is defined by various factors and practices incorporated by the company. It may include the hiring of right talent, service differentiation, sharing workforce's compassion, employee skill development, using technology, creating effective means of communication within the organization, and engaging in corporate social responsibility and philanthropic initiatives. A strong leadership is another crucial factor that characterizes company's work culture.
Every company starts small; it is the work culture that navigates it through challenges to become a large and successful firm. Whether you are a startup, a small or a medium sized firm, it is fundamental for you to revolutionize work culture to make sure that you are synchronized with contemporary needs.
Following are some important steps you need to take to revitalize your organizational work culture:
An organization can't be stagnant in its approach. There should be a constant push to make it better. An effective manager yearns for change to bring new energy to the organization. Now, what that change should be?  A manager must sort out what changes need to be integrated to boost work culture. Start with one change at a time.
[php snippet=1]
Today's young workforce relies on a smartphone for everything. Whether its HRMS or ERP, most cloud applications are accessible via mobile. Employees love to accomplish various business tasks through applications.
Technology makes your employees productive and efficient. It is a great step to encourage the use of smartphone at the workplace; however, it is equally important to place checks to avoid misuse. Data security is a major concern when employees access critical organizational data on a smartphone. It should be well accounted for.
Find out what makes employees happy
A happy workforce can deliver better results than overstressed people. Try to figure out what keeps them happy. It could be flexible working hours, work from home or a monthly bash at the workplace.
Do not encourage overtime because it is likely to create anxiety in the longer run. Make sure tasks are completed within stipulated time to promote healthy work culture.
Months pass by and some teams have little to no interaction with another team. Employees don't get a chance to know members from other teams. Therefore, steps must be taken to promote inter-team communication.
You can do so by shuffling team members; organizing get-togethers for discussion or games. Use gaming elements in non-game situations to boost productivity. You can also organize team building events to encourage team bonding in fun ways.  Employees feel more motivated and engaged at workplaces where people know each other well.
There are certain employees who have excelled stupendously in the task that they do.  There are certain others who have a strong decision-making ability and their choices have always paid back.
Identify such employees and take their opinion about relevant issues. It gives you a new line of thought. Consultation might help you to learn something new that you can apply across the organization.
You can't sit back thinking that you know everything about how to run your organization effectively. This does not work. It makes your organization dormant in the long term.
You have to strive to learn something new every day. Learn through books, magazines, events, symposiums, trade fairs etc to stay updated about new technology, methods, ideas etc. Moreover, learning is what differentiates leaders from followers.
Prevent distractions during meetings
It is common to see nowadays employees addicted to their smartphone. If employees are constantly bothered about new emails, phone calls, messages, and tasks-to-do, they fail to concentrate on the task at hand.
Smartphone addiction creates anxiety among employees and they fail to participate fully in a meeting or discussion. It automatically makes them poor listeners. It creates a negative impression on other team members and they feel neglected. They also miss out on the gravity of important concerns.
Create an environment that employees understand the importance of engaged participation and avoid unnecessary disruptions.
Get your priorities right
 Time management is a fundamental step towards promoting healthy work culture.  Employees are often bogged down by overwork. This happens due to their failure to prioritize work. Important tasks should be completed before other tasks.
If there are multiple projects running with different deadlines, prioritize tasks in your calendar as per their importance. If you plan to implement a new application in your organization, set a time limit to avoid unnecessary delays. A good habit like this takes the time to develop, so you need to begin right away.
Are you hiring correctly?
Many organizations tend to select candidates purely on quantitative basis viz. education and employment history. The result is high attrition rate.
When organizations hire, they need to look at many other factors like compassion, creativity, zeal, problem-solving skills, leadership abilities etc. This helps them to minimize the annual cost of hiring and create a quality workforce.
Look for unhealthy practices at workplace
An organization's productivity could be marred by unhealthy practices at workplace. It may include punctuality issues, absenteeism, lethargy, banal conversations or probably workplace politics.
Such practices deteriorate organizational work culture. It becomes an impediment to attracting new talent and rather becomes a reason for talented employees to quit the organization.
Quickly act against such malpractices and revive your organization back to professionalism.
Identify the higher purpose of your organization
Busy work life often dissolves the higher purpose of your organization's existence. If a leader fails to recognize that, you can't expect employees to spot it.
A true leader identifies and clarifies the higher purpose of the organization to employees. If employees know why they do what they do, your purpose is solved.
Conclusion
The work culture of an organization cannot be reformed by a magic wand. It needs thorough conviction by company leaders.  Reforms in work culture don't signify only massive reforms or a complete makeover of a company. It is generally the little steps you take to bring life to your company.
What differentiates your company from any other company is your unique work culture. It is your ability to think differently than your competitors. Every employee should feel like an important part of the the organization and take pride in it. There has to be a spark within your organization that motivates and drives them.
Subscribe to our Newsletter