back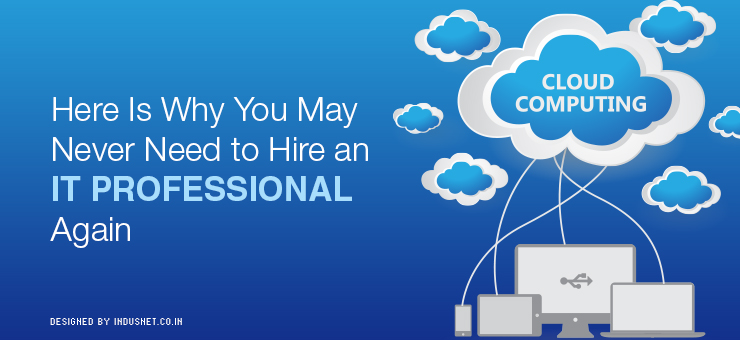 Cloud
Outsourcing
Here Is Why You May Never Need to Hire an IT Professional Again
Small-scale companies have begun to realize the importance of cloud computing and are actively transitioning from traditional computing towards cloud deployment. Cloud computing is used not only for storage but for providing a platform for application development and to meet fluctuating infrastructural needs.
With cloud computing, businesses only pay for what they use i.e. pay-as-you-go model. This helps them to save a lot of money invested in capital assets that are not fully exploited or probably fade into oblivion soon. One big advantage offered by cloud computing is that it makes collaboration and outsourcing of services easy.
This shift from traditional to cloud computing has helped companies to minimize their IT staffing needs. Cloud computing is commonly deployed in ERP and HRMS systems with different modules. Cloud services are offered at a monthly subscription amount depending upon business requirements and modules subscribed.
Understanding the structure of cloud computing and how it minimizes your hiring needs
In traditional computing with legacy software, you ostensibly need a different IT professional to manage different software which obviously raises your human capital budget. You also need a hardware expert who manages all hardware requirements. Not to mention software licenses and hardware investment.
Under cloud computing, computer servers are resource pooled through management software. The computing needs can be easily scaled up or down depending on the workload. Consequently, there is a continuous reconfiguration of computer systems depending upon the project needs.
[php snippet=1]
A/B testing is easy to conduct with cloud computing. Customers' expectations and hypothesis can be deduced in real time without causing any hindrance to the flow of traffic to the website. Businesses can instantly draw analytical reports and gain insights through cloud analytics module.
With cloud computing, your software and hardware are both outsourced and all your computing needs are met without having to deal with them on-premise. It is the onus of cloud service provider to provide you 24*7 services, prevent downtime, invest in system maintenance, spruce up security measures to protect your data, and provide you with the latest software and hardware capabilities over the internet.
In case any technical issue arises, cloud service providers provide you with instant diagnosis through call or visit. This practically eliminates the need for a full-time IT employee in your organization because all the necessary services are provided by cloud service provider.
Adopt cloud computing and bid adieu to IT professionals in your organization
This shift has led to the restructuring of organizations and most organizations are moving towards "lean" trend with bare minimum IT staff. On the other hand, it is cloud service providers who are going to need cloud-trained service staff to operate and maintain cloud servers.
Nonetheless, it is businesses that adopt cloud computing who save the most. Apart from basic software or hardware technicians, you barely need to spend a bomb on hiring IT professionals who plausibly have nothing to contribute. In case you need some external guidance over cloud implementation or cloud integration, you can always hire a temporary cloud consultant.
Subscribe to our Newsletter