back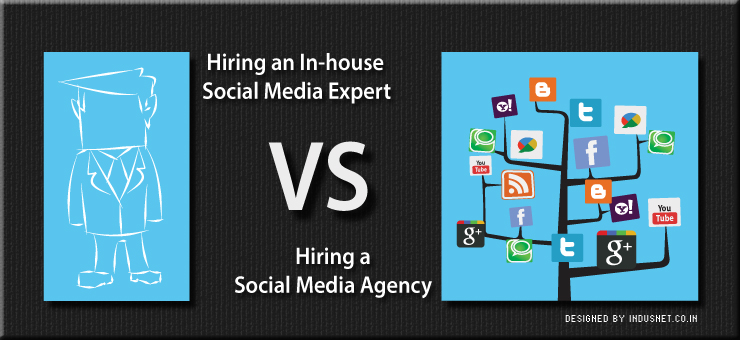 Digital Marketing
Internet Marketing
Marketing
Hiring an In-house Social Media Expert vs. Hiring a Social Media Agency
With the importance and efficacy of social media strategy becoming clearer to business owners and enterprises, we have often seen people tackle the dilemma between hiring a full time social media expert and hiring a social media agency. While there are no easy answers or solutions to this dilemma, in this article, we shall try and make it as lucid as possible to understand the advantages and disadvantages of both the options.
Solving the dilemma of hiring an in-house professional and hiring an agency
With social media marketing becoming a difficult-to-avoid strategy for companies and business owners, most people we encounter are torn between hiring someone in-house to do all the social media tasks and outsourcing to a social media agency. In most cases, social media marketing requires a professional to create a strategy, form an audience on the major social networking sites, engage people on niche social marketing sites, regularly look for leads and contacting them, engaging people and answering questions. Social media is also used alongside content marketing, hiring and customer relationship management.
Social media requires an entire team, not a lone professional
All said and done, social media strategy is not limited to sharing information on various social networking sites and expecting people to convert into leads, and then into customers. That is a reductionist's way of looking at social media. Instead, it is a complex and intricate realm in which multiple people will need to strategise and continually monitor & track results. This requires a team of social media and marketing experts to work together, and create customized solutions for each company or client they work for.
A single employee who is hired in a company probably will not be able to do all this and more. It requires an entire social media team to form policies and strategies. It also requires an entire team to understand various aspects of marketing, customer relationship management and hiring. All said and done, it is simply too complex for a single individual to take care of all social media related tasks.
How much do social media experts earn?
Social media experts earn anywhere between $55,000 and $73,000 a year. Depending on the complexity of information, bloggers may charge anywhere between $50 and $200 per post. Twitter account management in the U.S. costs anywhere between $500 and $1,500 a month. Facebook content management costs anywhere between $1,000 and $2,000 a month. You may find someone who may do it for a lower price but the quality of the posts or social media tasks cannot be guaranteed.
A social media professional cannot be good at everything and they cost a lot
When an in-house social media expert is hired, he or she might not be good at writing but maybe good at drawing a strategy. That will require you to hire a blogger or copywriter to procure content. To cut a long story short, hiring an in-house social media professional might seem like the right answer. But it isn't. In-house social media experts just can't be experts at all things related to social media and they are not affordable either. You might have to bear additional expenses when it comes to hiring copywriters, bloggers, online community managers and content specialists.
A social media agency, on the other hand, has a team of professionals who are each experts in their own domains. In a typical agency setting, one can find design specialists, video professionals, public relations experts, content professionals, social media managers and others. It is simply not possible for an in-house 'social media expert' to be good at everything that we just mentioned.
An entire social media team can be consulted and assigned to a project instead of a single social media expert who would cost more than the entire team. In addition, in-house employees also pose many additional liabilities related to taxes, welfare and insurance. When you hire an in-house social media expert, you might not even be able to ensure continued social networking activity, especially if the recruit takes leaves.
Agencies have more professional capital and help you in reduction of costs
As mentioned earlier, a social media agency works as a team. It usually has web designers, developers and coders, public relations experts, media professionals, content professionals and management professionals. These professionals form a social media agency's professional capital. Professional capital of social media agencies is usually enviable because of their experience of working with innumerable clients.
Each time an agency has to work with a client, it typically consults with all these varied professionals in order to arrive at customized solutions. Hiring a social media agency gives clients and customers these added benefits without having to hire anybody full time. Chances are, you will actually end up saving money if you are a small business.
Our take
Unless you are a very large enterprise, which can afford to hire an entire social media team along with various professionals and strategy makers, you will be better off working with an experienced social media agency. A social media agency offers you continued support and consultation without you having to hire any of its team members full time. By outsourcing your social media requirements to an agency, you will have access to their professional capital and will not be burdened by the costs and complexity of hiring someone in-house.
References:
• http://www.prdaily.com/Main/Articles/16030.aspx#
• http://wordviewediting.com/this-is-how-much-money-social-media-professionals-make/
Subscribe to our Newsletter