back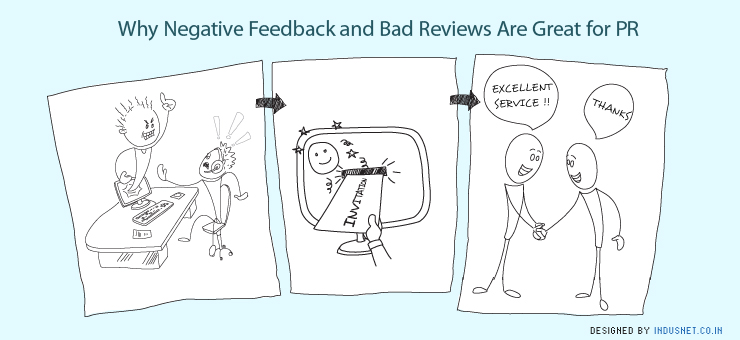 Internet Marketing
Marketing
Why Negative Feedback and Bad Reviews Are Great for PR
Social media and blog posts are a boon to marketers and business owners. Just a decade ago when we paid thousands of dollars for advertising and marketing (which we still do), it has suddenly become possible to get listed in social sites where people interested in your services can try your business and leave a great review. And of course, great reviews attract more customers and clients and help you become richer. It is not all that easy as I am making it sound, is it? Certainly not.
How to Handle Bad Reviews and Negative Feedback
The downside of social media, blogging and Web 2.0 is that people leave scathing and critical feedback and reviews. Negative feedback certainly hurts companies and individuals more than a lot of positive reviews bring business. This is mostly because those who want to do business with you will want to look for complaints about your service or products, so that they know what the worst case scenario is like. They do not want to read positive feedback but are desperately looking for negative ones. And they will certainly find them. Once a potential customer or client comes across negative reviews or feedback, it is easy to assume that it is the end of the story.
Thankfully, it is only an opportunity to prove to not only the infuriated customer who left bad reviews on social sites about you, but also a great public relations exercise to attract those picky but serious clients and customers who want to know how you deal with irate customers (just in case they eventually get angry as well). Thus, it is important for marketers, PR executives and small business owners to understand that negative feedback or reviews are not necessarily evil. They are an opportunity to fix your mess and build newer relationships that actually turn the tables in your favor. Let us take a look at a few things that you should be doing whether or not you have received negative reviews and feedback.
How to Fix Bad Reviews and Negative Feedback
The most important public relations rule is to ensure that no contact is wasted and that relationships are built with anyone who can be helpful someday. This rule includes irate customers and those who leave negative feedback. Negative reviews provide an opportunity to tell the world how you deal with criticism and how best you can compensate someone who is genuinely angry with what they got from your business.
The key then is to emphasize you empathy towards your customers and clients. If someone leaves negative feedback saying they do not like the product they bought or the way they were treated by your staff, be empathic. Tell them they could visit your store or office so that you can find ways to help them again. Do not offer freebies or declare lazily that you will do better next time. Offer to undo the damages. Talk to them as you would talk to a friend who is mad at you for not being treated well, or for not attending their birthday party. The answer lies in staying classy, humble, kind and genuine. It is difficult to do all this when you are running a business but as I said, negative feedbacks are a great way to build public relations.
Importance of Humility and Empathy in Handling Bad Reviews
Once you have interacted with the person and are sure that the customer or client is happy with the damage control, leave a comment on the same website where you found the negative review by saying you are glad that the person stopped by and gave you another chance to undo. Humility and empathy with a touch of class are qualities that will take PR professionals and marketers a long way.
It is important to know where you are usually reviewed and target those sites almost every day so that you do not miss any negative feedback. By being proactive, you can turn negative reviews and offensive feedbacks into public relations opportunities. It is certainly hard work but it will pay off in the long run. Clients and customers who specifically look for negative feedback are many. And they will be glad to know that they are in safe hands even when things go wrong.
Subscribe to our Newsletter