back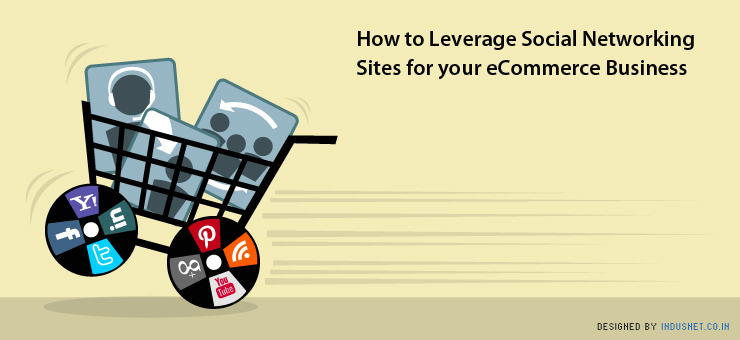 News @ Indus
How to Leverage Social Networking Sites for your eCommerce Business
While social networking sites are indispensable in today's world, many businesses are yet to fully leverage social networking sites to their advantage. This is especially true in the case of eCommerce business owners, who still think in terms of brick & mortar businesses. Using social networking sites to our advantage is not a difficult task, if we understand how it can actually be done.
How do social networking sites help eCommerce stores?
Before we get into the details of how one can leverage social networking sites for your eCommerce business, we must understand how they help eCommerce stores in the first place. Social networking sites have the ability to draw traffic, help market researchers understand the quirks of their target audience, build brand visibility, increase social signals and encourage word-of-mouth marketing.
It is no secret that most successful businesses today also have successful social networking campaigns. Most eCommerce businesses have great opportunities to leverage social networking sites to their benefit. Social networking sites can be uniquely helpful to eCommerce stores as they provide immediacy and reach that other medium cannot. Here are some of the most important ways one can use social networking sites to optimize one's eCommerce website:
Use social networking sites to offer customer service
While companies already have call centers and there are a number of ways customer service can be provided using email, the importance of social networking site is that each customer you make happy will also be an advertisement for your own customer service. When you engage in conversation with customers on Facebook or Twitter, your other customers will be able to see how you deal with consumer complaints.
When they know that you offer great customer service and that you are transparent, your business has a greater chance of succeeding against competitors. Twitter is an amazing platform to offer official customer service. It offers immediacy and efficiency. Of course, it is free as well.
Use social networking sites to understand your target audience
Most eCommerce sites have often spent thousands of dollars in the name of market research. While traditional market research is still important, at times, social networking sites may prove to be a better source of information to understand target audience. One can identify one's target audience and understand their quirks, culture and behavior. Once these factors are understood, designing marketing campaigns become easy.
Use social networking sites to increase visibility
Brand visibility is something that needs to be built and developed from teh scratch. However, when eCommerce stores use social networking sites, they can reach their target audience in all corners of the globe in real time. This may not be possible through traditional methods. Moreover, friends and family of your customers who follow you on your social networking sites may be inclined to follow you and buy your products and services as well.
Use social networking sites to increase customer involvement
Many eCommerce stores rest in a false state of calmness thinking they have all the products or models they should be selling. However, when a customer does not find a product he or she wants, they may just go to another eCommerce store where they can buy what they want. If you encourage customers to leave feedback and interact with you on social networking sites, it may help you to stock your store more carefully and diligently.
Use social networking sites to build content
It is no secret that people use social networking sites a lot more than anything else. In fact, people are found more often on Twitter and Facebook than searching for information on Google. With that in mind, the importance of content has only increased. Twitter, Facebook, LinkedIn and other social networking sites help you to build content that will encourage more people to visit your store. Using videos on YouTube to engage your customers is another way to leverage these social networking sites.
Leveraging social networking sites can prove to be an affordable ecommerce solution for many of those small business owners who cannot afford expensive marketing campaigns. At the same time, big businesses with online stores should make use of social networking sites too, so that they can optimize their marketing and branding campaigns.
Subscribe to our Newsletter