back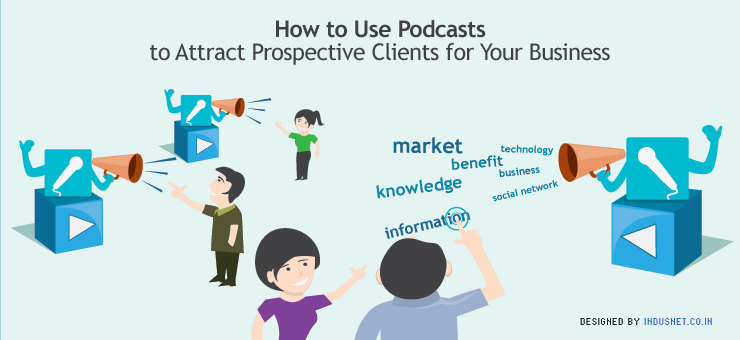 Internet Marketing
Marketing
How to Use Podcasts to Attract Prospective Clients for Your Business
Podcasts offer a different medium and audience and can be a great way to build your clientele. In fact, podcasts are hugely popular among people who use Apple's iTunes and Apple recently launched its own app for podcasts. That only suggests that an increasing number of people have begun to use podcasts as their primary source of information. A podcast is usually downloaded to the user's computer or device and thus becomes available for offline use as well. On the other hand, a webcast is available only through online streaming and those without a regular internet connection may not be able to access your content.
Benefits of a Podcast
iTunes is a great platform to reach both Apple and non-Apple users. Surprisingly, many people that we know who do not use Apple devices use iTunes on their computers. Podcasts can be listened to on iTunes or just downloaded and listened to later on as an audio file. The trick is then to make sure that your podcast generates the clientele, revenue and income that you desire from your business. Good podcasts need to be informative, entertaining and witty. They must pack in a lot of information and should last at least 20 minutes. However, podcasts that are longer than an hour are usually ignored or not listened to. Most companies that use podcasts to generate revenue use interviews.
Interview Prospects on Podcasts for Securing Future Business
By interviewing prospective clients, you may be able to ensure access to your client's company or business more easily than directly asking for business. People get flattered when they are invited for an interview or guest discussion. By choosing to invite someone you want to do business with for an interview or discussion will not only make them happy but will allow them to understand your capabilities and expertise as a business owner. By recording great podcasts and getting them live on iTunes, you will be able to reach a larger target audience than using just YouTube or one of the audio services. The problem with YouTube is, videos can be disturbing and contribute to 'noise'. The audio format of a podcast allows people to pay more attention to your content even when they are doing something else, for instance cooking or cleaning the house.
Podcasts Are Flexible and Versatile
The versatility and flexibility that podcasts offer are very superior and one of the reasons why many business owners have begun to broadcast their own podcasts. Surprisingly, most see excellent results within a short time. You will be able to gain a better relationship with your prospects and also interviewing for podcasts allows you to build relationships with your prospects once interviews are over. However, your podcasts need to have a niche that closely resembles your own business. Thus, people will know what your podcast is all about and will tune in more often. All that you need is iTunes to get started with podcasts and probably a decent mic, if you already don't have one. Record your content or interview and let them go live!
How to Get On a Podcast?
If you find it difficult to have your own podcasts, one of the smarter ways is to get invited to a podcast and be interviewed.
You will need to know people who run podcasts and you will need to hunt them down in order to request for an interview.
Surprisingly, most podcasts seek new guests and interviewees and it isn't difficult to approach podcasts that suit your business niche.
All that you would need to do is to search for the kind of podcast on iTunes and send an email to the person who owns it.
State specifically that you would like to be a guest and you are an owner of a certain company and that you have valuable information to provide to their listeners.
Whether you are going to have your own podcast or are going to appear as a guest, you will need to be transparent, witty, humorous and informative. How exactly do you manage all these qualities when you may not be a great speaker? Well, there are at least no cameras that you need to be prepared for!
Subscribe to our Newsletter