back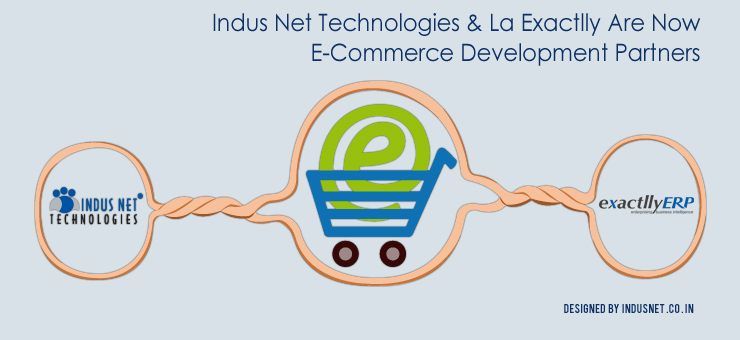 Inside Indus Net
News @ Indus
Indus Net Technologies(INT.) & La Exactlly Join Hands to Offer ERP Integrated Comprehensive E-commerce Solutions
It's time to rejoice once again! Recently, Indus Net Technologies(INT.) has joined hands with La Exactlly Software Pvt. Ltd. for offering ERP integrated Magento based e-commerce solutions. Based in India, La Exactlly is a leading business software and solutions provider that offers a range of innovative solutions including exactllyERP, an industry recognized & comprehensive ERP system for corporations.
INT. & La Exactlly have strategized this partnership program to offer the next generation integrated e-business model that constitutes a comprehensive Magento based e-commerce portal developed by Indus Net Technologies and powered by exactllyERP system at the back end. After all, the criteria of this strategically designed partnership program include a number of pointers. INT. have a rich e-commerce experience of 10+ years that includes e-commerce portal development and customization, existing e-commerce website migration, 3rd party software & payment gateway integration, e-commerce support and maintenance etc. & La Exactlly has an innovative ERP solution called exactllyERP. With this handshake, we are poised to provide the next generation e-commerce experience by increasing operational efficiency of e-business companies.
Looking forward to this partnership, Mr. Kamal Agarwala, Founder & CEO of La Exactlly said, "exactllyERP customers can benefit greatly from our partnership with INT. Today all companies faces tremendous pressure to deliver high quality ROI at lower cost than ever before, so they look for one solution that can address their all challenges – especially, integration of e-commerce with their existing ERP – which has always been the biggest challenge and most of them are force to use two separate system. Our partnership can integrate and optimize the entire process by removing the legacy of using two separate systems."
The proposed ERP backed e-commerce solution features individual modules for customer/order details, real-time stock updates, multi-website support, complex product support, multi-currency support, transaction management, discount coupon and gift certificate management, multi-warehouse management etc. that are expected to deliver the following benefits:
Significant reduction in order fulfilment time
Complete eradication of data entry and associated human errors
Reduction in operational costs
Increase in the ability to process higher sales volume without increasing headcount
Having already dealt with more than 1000 e-commerce ventures that include developing and maintaining specialized web based e-commerce applications for some of the big market players, it would not be much difficult for the INT. team to offer such an innovative and comprehensive ERP supported Magento e-commerce solution to e-businesses. Moreover, we have a team of 150+ e-commerce designers and developers who, besides having the expertise in e-commerce portal development, have even got sound knowledge in e-commerce consulting & marketing.
While sharing this news, Mr. Abhishek Rungta, our CEO and Founder said, "We have partnered with La Exactlly to provide a comprehensive and winning e-commerce solution that would help e-businesses experience the power of ERP supported e-commerce portal. I am really looking forward to the success of this partnership with La Exactlly who is one of the market leaders in the ERP domain."
Get in touch with our e-commerce specialist at info@indusnet.co.in
Subscribe to our Newsletter