back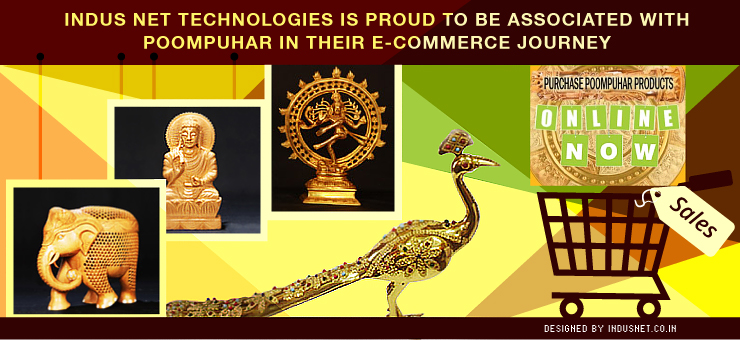 News @ Indus
Indus Net Technologies(INT.) is Proud to be Associated with Poompuhar in Their E-Commerce Journey
It's another moment of pride for us!
The e-commerce website of Poompuhar (the other name for Tamil Nadu Handicrafts Development Corporation Limited) that was developed by Indus Net Technologies (INT.) was recently inaugurated by Shri P. Mohan, the Rural Industries' Minister.
Team INT. has recently helped Poompuhar to take a step forward towards the e-commerce industry. Named after an ancient coastal city of Tamil Nadu, this emporium sells handicraft items created by the artisans of Tamil Nadu. The emporium even offers a range of Indian art and sculptures. Owing to the increasing craze for online shopping among the Indian citizens and the huge business benefits of e-commerce, the corporation felt the need for an e-commerce website for marketing its products; and hence, they contacted us & decided to assign us the website design and development project.
We were assigned such a prestigious project keeping in mind our 17+ years of experience in website development that includes design, development, customization and revamping of different kinds of websites. Since our inception in the year 1997, we have even been associated with the design and development of a number of websites for the Government of India, which worked as a kind of assurance for the corporation to rely more on us; and as trusted, team INT. tried its best to completely live up to the expectation of the corporation.
Our team of web designers and developers worked hard towards giving the required e-commerce website an eye-catching look so that it can attract a good amount of online customers. The website shows pictorial details of each handicraft product sold by the corporation that makes it easier for buyers to have a clear view of the products before purchasing. The team even attributed the website for Poompuhar with all the key features like product search, shopping bag, easy registration, zoomed product view on mouse hovering etc. that an e-commerce site should ideally have. Moreover, we have featured the Content Management System based website with the option to view price in both Indian and US currency that makes it serve foreign customers easily.
Apart from the aforementioned key benefits, we have tried to make the website as feature-rich as possible. We have incorporated assistive technology within the website that makes it user-friendly for differently-abled people. The site even includes website visitor counter that helps Poompuhar to analyze how many visitors are actually converting to sales. This would, in turn, help the corporation plan their sales accordingly so that they can fulfill their aim of reaching INR. 100 crore in sales within the next 4 years. While talking about this, our CEO Mr. Abhishek Rungta said, "It was an immense pleasure for team INT. t to be associated with Poompuhar in its journey to the e-commerce sector. We hope the site developed by us help the corporation reach their business goal successfully."
Subscribe to our Newsletter