back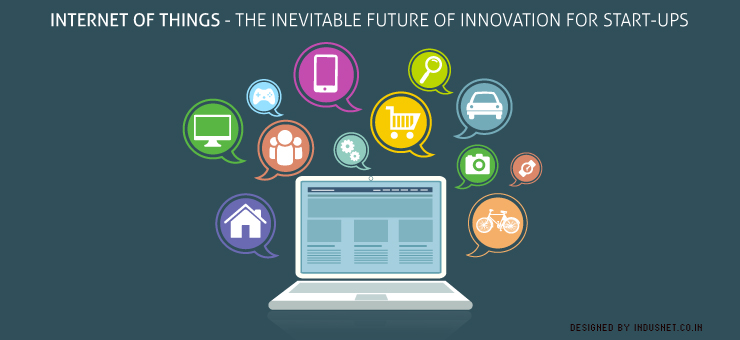 Emerging technologies
Internet of Things – The Inevitable Future of Innovation for Start-Ups
Internet of Things or IoT is the inter-connection between distinctive and embedded computer devices belonging to an existing Internet related infrastructure. It offers an advanced connectivity of computer devices, systems, smart objects etc., which goes beyond M2M (Machine to Machine), thus, ushering automation in almost all fields.
Internet of Things: Recent Trends and Future
Nowadays, Internet of Things is considered to be one of the emerging technologies that, with time, would have a great repercussion on global businesses. In fact, it has grown to be a mega technological trend among other emerging technologies and is expected to be so in the upcoming years.
Trends:
IoT is making companies data-driven
IoT is changing the type of products and services offered by companies
IoT is transforming the nature of business-critical operations for organizations
IoT is making Data Management and Security a must
Future:
According to Cisco, IoT devices would dominate the world by 2018
According to a Gartner Report, the number of IoT devices would increase to 26 billion by 2020
The incremental revenue from IoT is predicted to reach $309 billion every year by 2020
Internet of Things: Challenges
Similar to any other technology, Internet of Things is even not free from challenges. After all, it is not easy to maintain consistency in the wireless connection between such a huge number of electronic devices. Hence, IoT is more likely to require the following to move up to the next level:
Innovative ways are required to sense complex environments
Variety of connectivity standards are needed for addressing diverse application needs
A number of IoT applications need to be operated with batteries for years
Protecting user privacy and security is vital
Development of IoT applications is not easy for all developers
IoT applications need end-to-end solutions like cloud services
Internet of Things: The Future of Innovation
Internet of Things, being one of the emerging industries, especially in the country of India, has got the potential of bringing in innovations in different fields leveraging disruptive technologies and open platforms. Researches show that IoT would not just have a noticeable impact on the global IT market but would even change the way we live. Here are some of the innovations that Internet of Things is expected to bring in:
Utility companies are looking for a Smart Grid that can read meters remotely
People want to control cookers via internet so that they can prepare meal while on their way back home
Television companies wish to monitor what people are watching the most for delivering targeted advertising
Local supermarkets are in need of smart fridges so as to help people with targeted shopping
Internet of Things: How Advantageous it is for Start-ups
Now, IoT is becoming the most attention-grabbing market for start-ups, start-up accelerators and investors all over the world. The emergence of innovative smart objects has brought in a brilliant and prospective future for start-ups. According to Gartner, industries that are leading the sector and are into the digitalization of everything are:
Manufacturing: 15%
Healthcare: 15%
Insurance: 11%
Apart from the aforementioned major industries, there are a number of other start-ups who are venturing into this newly emerging industry:
IoT Operators
IoT Device Management platform providers
IoT Application Development platform providers
IoT Security and Service Providers
IoT Consulting and System Integrators
Opportunities and Challenges for Start-ups Leveraging Internet of Things
Start-ups that have already taken a step forward towards Internet of Things are of the opinion that innovation is highly necessary for businesses for creating a competitive advantage; and IoT is such an emerging technology that helps businesses with world-class IT innovations, thereby, offering start-ups a number of growth opportunities to savor. However, it is not free from challenges. Here are some of the major opportunities and challenges that start-ups might experience while leveraging Internet of Things:
Opportunities:
Electronics industry is about to be driven by power-efficient electronics and miniaturization
Huge need of IoT hubs providing testing solutions and required infrastructure are arising
Global electronics brands like Cisco, Intel, Samsung and others are investing heavily in India through start-ups
International brands like Apple, Google, IBM, Oracle and many others are announcing IoT strategies for both consumer and enterprises
Challenges:
Business funding
Market misunderstandings
Creating the right IoT business culture
Recruiting IoT experts
In spite of all these challenges, Internet of Things can help start-ups add value and sustain it for a longer period, if adopted and implemented properly. In fact, IoT is predicted to be the inevitable future of start-ups.
Subscribe to our Newsletter