back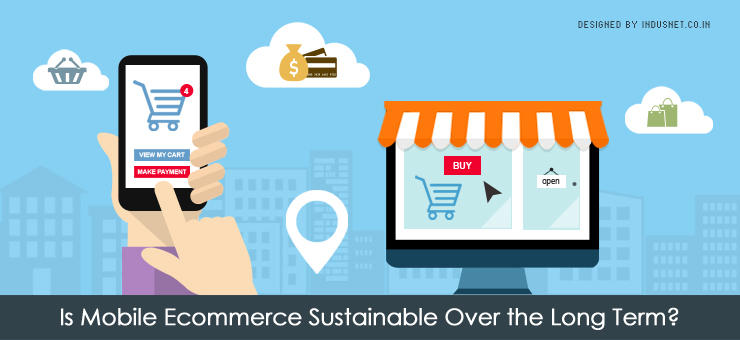 E-commerce
Is Mobile Ecommerce Sustainable Over the Long Term?
E-commerce was not expected to grow this big. It was not expected to replace brick and mortar stores to begin with. Similarly, mobile E-commerce, or the use of mobile devices to facilitate sale and purchase of products and services, was not very popular initially either. However, it is slowly replacing desktop E-commerce. We need to remember that many companies have opted for a mobile-only approach.
This has helped them to streamline their businesses while also remaining relevant and sharp. With these ideas in mind, what really haunts a business owner is, if a mobile approach is all that is required to keep an E-commerce unit healthy. Another question that he may ask himself is, how he is going to keep mobile E-commerce sustainable in the long term.
In this short essay, let us take a look at whether or not mobile E-commerce is sustainable. When we consider the current scenario, the question probably should be, "how can one make mobile E-commerce sustainable over the long term". It is no more a question of whether or not. Instead, the question boils down to how to make mobile E-commerce sustainable.
The current scenario of mobile E-commerce
Certainly, mobile usage has exploded in recent years. In developing countries such as India and China, most people access the Internet using their mobile devices. If they are going to shop, they will probably use their mobile devices anyway. In a reality such as this, it is increasingly clear that mobile e-commerce will not only persist, but it will be the future of all E-commerce strategies.
Companies will simply have to accept that mobile e-commerce is how they will be doing their business in the years to come. Amazon recently announced that more than 70% of its customers used a mobile device to shop this holiday season and such statistics will probably be reflected by others as well. Case in point, Indian E-commerce giant completely went mobile a few months ago. Even luxury sales are taking place on mobile ecosystems.
While issues such as cart abandonment and missed opportunities continue to exist, these are problems that retailers will have to work with. The new reality is, mobile e-commerce is here to stay, whether we like it or not. The issue is, how we are going to adapt to it. The question really is, how do we make our E-commerce companies sustainable to withstand the onslaught of mobile shopping.
Start using cloud services and adopt omni-channel business model
There are many things that a company can do in order to make mobile ecommerce more sustainable. To begin with, they can start to go responsive. A responsive and omni-channel model will help them to synchronize their brick and mortar, desktop and mobile stores while allowing shoppers to experience a seamless and integrated purchasing process.
This also helps drive sales regardless of which device a user is browsing from. Though a mobile only approach is a little too extreme, it makes sense to integrate both mobile and desktop ecommerce together. In order to make mobile ecommerce more secure, companies may also have to start using cloud services more often. Cloud services make it easier for companies to store data.
Cloud-based ERPs help in not only storing user related information but also the way it is analyzed. Cloud based data analytics will help companies to remain relevant in a time when everything is changing. Certainly, cloud will prove to be an important tool to sustain mobile ecommerce and help it to grow further. Even smaller companies that cannot afford expensive software programs, infrastructure and tools can make use of cloud based services.
Integrate various business processes using technology and management skills
Mobile ecommerce depends on a vast network of physical warehouses, delivery systems and sourcing agents. All these smaller details need to be taken care of before saying whether mobile ecommerce is sustainable in the long term. To make mobile ecommerce more sustainable, a full fledged ERP needs to be installed in the cloud so that it can be accessed and operated by everyone, including those on the field.
It might seem expensive but the investment towards cloud computing will help companies to gain more customers and ultimately result in better sales figures. All this is required in order to ensure that mobile ecommerce remains sustainable in the long term. Using cloud based technologies will help smaller companies to reduce costs and access technologies that were previously not possible.
This alone is an answer to the title question, which wonders if mobile ecommerce is sustainable in the long term. Certainly, mobile ecommerce is sustainable but a large scale integration of cloud based services will need to be adopted.
Making mobile ecommerce sustainable is your responsibility
Mobile E-commerce is set to grow exponentially in 2016 and beyond. Whether we like to think it is going to be sustainable or not is a different story altogether. We will need to make it a sustainable process to go mobile. With the burgeoning mobile internet usage, cheaper handsets and data plans, people will continue to use Internet on their mobile devices more than on desktops or laptops.
This aspirational target audience will also be responsible for most of the future sales. In order to cater to them, you will probably need to ensure that your mobile ecommerce strategy is sustainable in the long term, whether you like it or not. Most important to making it sustainable is involving responsive technology, omni-channel business model, cloud based services and ERP. When you have these factors in place, you will realize that mobile ecommerce is not such a difficult task after all.
The returns are going to be more impressive than using just desktop-based websites. Moreover, this will be a long journey in which you will begin to develop deeper relationships with your customers and clients. This will set forth a valuable relationship on which you can bank for many years, as long as you are doing mobile E-commerce right.
Subscribe to our Newsletter