back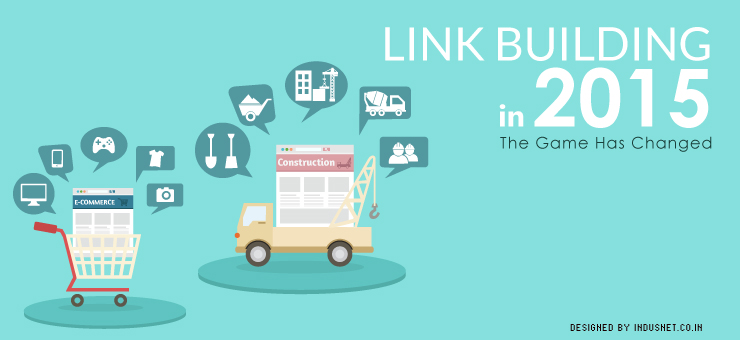 Digital Marketing
Internet Marketing
SEO
Link Building in 2015: The Game Has Changed
SEO professionals often find it difficult to explain to their clients that link building is as important as it ever has been. Most clients often point out to the fact that link building exercises have a bad reputation and that Google has often penalized websites which engage in link building. This is only partly true.
Google has consistently updated its algorithms in order to ensure that malpractices are not encouraged and that every website has a fair opportunity to be displayed in search results. Which is why, when Google senses that something is amiss and that a company is aggressively building links, it penalizes that particular website. Google has found a number of ways to detect websites that engage in such SEO malpractices.
What most people will not tell you is that Google encourages web administrators to build links and to connect with each other. Google just wants web admins to play it fair and safe. With that in mind, ethical SEO professionals will tell you that link building is not the problem but unethical means of building links is the problem. On that note, SEO professionals understand that link building is an effective exercise to bring websites together and to create information that is compelling & worthwhile.
Further, Google just wants website owners to link to websites that are relevant and eventually help in putting all information on the Internet together. With this in mind, let us take a look at how link building will fare in 2015 and what you need to know about building links this year ahead.
1. Understand what link building is
One of the most important tasks is to understand what link building is. In 2015, if you believe that link building is an enigmatic exercise, which involves various SEO professionals messing with bots and algorithms, you probably have got it wrong. When we speak about link building, the goal is rather clear – we try to get desirable websites to link back to our websites and when we write compelling content, we link to authoritative & desirable websites.
While it is easy for us to link to desirable websites, getting those websites to link back to us is difficult. In order to get backlinks, you need to define what your link building strategy is. If you are planning to get a backlink from The New York Times, you probably will not succeed. However, it might be possible to get a write-up published in a magazine or a newspaper where your business is located.
This involves having a good PR professional or a publicist who will make your case. In fact, SEO is more about public relations today than it was a few years ago. The trick is to figure out how to get those desirable websites to link back to your content in a fair and ethical way.
2. Understand the project
Whether you are building links for your own website or for your client, you need to understand the project in hand. It will take a while to understand what you are trying to do and how it actually needs to be done. You need to understand the website's quirks, its niche, readers, visitors, clients and the target audience.
Then comes the part, which involves understanding the psychographics and demographics of various entities involved. You also need to understand and analyze the unique selling proposition of the website & how it affects the way you market your own products and services. All these need to be tracked, analyzed and even measured along the way.
It will take some time to get a grip over these factors but eventually you will know that link building also involves understanding the project in a deep and profound manner, as described in this paragraph. In fact, link building solely depends on understanding a given project from the grassroots. This will help SEO professionals to look for those sites, which are particularly helpful when it comes to seeking backlinks.
3. Understand the importance of content
A few years ago, SEO professionals did not pay much attention to content. Content marketing was either unheard of or was in its initial stages of growth. With the content boom taking place a few years ago, blogs, social media, e-books, whitepapers and other forms of content have become very important.
Whether a website will link to you or not depends on the kind of content strategy that you follow. In order to ensure that your SEO campaign goes well, you will have to probably take your content marketing plan more seriously. You will need to come up with ways to ensure that your content is worth paying for and that it is not written mechanically.
Incidentally, content writing needs to be a lot more organic than SEO professionals would like to believe. In 2015, we will continue to see an upsurge in the growth of content marketing and SEO will involve understanding how to market and distribute content that is created & then, attract backlinks that are of value to the company. Thus, we can say that link building involves a lot of content marketing as well.
4. More companies are online
Link building is going to be a lot more important in 2015 than it used to be in previous years. The reason for this is, a lot more companies are online and the need for building effective links to ensure visibility is much more important today. The coming months will see many more companies trying to create a space for themselves online and this will involve content marketing and SEO.
If you want to survive or make your presence felt, you will have to have a very consistent and different link building strategy. It is simply not enough to write blog posts and get people to link. You will need to function as a PR team to get authoritative websites to link back and thus, help you to achieve the success you have always wanted.
It is not difficult or impossible but it just needs a lot of planning and strategizing. At the end of the day, link building is very important to build an authoritative and visible online presence. The fact that too many companies and people are online will make things all the more important to go online and start ensuring that there is an effective SEO strategy in place.
5. Other websites need you
It is not just you who is looking for a backlink. Even authoritative websites who want to develop a niche or focus on a niche look for companies that specialize in certain areas. It might well be you who they are looking for. Moreover, link building works in a reciprocal way. If you get a back-link from a website, they will be more amenable to the idea of asking you to link back to them because both the websites share a common platform in the form of subject matter and niche.
With this in mind, you need to know that it is not just you who is looking for backlinks but also other websites who want to link back to you. There is nothing lowly about asking web administrators if they are willing to link back to you. If they feel your website is worth linking back to, they will certainly do that.
For this to work, you need to have a good content marketing strategy in place. Moreover, you need to also know what your SEO strategy is. When all the strategies are in place and you are able to pick and choose the websites you want a backlink from, your job is almost done.
Looking ahead
In the coming months, it would be advisable to focus on link building more than ever. 2015 will see a lot more companies going online and a lot more people visiting websites. As mobile phones make it easier for people to access the Internet, it will become all the more important to carve out a niche online and build a space. For this to happen, you will need to start building links. If you are unable to do it yourself, you could seek professional help from a SEO agency.
Subscribe to our Newsletter