back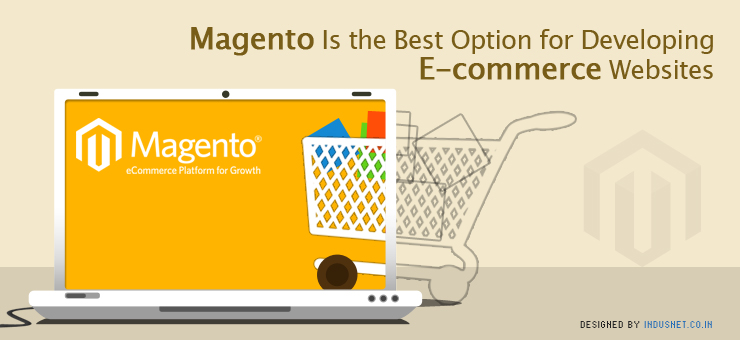 Digital Marketing
Marketing
Magento Is the Best Option for Developing E-commerce Websites
Magento is an e-commerce tool that outranks many other rivals in this field because of sheer popularity. To let you get acquainted with the popularity of this tool, it is worth mentioning that 140,000 people find it beneficial for their e-commerce needs. These tools are used to create quality websites useful for transactions involved in buying products listed on them.
A peek into its history
Magento was launched on March 31, 2008. It was developed by the then Varien, which is now Magento Inc. This could not have been possible if it was not for the discredited efforts of programmers within the open source community that worked silently in the background. Magento was built using the Zend Framework.
Magento's tryst with popularity began with its association with eBay, the popular online shopping site- eBay broke the news of its 49% stake in ownership of Magento during this period. This happened way back in February 2011. Later this picked up steam with the complete takeover of Magento by eBay on June 2011.
Distinguishable features of Magento
Magento is preferred by most people who want to develop their website and are keen on setting up an e-commerce store. This likeability on part of the users is due to its plethora of user-friendly solutions it offers and it being an open-source software that is readily available free of cost. It has become a norm nowadays to check the features on the internet and go for a buy on the website itself or in the stores nearby. Magento helps people in the dilemma of choosing the right product.
Here are a few features of Magento that make it a worthy choice for developing customer-centric websites:
1. Handling of multiple stores
The main distinguishable feature of Magento is the ease at which it lets you handle multiple stores. Managing multiple stores is just at your fingertips by way of a few clicks on the lone admin panel. Magento e-commerce development also lets you have different domain names, different IP addresses and different security certificates.
2. Innumerable themes
There is no dearth of attractive and eye-catching themes on Magento. Customization is also not discouraged on Magento and thus you can have a personalized touch to your website or other appetizing customizations that are consistent with the user needs. There is a provision for other customizations too that many website owners crave for.
For example, Magento lets an e-commerce website have many themes for different times or seasons. If you were mulling over using different themes for your website to get a desired look or template, Magento won't disappoint you. You can interchange a permanent store design and a temporary season-specific design as and when the situation demands. Multiple themes also can be uploaded that suit your business.
3. Better prospects of users buying
Advanced features such as multidimensional images of the product and zoom-in capabilities of Magento can lure a number of buyers and better the prospects of the product ending up being bought. These features can do the trick in the product being convincing enough to the buyers as they can have a close look at it through various angles and make an informed decision.
Product reviews also add to the advantage of user-friendliness that comes loaded with Magento. Through this feature, the user can compare various advantages the product has over its rivals, replete with the pricing and other main criteria that every user uses to shortlist his favorite product. These comparison charts that are in the product reviews can benefit the user greatly in arriving at the right product that suits their needs.
Magento also provides anytime stock check and the user is kept informed about the stock availability of his selected product wherein the stock updation is made easy. It also uses a flexible merchandising engine that suggests users other alternatives or accessories in the place of his ordered products, thus helping him in making up his mind about purchasing these. These features are very helpful in pushing products.
4. Hassle-free ordering
Providing users easy ordering options can help you augment ROI for your business. Magento does just that. It comes loaded with website development tools that can edit, create, view and fulfill orders from the admin interface itself. This way you can keep yourself posted about various happenings on your website that could have gone unnoticed if it were not for Magento.
Magento also supports multiple mailing addresses and multiple invoices. Your business encounters this question of handling such information every now and then. The users can also view full history of their transactions which is thoroughly documented and there are very less chances of users not being happy of the handling of their monetary information with care.
5. Google Analytics
Tracking the user's activity on your site can never be this better. Any website is incomplete without these analytics that record the user's habits regarding your site and help you to utilize this to work to your advantage. This is vital to your store as an explanation for the user's dissatisfaction regarding the site- if there be any, can be found out through these analytics.
For example, many of the reports such as tax report, abandoned shopping cart report, best viewed products report, best purchased report and the like can give you a very clear idea of the site and you can make it acclimatize to the users' whims. To highlight this, an abandoned shopping cart could be the result of the inconvenience experienced by the user regarding many mandatory fields that you have set up to accompany the credit card details during the purchase of the product. The user could be tired of this and abandon his cart midway through the purchase.
6. Supports marketing
Needless to say, marketing is the main area that needs utmost care when it comes to businesses. Marketing costs a fortune and Magneto helps your business lower these costs by coming loaded with a variety of features that support it. There are powerful tools for this purpose such as Up-Sells and Cross-Sells, which are marketing terminologies for promoting accessories in your store and suggesting other alternatives respectively.
These tools increase the prospects of landing a buyer for the products in your store and you can be relieved of the ever burgeoning task of marketing your product through manual up-selling and cross-selling as there are a lot of products catalogued in your store making it impossible for you to personally attend to your customer. For this job, to be done manually, it demands a lot of organization on part of you and a large workforce. Magento does it for you free of cost.
7. Supports international buying
There is no need to worry if you want your business to expand and cater to an international clientele. Magento supports that. It has features that incorporate international languages in the software that are consistent with your user needs. Support for a lot of currencies is also made available so as to augur well for these international users.
Tax rates with support for US and international markets too are made available. Another important feature on Magento is that there is a provision to accommodate different tax rates per location and can be utilized as and when need arises.
With all the features of Magento being looked at, let us take a look at the feasibility of using other CMS for your e-commerce needs.
Other CMS compared
WordPress is easy to install and you can add popular and common features, but it is designed for blogs and carries most of the features. There is no room for customization on this CMS and the blog features cannot be done away with.
Joomla is a bit difficult comparatively to WordPress in many areas such as installation, adding features and administration. There are also no easily downloadable themes and you have to search for them elsewhere. Some themes available are chargeable and there is always an issue of compatibility when replacing older themes with a new one.
Drupal scores more on flexibility for customization relating to design, features and branding, but it requires advanced programming skills to install, configure and fully tap its potential. It is also not user friendly in the areas of administration and content management. There are not many available themes for it and you are bound to hire a developer for using it.
Conclusion
This article covered a lot of areas relating to Magento- the distinguishable features and its comparison with other CMS. All these tidbits point to the fact that it is very popular with many e-commerce pros and we can convince anyone to use it in developing their website.
Subscribe to our Newsletter