back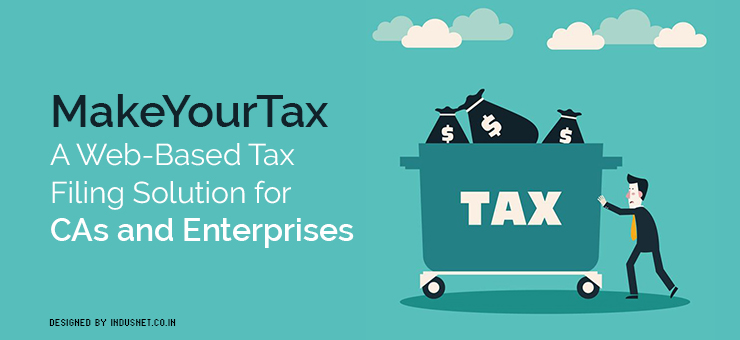 Cloud
Technology
Usability
MakeYourTax: A Web-Based Tax Filing Solution for CAs and Enterprises
The new financial year has already begun and most of us have finished filing for returns in the nick of time. In fact, studies reveal that for accountants and CAs, the weeks preceding tax filings are some of the most stressful, leading to reduced performance and quality of life. People get stressed out on tax issues simply because numbers are scary, and filing tax returns involves a lot of number crunching. A simple mistake can cost a CA his client.
While chartered accountants are trained to do this, even they find it difficult to handle different clients and may inadvertently make errors. Existing tax software programs require you to install them physically on a computer, making your system slow and inefficient. Also, you may not be able to rectify or correct issues on a different computer or from a different location, requiring you to file your returns on the computer where the tool is installed. All this leads to a reduction in efficiency and a gradual loss of man hours which could be used for something else. The solution to all these problems is MakeYourTax, a unique income tax returns filing web-based application, a joint venture of Indus Net Technologies and Taxmantra.
How does MakeYourTax help CAs and enterprises?
MakeYourTax is a cloud and web-based app that requires no installation and is available 24×7. It is easy to use and all you need to do is log in once to start filing your returns instantly. This is the perfect tool for those who are working from multiple office set-ups. MakeYourTax supports all ITRs and you can directly upload XML files, negate the requirement for entering data manually. This web-based application is perfect for chartered accountants (CAs), accountants and enterprises.
The tool is specifically useful for chartered accountants, who often go through a reduction in efficiency because of older legacy taxation tools. This cloud-based filing system helps CAs to delegate work to junior interns, and it makes filing ITR and e-TDS of different clients a breeze. If you are a CA, you will no longer have to struggle through manual installations, performance audits and regular updates of your software. All this happens in the cloud, without you ever having to do anything. In other words, chartered accountants can finally leverage the power of cloud computing.
If you are a chartered accountant and were wondering how MakeYourTax will help you, this section will help you to understand its main features.
A taxation solution with full features
The app covers ITR 1, 4S, 2, 2A, 3, 4, 5 and 6. You can easily make revisions and rectifications. In other words, MakeYourTax is a full-suit taxation app that solves all your problems as a CA, and you can simply focus on growing your business and nurturing your clients, instead of worrying about technicalities and software issues.
Cloud-based solution
MakeYourTax is a cloud-based app that does not require any installations or upgrades. This means the app is always up-to-date, ready to serve you, help your crunch numbers and make your work a lot easier than you might ever imagine. It is incredibly fast and can scale up during demand seasons such as the weeks before tax-filing deadlines. If your interns are not able to come to your office, they can simply work from home. This allows you to hire more interns and employees, especially if you do not have a large office.
Helps you collaborate
As MakeYourTax is a cloud-based app, you can easily collaborate with your team and also your clients across the world. The application provides simultaneous access, which makes coordinating and collaborating very easy. With a single license, you gain access to a multi-user, multi-location platform that easily solves all your tax-related problems.
Easy to use
As a CA or an accountant, you might worry about how difficult this software might be to use. The app has been designed with non-IT professionals in mind and is thus very intuitive and easy to use. In fact, even junior interns can use the application easily. If you need support, our trained tax professionals will help you and clear your doubts.
Data protection and security
When it comes to sensitive data such as tax-related numbers, data security is of utmost importance. MakeYourTax has been designed with protection and security of data being high on the priority list. All data is kept private and the app features 256-bit SSL encryption. With encrypted back-ups being the norm, you never have to worry about your stored data falling into wrong hands or it getting lost. With guaranteed data backups and security, you can heave a sigh of relief and focus on your work.
Future updates and features
In the future, MakeYourTax is going to receive even more features as it is updated regularly and automatically over the cloud. Some of the features that will be available soon are TDS returns preparation and filing, service tax returns preparation and filing, and VAT returns preparation and filing. Moreover, we have a list of other useful features that we plan to introduce soon.
With more than 30 years of experience in the field of taxation, our team consists of veterans who know what it takes to crunch numbers efficiently. Our team has filed more than 300,000 tax returns for their clients and managed more than 8000 businesses. The team's technical expertise is sound too, with more than 18 years in the technology sector.
MakeYourTax.com costs INR 9850/- per year for unlimited usage, multiple users, and multiple offices, for one firm. We also offer a white label tax filing portal which will help you acquire new clients, but this comes at an additional cost. All along, no matter what questions or doubts you have, our experienced team will be happy to assist you. If you would like to understand more about the application and how it can specifically help you, please feel free to contact one of our representatives and they will be glad to help you.
Subscribe to our Newsletter