back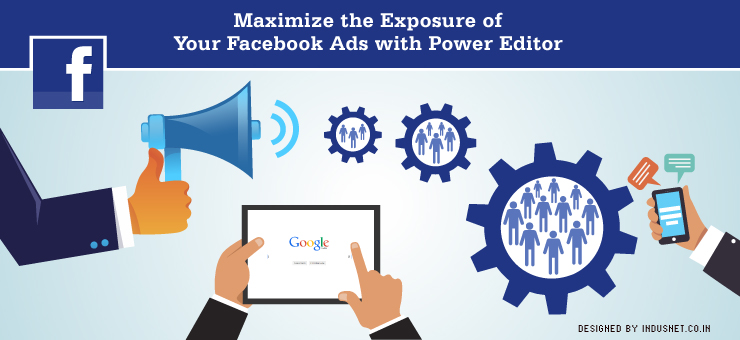 Digital Marketing
Social Networking
Maximize the Exposure of Your Facebook Ads with Power Editor
It is not new that every marketers turn to social media to accomplish their marketing goals. Social media is one of the effective ways to get the word out about your brand. To make it easier to manage your brand, Facebook introduced Power Editor to help marketers have greater control over their advertising segment.
Facebook Encouraging Marketers to Spend More Time on Ads
Facebook introduces Power Editor. This social media tool is used to create bulk ads and manage the same on Facebook. Power Editor is typically used by advertisers who are looking for advanced features. Advertisers, on a large scale, can efficiently manage their ads and campaigns. With these bulk ads being targeted to the right audience, marketers can definitely enhance their customer experiences.
This plugin works on download and upload system with Google Chrome. So, every time when you want to work in Power Editor, you've to download all the data from the Ads Manager and then create your campaign, ads & ad sets within Power Editor. Take a look at the comprehensive guide to setting Power Editor.
Core Features to Consider
The Lookalike Audience feature helps you to reach people who are similar to your existing customers for brand awareness, fan acquisition, coupon claims or site registration.
Demographic information is essential. The Saved Audience feature allows you to save time needed for target audience selections and apply them to future ads with a single click. Once the audience has been created, select the 'Use Existing Targeting Group' option within the Audience segment and automatically apply your target preferences.
It has been observed that targeting fans only with Facebook ads can dramatically increase click-through rates by 700 percent. If you want to expand your reach beyond your existing followers, you have to target your ads to them through Power Editor.
Power Editor has the ability to simplify the bulk ad creation process. The 'Duplicate Button' in the Power Editor's Ad creation makes any type of campaign set-up function very efficiently.
Partner categories represent groups of Facebook users that can be served different types of ads based on their previous online browsing and shopping histories.
Conversion Pixel is code needed to follow conversions on your webpage back to the ad on Facebook.
You Have Enough Reasons to Use Power Editor
Here's how Facebook Power Editor offers you all the perks:
Better Management of Ad Images
With Facebook Power Editor, a larger number of ads and their images can be saved in one place. It not only enables you to see which images are tied to which ad but also while creating ads, you can choose an image you had previously used. However, the most impressive feature is its ability to allow marketers to see the click-through effectiveness of each image and exclude images that do not work.
Bulk Uploading of Ads
The bulk uploading feature of Power Editor allows you to run multiple ads. It enables you to upload an Excel spreadsheet of your ads, download them as well as edit them. This is useful specifically when one needs to save time on large campaigns.
Bulk Editing
Your wide array of ads and ad sets can be easily modified with the help of bulk editing. You can apply changes to all of your ads at once and update them accordingly.
Optimization of Ads
You can optimize your ads for the same things available in the Ads Manager. These might include post engagement, impressions or clicks. In addition, you can also choose daily unique reach that helps you to bid on impressions. The feature ensures that your ads get viewed by people at least once a day. You can truly optimize the amount of views and engagement your ads receive.
Custom Audience
Custom Audience allows you to make your own contact lists with phone numbers and emails, in order to reach customers with targeted Facebook ads.
Run Ads According to Different Time Zones
If you know your audience is on Facebook at certain times of the day, you can progress your ad performance by showing your ads at the local times. You have the option to choose which times you want your ad to run in any time zone.
Mobile-Friendly Ads
Power Editor allows you to create and run ads specifically on mobile devices used by the customers. You can run your advertising campaigns for iOS or Android users. This kind of targeting can be used for luxury products, which are more likely to be used by the smart device owners. Marketers can also target the teens by running campaigns specifically for the iPod users.
Run Unpublished Page Post
Unpublished page post allows you to create ads with longer text. Unpublished posts look similar to regular page posts and include a call-to-action button to draw attention to the desired actions. The greatest advantage of using unpublished page post is its ability to split test ads without promoting too much of promotional content multiple times on a day.
Advertise through News Feed
Power Editor helps you to advertise on Facebook through news feed. It has been observed that the click-through rate for advertisements in news feed have shown great impact. Power Editor helps in analyzing what kind of audience is actually responding to the advertisements.
Split Testing and Duplication
You are able to do split testing on Facebook advertising using Power Editor. It is now easy to create a large number of variations of the advertisement on Facebook on the basis of headlines, images, ad text or colors. These variations can be tested and done by using 'duplicate' button on the Power Editor. This means, you can create an ad, duplicate it and modify as per your requirements.
Here you have it…the best way to maximize the exposure of your Facebook ads.
Subscribe to our Newsletter