back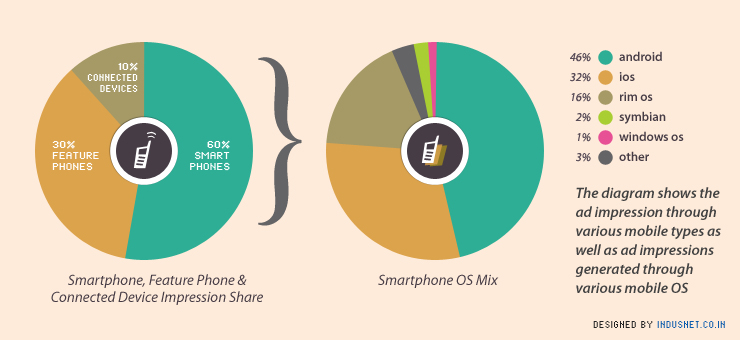 Emerging technologies
Internet Marketing
Media
Mobile
Technology
Mobile Advertising 101
Introduction
Mobile advertising is the most popular form of advertising. It is the most exciting frontiers in interactive advertising. Part of the success of mobile advertising can be attributed to the growing demand and reach of mobile devices in addition to the evolution of sophisticated smart phones. Internet has now been reinvented on mobile devices, so as the advertising. Mobile advertisement is an essential pillar of online marketing strategy.
Each and every company/business is trying to reach to as many customers as possible and mobile as a medium is successfully catering to the need. Advertisers are shifting focus from mainstream computers to Mobile devices, hence smaller, personalized and interactive form of advertisement is also gradually gaining popularity.
In the latest "Mobile Advertising and Marketing 3rd Edition" report  by Berg Insight the global mobile marketing and advertising market will grow from € 1 billion in 2008 to € 8.7 billion in 2014 which is a 43 percent Compounded Annual Growth Rate. At that value it will be 11.7 percent of total digital advertising. The number presented above gives an idea about how mobile advertising is gradually playing an important role.
Mobile Advertising ecosystem
The mobile advertising ecosystem involves several intermediaries between the "Advertisers" and the "Consumers".  When a message has to be conveyed from an Advertiser to an intended consumer, it has to be processed through Ad agency, Content publishers, Mobile Carrier and finally to the Consumer. The figure below gives workflow of a typical mobile advertising campaign:
Types of Mobile Advertisement
Mobile advertisement is of various types. They vary from a simple SMS to rich media ads like animated graphics and video. These ads can be highly targeted and can be displayed based on user's behavior. Let's discuss below the various forms of mobile advertisement:
SMS (Short Messaging Service)
This is the primitive and simplest form of mobile advertisement and exists from a long time ago. This kind of advertisement is supported by all the mobile phones and hence it has the highest reach. But the conversion rate for SMS ads is very low. Whatever information a brand wants to convey to the consumers is composed in short message and sent via a SMS gateway.
SMS advertising is suitable for sending coupon and special discounts. Retail, restaurants and entertainment markets get benefitted through this form of mobile advertising. If this SMS ad is used excessively by sending same message to a number multiple times, it cause irritation among customers and can be fatal to a brand.
Text Ads
These kinds of ads are displayed like a normal text on mobile websites. These ads are currently responsible for 50% of mobile Internet traffic as they fit in almost any mobile device and mobile web browsers having Internet access. The Text ads like normal desktop ads contain 3 lines of text and a URL that links to the advertiser's website.
Image Ads
The image ads can be of 2 types. One that is served through MMS and another served through Mobile websites. This is a popular method of advertising. The image ads include both static and animated images. In image ads via MMS, the advertisers load static and animated images to an ad server and the ad server identifies the mobile device and serve related ads. In the image ads via mobile sites, the ads images are embedded on the mobile web pages and appear while browsing the mobile sites.
Graphical Banners
There are various types and size of graphical banner ads available for mobile. These ads may be quite interactive and can have call to action button placed on it. The difference between image ads and banner ads is that image ads might not have a clickable component whereas the graphical ads have a clickable component.
Video Ads
These kinds of ads are usually supported by high end mobile devices and resemble mainstream advertisement. The ads that are displayed on TV or websites can also be displayed on mobile devices. For example while playing videos in sites like youtube, few of the videos want you to see the video ads before the actual video is played.
Embedded Ads
These kinds of ads are generally part of free mobile games or apps and displayed during game play.
Push Notification/Scroll Ads
These kinds of ads are pushed to your mobile device and appear when the mobile device is idle. Usually these ads ask you to perform some action to deliver further content. These ads are served through the mobile operator.
Mobile Ads Transmission Options
Mobile ads can be served via various medium as given below:
Short Messaging Service
Multimedia messaging Service
Premium SMS
Subscription based SMS service
Wireless Access Protocol sites
Mobile Web
Mobile Operator (via caller tunes and IVRS)
Streaming media
Broadcast Media
Mobile Ad Network
In order to facilitate the mobile advertising, the mobile ad networks play an important role. These ad networks are the one where advertisers meet the publishers. Below are a list of global renowned ad networks:
Admob has been acquired by Google in 2009. It is one of the world's largest mobile advertising platform. It serves as high as 40 billion banner and text ads per month across mobile web and mobile apps.
iAds is a mobile advertising platform from Apple. iAds has been a part of iOS 4. It helps third party application developers to embed advertisement into the apps they build for iPhones and iPads.
Founded in India, inMobi is the largest independent mobile advertising network in the world. It is a performance based mobile advertising network and helps advertisers reach their target audience and publishers monetize their content. It started as an SMS based search platform.
Mobile advertising solution from Microsoft offers both display ads and search advertising. According to Microsoft the mobile display ad solution connects to nearly 50 million unique users and the mobile search ad solution leverage the partnership with Bing and Yahoo and reaches to almost 28 million users.
Apart from the above list of ad network there are several smaller and powerful players like Millenial Media, Mojiva, EnPocket etc.
Mobile Advertising Pricing models
The pricing model for mobile display advertising is similar to pc based advertising. Depending upon the publishers, ad network and product advertisers can choose between the following methods to buy:
Cost Per Click (CPC) : In this type, the advertiser has to pay, only when an ad is clicked by an user.
Cost Per Thousand Impression (CPM): Advertiser has to pay for ads based upon the number of impressions.
Cost Per Action (CPA): Advertiser has to pay when a user performs an action on the ad like providing his/her contact details. On mobile this can also be cost per call.
Few Stats on Mobile advertising
According to an Admob report(2008), US account for 47% percent of total ad request on mobile and India is at second place with 9.8% share.
The following image (courtesy Millenial Media) shows the ad impression through various mobile types as well as ad impressions generated through various mobile OS. According to that report Android OS with 46% share of total ad impressions is clearly the winner. Apple's iOS is at second with only 32% share.
Advantages of Mobile Advertising
• Mobiles can serve location based advertising pretty well. Most of the smart phones today are equipped with GPS and those mobiles can be used to provide advertising related to freebies and discounts in the area a user is located.
• Mobiles being always-on and always-aware, can provide more effective and timely communication as compared to any other channel. Average response time of SMS is quite less when compared to email or postal mail.
• Mobile having a unique ID (the phone number) which does not change over time (contrast to other methods like IP address for computers) can provide better CRM tracking.
• The mobile advertising can be highly targeted based upon the user and the device. If worked with a mobile carrier, advertisers can have customer data and location information at their disposal.
• This is quite advantageous for app developers to monetize their free apps as well as advantageous for mobile users as they can ad supported apps for free.
Disadvantages
• Not all types of ads are supported on all the devices.
• In some geographic region, the mobile data transfer rate is still slower.
• Even though there is a standard for mobile advertising, it is not yet fully followed.
• Mobile ads may create privacy issues.
Conclusion
Mobile advertising is a rapidly growing sector providing brands, agencies and marketers the opportunity to connect with consumers directly on their mobile phones. If the mobile advertising strategy is not effectively made it may create negative effect instead of bringing any positive values. At a high level view Mobile advertising looks like Internet Advertising or online advertising, but it is infact quite different.
As mobile advertising are more targeted, more interactive and has quite a large reach. Mobile can also be used in cross-media campaigns including TV, Radio, print and Outdoor. Mobiles can also be used for Viral marketing, by which recipient of a mobile ad will forward it to others and others will in turn forward it to their friends. This will result in several people forwarding the advertisement and result in a viral campaign.
Subscribe to our Newsletter