back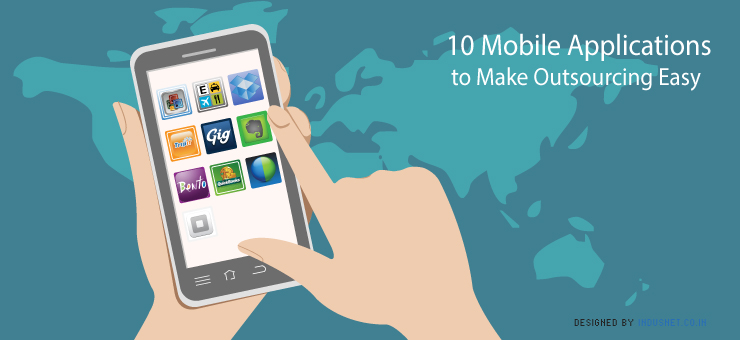 Digital Marketing
Marketing
Mobile Applications to Make Outsourcing Easy
In today's competitive environment, access to real-time information is extremely important. And with the spurt in cloud-based applications accessible via mobile device, you can save time, money, energy and put your business at ease. Information management and sharing it among your partners both onshore and offshore becomes an overwhelming task when your business starts growing. There are a number of applications in the market that help you to have a greater control over your outsourced business activities. We have chosen the ten most popular applications you must employ in your day-to-day business tasks. These may help you consolidate your business and strategic planning and assist you in simplifying tasks in a relatively inexpensive manner.
• Quickbooks –
 Quickbooks is an essential accounting software for your business. You can have complete access to the information about your customers spread across the globe and send them instant invoices from your mobile device and accept credit cards for payment. Besides this, it also lets you pay your remotely- located employees and partners. Quickbooks facilitates maintenance of payment records including alerts about overdue payments from customers. What's more interesting about this app is you can track region-wise sales and total global sales and keep a check on your expenses. This cloud-based app is available for iOS, Android and Blackberry devices.
• Expensify –
Expensify is a great application to track your expenses. It easily generates automatic expense reports for your offshore teams remotely located across the world. You can even supervise expenses of individual employees. Reimbursement of expenses becomes fairly easy with it and is limited to $10,000 within US only. Expensify also gives an insight into decision-making process by generating region-wise expense sheets based on specific parameters you choose. Smartscan feature in Expensify scans your receipts and autofills them in the cloud based application. It also integrates with ERP/CRM software including  Quickbooks, Sage, NetSuite, ADP, Microsoft Dynamics, Financial Force etc. With its GPS tracking feature, it not only lets you track your employees' vehicle mileage expenses but also gives you mileage expenses for your entire fleet of trucks operating in Latin America or Asia.  Moreover, it has an added advantage of logging and billing the time to your offshore clients with its time tracking feature.
• Dropbox-
Dropbox is flexible file storage and file sharing platform which lets you collaborate with offshore business partners. It enables you to share specific folders and files with a particular cross-border team and has an ability to restore your deleted files in the event of system crash. It also negates the necessity of emailing attachments to individual employees thus increasing the business productivity. For small to medium size businesses, Dropbox turns out to be an essential file sharing platform. It is available for leading operating systems. You can rely on DropBox to store sensitive information specific to your business with its two-step verification process and encrypted information on its cloud servers.
• Documents to Go –
Documents to Go is a must for your smartphone to view, create and edit Word, Excel, PDF and Powerpoint files. It can easily synchronise with your laptop and desktops and is supported by Google Document. Documents to go keeps your work active and efficient from any mobile device. If your sale is outsourced to an outside agency, it is wise for your salespersons to have it handy in their phones. It increases productivity of your global business as it is localized in various languages including English, Spanish, French, German and many more. And you don't have to worry about the critical information about your business as the files are password protected.
• WebEx –
Webex is one of the most popular video conferencing applications with loads of other features giving a virtual board room experience. Its interactive whiteboard feature and desktop screen sharing gives it an edge over its peers. You can conduct webinars and training sessions for your offshore teams. Webex enables you to supervise and close sales deal by supporting your outsourcing partners. What's more exciting, Webex can record all your meetings which can be viewed for future reference and for those who could not turn up for the online meeting due to time zone differences. It is easily accessible via smartphones and tablets. They have a variety of specialized products customized to your business needs which even lets you interact with 3000 users collectively. Webex products include WebEx Meeting Center, WebEx Event Center, WebEx Training Center and WebEx Remote Support.
• Gigwalk –
Gigwalk is an iconic platform for businesses with outsourcing needs. With its huge smartphone-enabled, location-based, qualified and verified mobile workforce called Gigwalkers, businesses can get their work done easily. It is used by the leading companies in the world and finds its application in retail, consulting, market research or any kind of work suiting your business needs. You can hire Gigwalkers and get your work done anywhere. You can even use them for ad hoc projects and recurring programs. The information is reliable and you can act upon it to stay ahead of your competitors. Gigwalk mobile application can easily push presentable data to your offshore partners and vendors.
• Square  –
Square helps you build relationship with your outsourcing business clients by facilitating easy payments. It is a classic mobile application for managing customer sales account and accepting credit card payments from remotely located customers.  It even empowers your employees to accept payment from your customers and gives you a control over sales transactions and view transaction history. It is like maintain a virtual cash register which puts your business at ease.
• Bento –
Bento is an excellent platform for designing a customized database for storing your clients' and partners' information. With its ability to store virtually any information including their contact details, your product details and videos, it stands out as one of the best application designed specifically for i-Pad, though it also syncs with Mac operating system. Bento gives a smooth control over your project progress/deadlines and inventory management. Creating and printing forms/labels is simple and user-friendly. With its in-built formulae, Bento can analyse your offshore sales data with an absolute clarity and transparency. Bento also facilitates event management by storing intricate details of your meetings including food menu, guests and speakers invited, venue etc so that you don't have to create MS Word documents and Excel sheets for such information.
• Evernote  –
Evernote is an application with the ability to store, protect, share and edit data among your colleagues. Especially considering the need for your outsourcing business, this application overcomes communication barriers with your offshore teams besides increasing productivity and efficiency with its instant data sharing ability. Evernote can store hand written notes, typed notes, web links, audio, video and photo notes. It also has an in-built voice recognition feature to transcript your meetings. Evernote administrator can manage and share specific information with a team or an individual. While the notes stored in the business library are accessible to anyone in the company, business notebooks are only accessible to your company's EverNote administrator but not to other employees, unless you share them with those individuals or add them to the Business Library. Using this application will immensely save your time and money. Another remarkable feature is added by a free third party tool namely IFTTT(If this, then that), which extracts Twitter & RSS feeds, Google News and Google search alerts from any blog or online publication and shares them across the users. It works seamlessly with leading operating systems.
• Tripit –
It is one of the best applications for planning your travel and making reservations. Your outsourcing business spread across the globe keeps you on your toes and it becomes stressful for you to make your bookings via travel agents. The problem escalates when you are hopping quite frequently. Install Tripit on your phone to stay at ease. Tripit is available for i-pad, i-phone, Android, Blackberry and Windows phone. You can even email your plans, share trips and sync your calendar across different devices. Tripit presents your flight and car rental information in card form and you can set alerts for information updates on flight cancellation refund, flight change schedule and so on. It can easily link with Google Map service which means when you click on the card information of your rented car; Google Map will guide you with turn-by-turn directions to your destination. So, now plan and travel without any hassle.
Subscribe to our Newsletter