back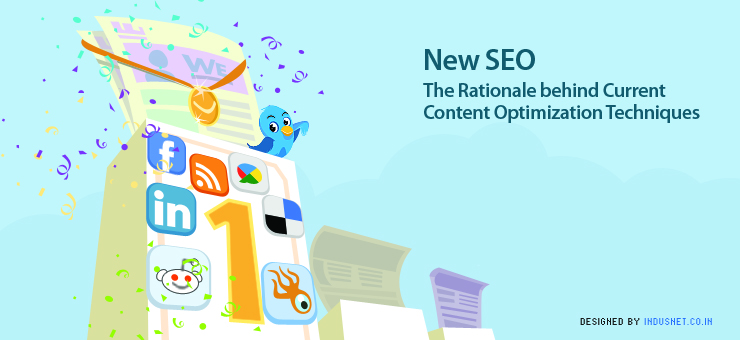 Internet Marketing
Marketing
New SEO: The Rationale behind Current Content Optimization Techniques
With Internet dramatically changing to suit the needs of a new millennium, people have begun to wonder what the future of optimizing their content with respect to search engines is going to be. The answer seems to be pretty clear.
Older SEO Practices vs. New SEO
Older practices of black hat SEO is not going to work anymore and Google and other search engines know how to figure out when content has been optimized against good practices. In fact, SEO professionals have long realized the need for hard work that is consistent and authentic but clients have often pressed for quicker results, leading to shoddy practices of link buying and selling. With the advent of social media and its popularity, one thing is for certain. Social Media is the new SEO as much as content is.
Why Great Content and Social Signals Are Important
Great content and social media will ensure SEO optimization like no other technique will because these are not related to various algorithms that search engines like Google usually enforce. Algorithms change often in order to make sure that useless and spammy content are weeded out, and only quality and relevant content appear in search results. Again, the underlining aspect is that of great and quality content. One cannot escape creating quality content and one cannot escape marketing such content over social media. These two aspects will remain the most important feature of SEO in the years to come.
The Rationale Behind New SEO Strategies
Companies and individuals must realize that when they choose to optimize content for search engines, they must first ensure that their content is worthy enough to be shared. The purpose of content is not to drive traffic back to your site. The purpose of your content is to educate, inform and help your readers. This eventually ensures that the website where such great content is published (your own website) gets all the love from search engines, because readers love great content.
Importance of SERP and Content Marketing
Social Media Results Pages need to be given more importance and the crux of SEO will depend upon who shares your content with whom. With that in mind, social signals like the number of likes, retweets, endorsements and pins become more important than getting backlinks from shady individuals.
In order to get positive social signals, you will need to ensure that your content is great. This content can come in the form of great blog posts, whitepapers, eBooks and interviews. There is never a hard and fast rule about how much content must be published. Content that is timely, relevant and useful to readers will win over content that is transient and shallow. By hiring great content writers, researchers and editors, you will ensure that your website provides value to its visitors and not trick them into clicking on links while you hope for more business.
Such practices are shady, not respected and totally not professional. In fact, buying backlinks, purchasing traffic and manipulating with your website script will worsen your reputation and will negatively affect your business. The solution then is to ensure that everything is real, authentic and of great quality. Of course, this is not easy and it is not cheap either.
New SEO Is Cheaper and More Effective
Neil Patel wrote in a blog post titled Why Content Marketing Is the New SEO and stated that he spent $25,200 on creating great infographics and generated 2,512,596 visitors, 41,142 backlinks from 3741 unique domains and lots of business. If he had chosen to buy those 2,512,596 visitors, 41,142 links and 41,359 tweets, he would have totally spent $1,072,905. Obviously, spending $25k on great infographics proved to be cheaper and more effective.
All that you need to do to ensure that you are sticking to the protocols of new SEO is to make sure that your content is detailed. You must also create great infographics update your social profiles regularly and write posts with great titles. Of course, you will also need to be consistent with what you do. New SEO is not only cheaper than traditional SEO practices, but also more effective and authentic. Sometimes, the solution is easier than we think it is.
Subscribe to our Newsletter