back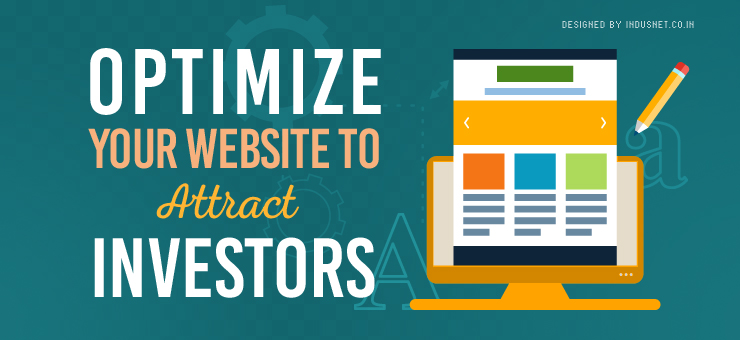 Strategy
Optimize Your Website to Attract Investors
Any fledgling business that seeks to grow will require funding. The amount of funding required depends on the actual business and its goals. However, most companies that have just started or are looking to expand invariably look for investors.
There are several websites which help startups and small businesses to look for investors and even contact them. Some of them, such as Seedrs.com, Unbounce and MoolaHoop assist businesses to pitch so that investors can help them with funding. However, there may actually be an easier way than this.
Set up a page asking for investment
You can set up a page that explicitly asks for investment from funding entities. This page can then be set up in such a way that investors will find all the answers to why they must invest in your business. After setting up the page, you will have to market it to the right target audience so that the message reaches, amplifying your chances at getting investment. It is not an easy thing to do but it certainly is helpful and immensely effective.
In this article, let us take a look at how you can optimize your own website to seek investment.
Build a great page
When you are setting up a page to attract investors, it should look respectable enough to attract investment. This means, the page should be well designed, free from clutter and should be as direct as possible. Try to reduce design as much as possible and focus on quality content that will attract investors. State why your business needs investment and how investors will benefit from it.
Market the page well
Once you are done building the page, you will need to market it to the right target audience. This means, your website should be circulated among circles that are known to invest in fledging companies. You may also seek the help of firms that assist in attracting investors. With a dedicated page for attracting investors, you will be at a greater chance of attracting investors, especially with professional assistance.
Optimize content to attract investment
Make sure that all the content that goes on the page is optimized to attract investment. If something is not showing you favorably, that does not deserve to be on the page. Hire professional writers and editors who are trained to write marketing copy. You are marketing your own business or yourself so that investors can find something of interest and conviction.
Learning from the experience
Today, a number of companies are looking at external funding and investment for them to keep going. One way is to seek to crowdsource or use one of the many websites to find investors. Another way is to actually build a web page that will attract investors. Firstly, you will need to build a well-designed page that is dedicated for possible investors. Second, you will need to market this page very well. Third, you will need to publish excellent content so that your business goals, aspirations, reasons for funding etc are known without any hitch.
Subscribe to our Newsletter