back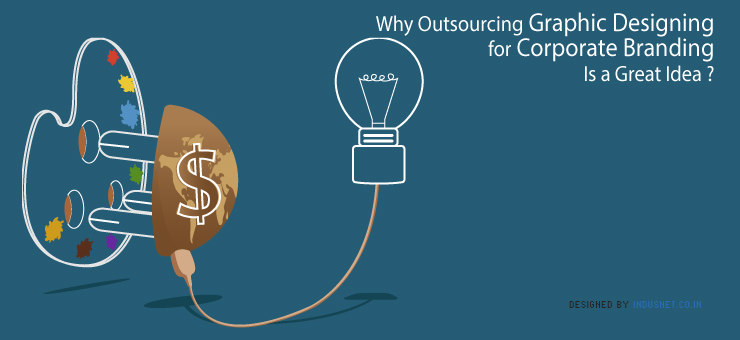 Digital Marketing
Marketing
Why Outsourcing Graphic Designing for Corporate Branding Is a Great Idea
No business today can forego the use of corporate branding. Corporate branding strategy covers not only products that are sold but also the very essence of a business or an organization and how it should be viewed by clients, customers and competitors. While advertising forms a part of corporate branding, the way a brand's logo, packaging, business vocabulary chosen etc can have a lasting impact on a company's brand image.
Outsourcing as an option for corporate branding
Corporate branding is an innovative approach that makes people conscious of your brand and outsourcing graphic designing work to any competent designing firm is ideal for this. Graphic designing is a process that requires a lot of expertise and skill. Once professional help is sought for this work, it is just a matter of time before any good company can create waves in the business world.
Outsourcing has a lot of benefits when it comes to engaging a company's corporate branding. There are a lot companies specialize in corporate branding along with other services. Hiring one of these specialized agencies will help business owners to adopt corporate branding, especially when it comes to graphic designing, an important part of corporate branding. There is a lot of saving to make financially and thanks to reasonable pricing that corporate branding agencies quote, one can easily get that logo or insignia designed for a lesser cost.
There are several obvious benefits to outsourcing graphic designing costs:
Need for professionally designed logos
Outsourcing graphic designing can mean that you get the best logo possible for your business, without having to spend a lot of time or money. This could save a lot of unproductive weeks that one is expected to spend in getting a hang of the things or software that goes into making a logo. A well-designed logo can say a lot about your company as it appears at every place a company leaves its mark on. Logos may seem like a minor thing in the larger picture, but a well-thought logo can immediately help people to identify your products with your business.
Financial savings
If a company wants to design the graphics itself, it would mean that an expenditure of thousands of dollars, including the purchasing of good software in the likes of Illustrator or Corel Draw. Additionally, one will have to hire graphic designers full-time or train existing professionals with logo-designing to make use of the expensive software you already purchased. In the bigger picture, it doesn't make a lot of sense to go through this ordeal..
Perils of individual product branding
Individual product branding is in stark contrast to the corporate branding strategy. Different products by the same company are marketed in different campaigns. Consumers often have no idea that the same company is marketing different products and services, all of which are marketed under individual campaigns. Corporate branding on the other hand gives a theme and an essence to the entire campaign process of a company, helping people to identify a company more easily when they locate brands, logos, insignia and punch lines.
Case study: The brand 'Unilever' is associated with many smaller brands that are marketed aggressively but people hardly knew about all the products that the company sold a few years back when Unilever decided to switch to corporate branding. People used its products without asking many questions as they were of the topmost quality. However, Unilever continued to lose out on its corporate image because people were not aware that it had so many brands under its umbrella. All this changed for the better in recent years after the company explored corporate branding.
Individual product branding limits the exposure of the mother brand. This surely creates a problem because the mother brand does not get promoted and its stepping into many profitable ventures is taken lightly by consumers. Imagine the plight of the company when it had to promote a new venture right from the scratch!
Outsourcing corporate branding strategy can save a lot of money that is spent on these haphazardly scattered promotion campaigns and paves way for a streamlined approach towards branding. A lot of resources spent in the organization of smaller brands can be diverted to outsourcing and the remainder can be spent on focusing on core projects. Certainly, outsourcing graphic designing is not limited to just logos but may also include vectors, 3D branding, animation, videos and a whole lot of other services that a good graphic designing company can help you with.
Subscribe to our Newsletter