back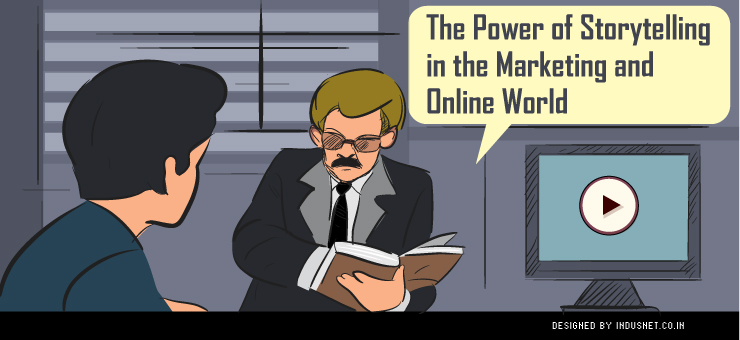 Digital Marketing
Marketing
The Power of Storytelling in the Marketing and Online World
Everybody likes stories. Right from a toddler who likes to pore through picture books to adults who like to read novels, we all like stories. Narration and forming stories have been the basis of much of our imaginative and real lives.
When the prehistoric men hunted and brought food to their families, they created stories to keep themselves entertained in an otherwise scary and dangerous world. As our civilizations grew, our stories grew more complex. No matter what, the art and science of storytelling never left us. Instead, it has now become even more embedded in our culture and psyche.
Importance of storytelling in running businesses
When it comes to promoting businesses, stories can not only make but also break the very business they are supposed to support. You might have noticed that a number of websites often use a story of how the founders met, how the business grew and other details in the "About Us" page. You may also notice the art of storytelling in blogs, web copy and sometimes, even on product packaging.
The power of storytelling in online world is so important that the very success of your online existence depends on how well you tell your story. In this article, we shall take a look at the power of storytelling in an online world, in the context of making explainer videos.
Psychology and the art & science of storytelling
Because there is a natural storytelling urge and ability in all human beings, even just a little nurturing of this impulse can bring about astonishing and delightful results. — Nancy Mellon, The Art of Storytelling
The field of psychology has devoted a large part of its research activities to the importance of storytelling. Postmodernists like Ludwig Wittgenstein often stressed on the importance of narration in therapy. Psychological healing occurs when we narrate our stories and restructure, reform and redefine our stories, which are often clouded and distorted by our thoughts and feelings. Thus, stories can change the way we think, and the people that we are.
Similarly, the story you tell of your business and of your products and services will decide whether you will be successful or not. In an ideal world, we can narrate our stories, impress our target audience and rake in all the profits. Unfortunately, real life and real business are both tough. In order to conquer these real problems, we need to start weaving stories not only into the About Us page or into blogs and web copy, but also into explainer videos that we make.
Weaving stories into explainer videos
Explainer videos may seem like a pretty straight forward method where you instruct your viewers about your business, products and services. However, when you narrate a story within an explainer video, use metaphors and allegories, you will be able to connect with your audience better. As explainer videos are all about connecting with your audience, the importance of storytelling cannot be stressed enough.
When you write the script for an explainer video, ensure that there is some sort of story involved in it. If that story involves your own story of how your company came to be, or a form of narration that subliminally communicates to the viewer about "story story", half of your job is done. Stories need not be explicit. Often, novelists use a number of techniques to narrate their stories. Likewise, when you write the script for an explainer video, your storytelling needs to be varied: sometimes explicit, sometimes implicit and sometimes, just plain adventurous.
Final thoughts
At the end of the day, the most important thing for you to do as a business is to make sure that your explainer video ticks. And for that, the narration has to be strong. And for that to happen, the storytelling needs to be powerful. With all this in mind, you could be pretty sure that you will get the attention of the audience you want, and that you will be able to touch their hearts and souls without looking like you are being too pushy. Often, stories indicate that there are humans behind a logo and behind a company. And that always works in the favor of businesses.
If you want to make this work in favor of your business, talk to the animation specialists at Oomphbox.
Subscribe to our Newsletter