back

General
Reviving Retail: The Role of Supply Chain Reorganisation in Overcoming Challenges
The global retail industry is facing numerous challenges in the current scenario, especially with regard to the supply chain, customer experience and overall sustainability.
The complexities of supply chains worldwide are throwing up multiple issues for retailers in terms of management of risks and ensuring higher profitability at the same time. This is where thorough reorganisation is necessary to overcome these hurdles with gusto.
Here's looking at these aspects in this article.
The future of retail and the role of supply chain reorganisation
There is a steadily evolving retail and consumer landscape today, with more companies fighting to play catch-up with e-tailers who have completely disrupted the market.
Several players are still grappling with success in an omnichannel ecosystem, particularly when it comes to aspects like overall efficiency, speed, and managing complexity.
Customers now expect receipt of products anywhere and anytime within a short span between delivery and orders.
At the same time, the industry itself is more technology-oriented. The future of retail will involve automation of several supply chain processes in a major reorganisation of sorts.
There will also be higher focus on customer experiences and sustainability as a direct outcome of better supply chain management.
All this will naturally impact profitability levels of retailers on a bigger scale.
Businesses will have to balance better fulfillment with higher profitability in terms of returns, in the face of higher competition and savvier customers.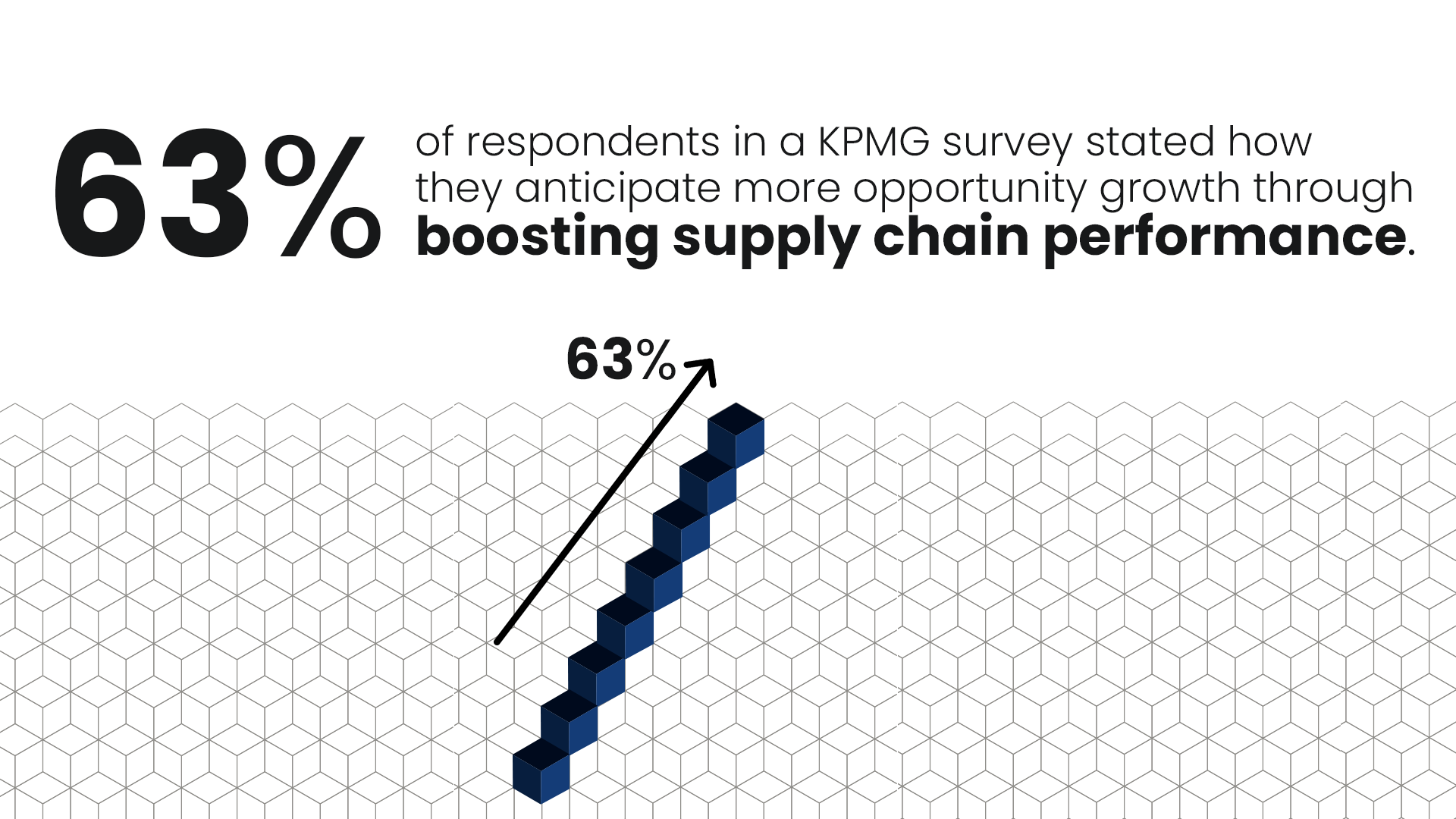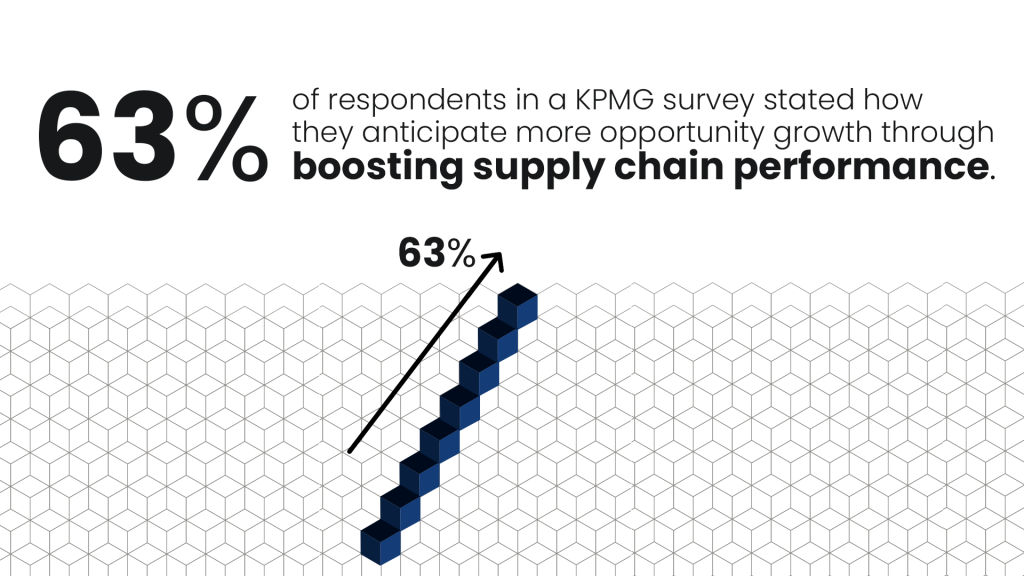 Retailers will have to accept that customers will define supply chains in the future, differentiating themselves through more innovative approaches. These will cover replenishment, sourcing, and distribution.
Customer experience will also be a key factor, including swift customer responses and redressal. There will also be emphasis on offering more specialised solutions for fitting changing consumer needs and ensuring higher availability.
Retailers will shift from conventional forecast-based supply chains to those driven by demand or DDSCs (demand-driven supply chains). This will enable better management of multiple channels for transactions, while lowering logistical bottlenecks alongside.
Companies will increasingly analyse big data for insights into customer preferences, while taking predictive approaches towards fulfillment.
Big data will be shared with trading partners and vendors, enabling a more collaborative ecosystem. This will enable sourcing and supply of products at chosen consumer distribution points.
From on-shelf availability, there will be a switch towards on-demand availability.
Greener supply chains will also be a major trend in the future, particularly with the higher focus on sustainability. Here is a look at how reorganisation of the supply chain can help retail brands overcome several common obstacles.
How supply chain reorganisation can help retailers overcome challenges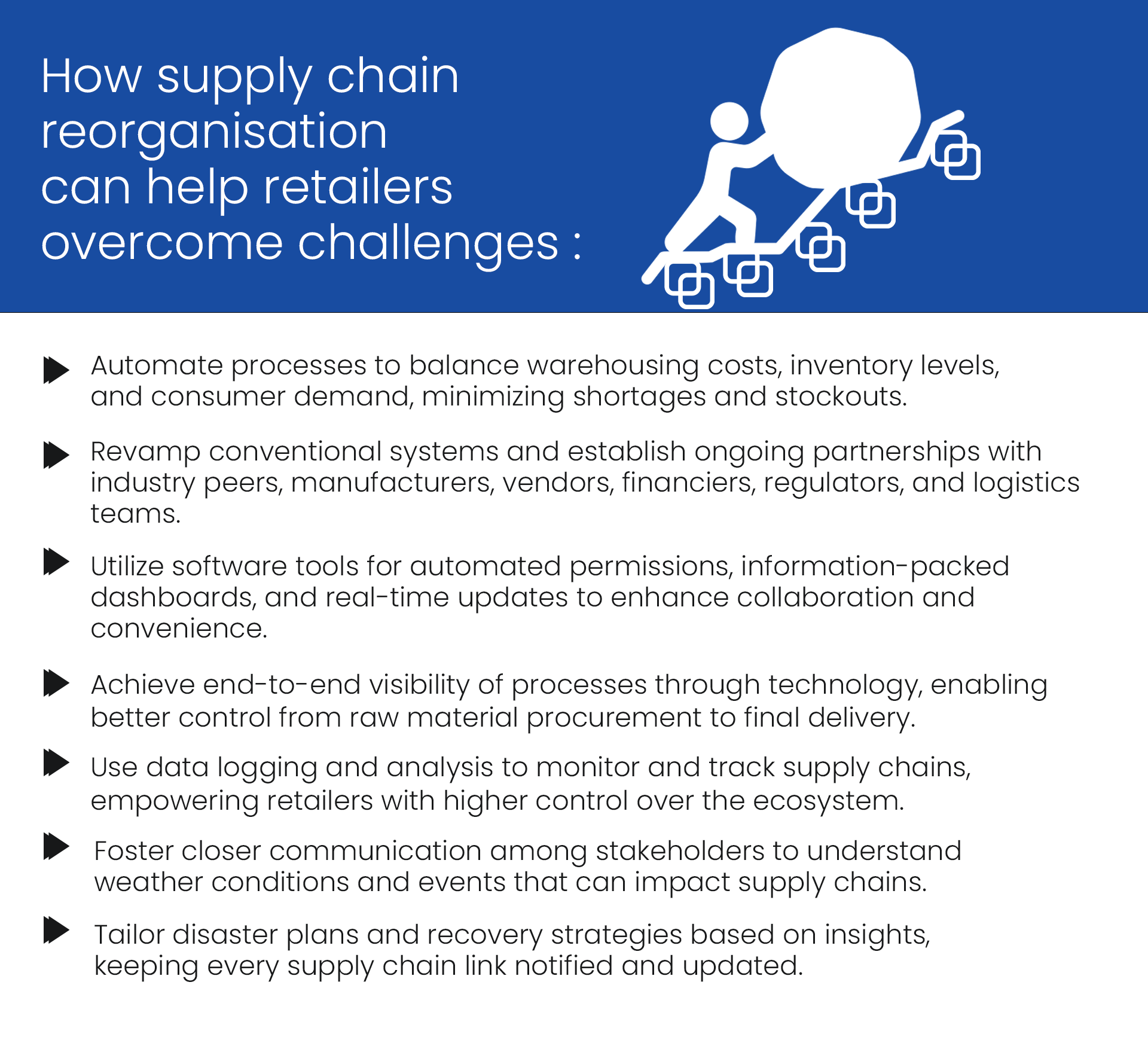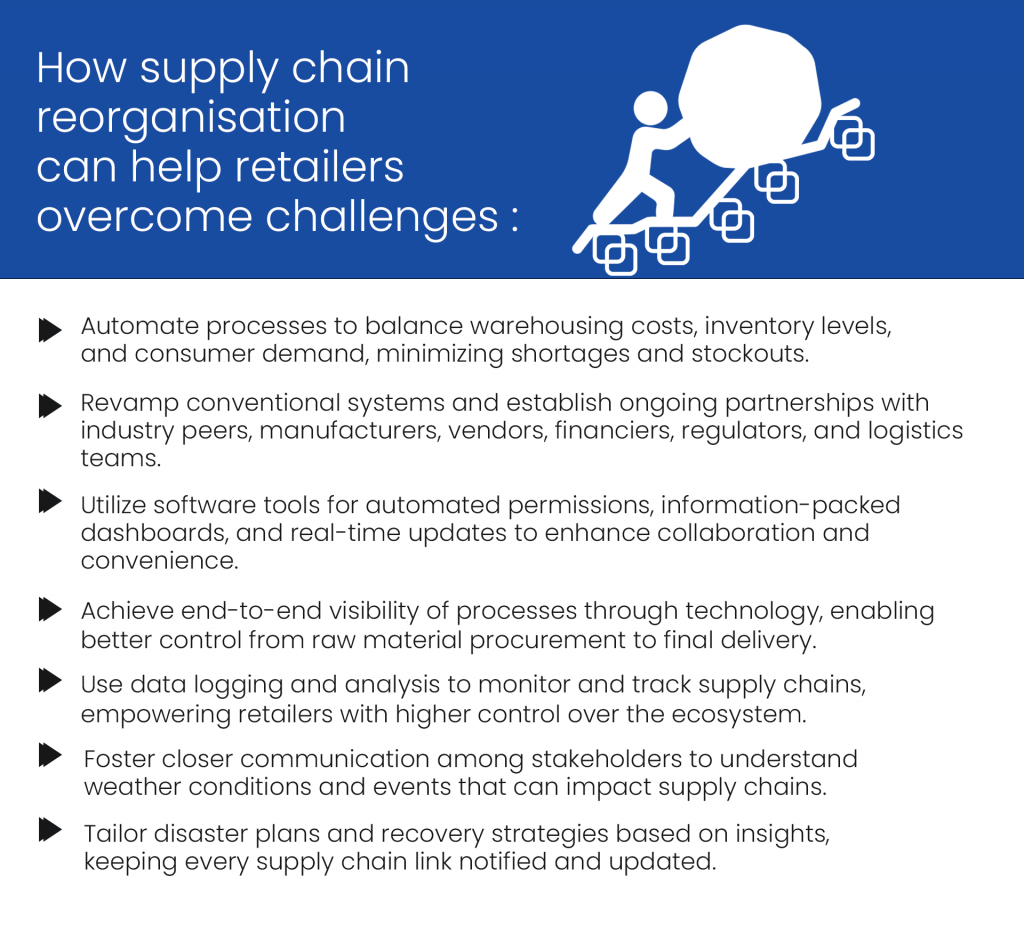 As can be seen, an intensive reorganisation of the supply chain is the need of the day, considering the current complexities that retailers are grappling with.
The challenges facing the retail industry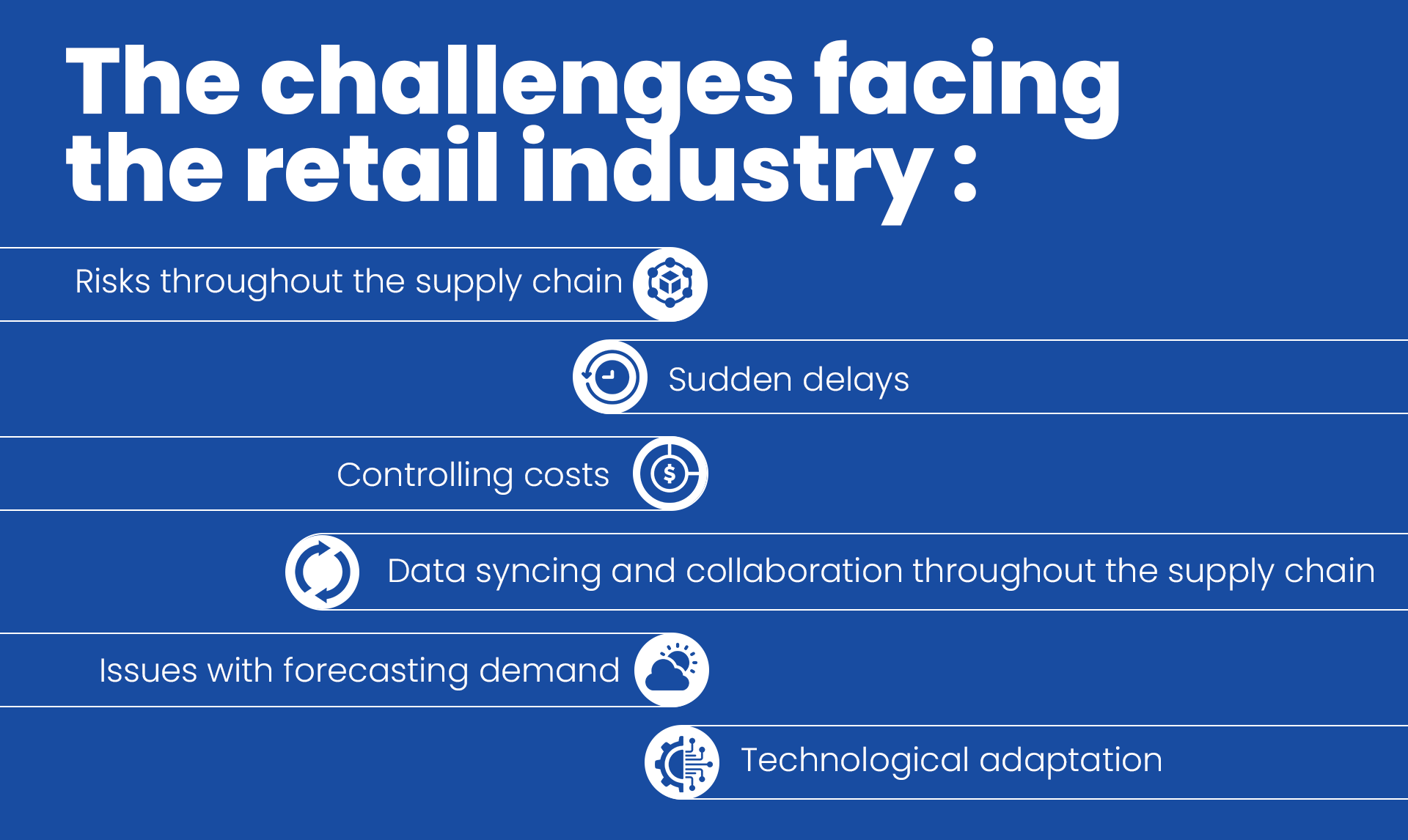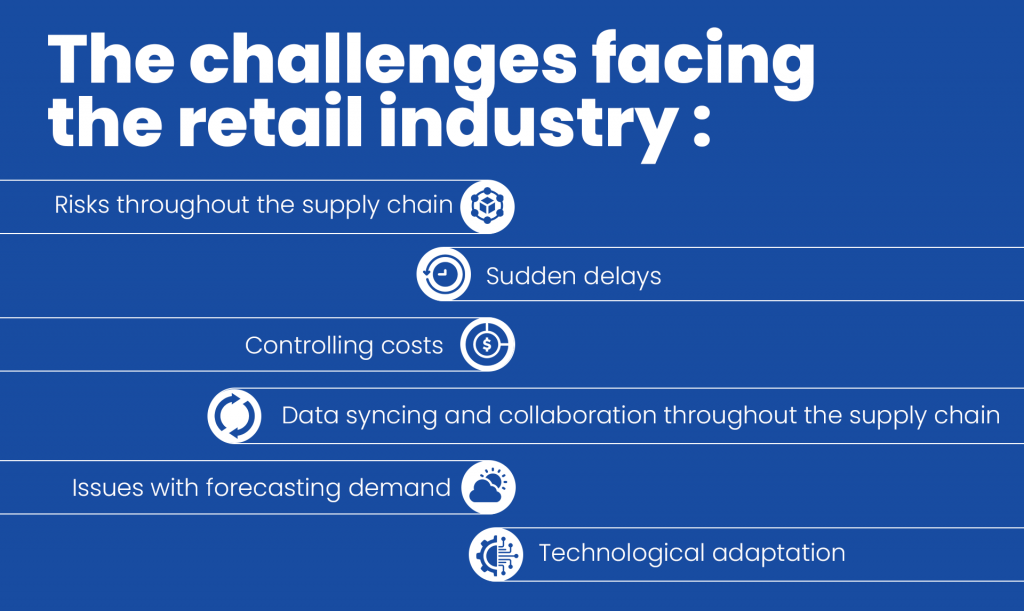 The retail sector is already facing several core challenges that are affecting their supply chains. Some of them include the following:
Risks throughout the supply chain- These majorly come about due to market volatility. Changes in consumer demand, shortages of raw material and trade wars are other risks. Some others include climate change, environmental regulations, economic fluctuations and policy changes.
Sudden delays- Global supply chains have to cover longer distances with multiple steps involved in the process. This makes them vulnerable towards unexpected and sudden delays.
Controlling costs- Raw material, freight, energy, and labor costs have been increasing worldwide. Cost control is a must for ensuring that consumers get quality products at reasonable prices.
Data syncing and collaboration throughout the supply chain- Access to vital data on the supply chain is a challenge. This is where businesses lose out on the chance for effective management.
Issues with forecasting demand- Disruptions and other factors often make it difficult for companies to forecast demand and inventory.
Technological adaptation- AI, IoT, ML and other technologies are streamlining supply chain operations across the globe. However, adapting to the same often poses challenges for retailers.
FAQs
1.What technologies and tools can support supply chain reorganization in retail?
There are several technologies and other tools that can enable a better reorganization of supply chains in retail. These include artificial intelligence (AI), machine learning (ML), data analytics, digital supply chain twins in the Metaverse, robotics, drones, 3D printing, and more.
2. How long does it typically take for a retail organization to complete supply chain reorganization?
Supply chain reorganization does not have any fixed timeline that all retail organizations have to follow. It depends on the technological capabilities and adaptability of the company along with its ability to bring together all stakeholders for implementation. It may take a few months to a year or more.
3.What are some successful examples of retailers that have undergone supply chain reorganization?
There are many successful examples of retailers and brands that have already undergone supply chain reorganization. Adidas, for example, is already switching close to 20% of production to automated factories by 2023 while Burlington Coat Factory has revamped its supply chain with newer processes in Burlington, New Jersey. It has integrated its approach throughout IT and operations, getting a new WMS and warehouse control software in place.
4.Are there any specific legal or regulatory considerations to keep in mind during the supply chain reorganization process?
There are a few regulatory and legal considerations to note during the reorganization process for supply chains. These include economic sanctions, trade policies, export controls, fraud, compliance needs, and so on.
Subscribe to our Newsletter