back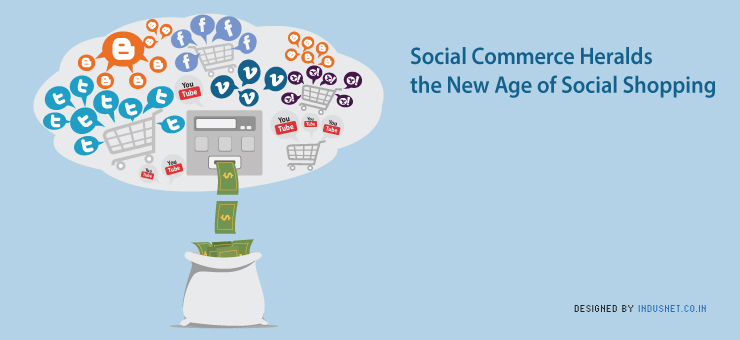 Digital Marketing
Marketing
Social Commerce Heralds the New Age of Social Shopping
Just a few years ago, if you asked someone what social ecommerce is, they probably would have furrowed their foreheads. Today, it is one of the largest mediums for the purpose of marketing, ecommerce and building social signals.
Social commerce is a term that is loosely employed to denote commercial activity that takes place on or with the help of social networking sites. Social commerce may also involve the usage of forums, wish-lists, blogs, and just about any other social space found online. The importance of social commerce is only being understand now and this will likely have far reaching effects on the way we transact online and build businesses online.
The growth of social commerce
Social commerce has been around as long as commerce has existed. Then neighbor told the friend that a certain apple from a certain tree tasted better than the rest. That friend tried the apple and found it juicy and went around tell people that this tree had got to be the best. A primal example of social commerce. Today, in the world of digital media, word spreads around instantaneously. That allows people to access their friends and family's tastes rather quickly.
Social commerce depends on the idea that people who know each other are able to influence shopping decisions more than regular marketing and advertising. If my best friend told me a certain brand of shampoo works wonders for a dry scalp condition, I would be more inclined to buy it than when the manufacturer aired advertisements on the TV. That friend may talk about the product on Twitter, may like the product's Facebook page or share a blog post about a review of that product.
The end result is the same as he telling me in person: my friend likes this shampoo and he has tried it and it has got to be good! Thus, social commerce has grown to be one of the most important and reliable forms of marketing products online.
Implications in retail and eCommerce
Social media and social forums provide a powerful platform to talk about retail products and goods sold on eCommerce stores. The reason being, anything that is sold online can be purchased online when one follows a link from a social networking site. If an influential person shares a product description on their social feed, people are more inclined to purchase that product online.
The power of social commerce is only going to grow in the field of retail and eCommerce for this purpose alone. It is indeed a great way to make sure that products are sold to a wider section of the society with the help of positive reviews, product descriptions, active customer service provided on Twitter and Facebook, and blogs, which help people to understand more about that product.
What we can expect in the future
Social commerce is going to grow bigger than ever. More websites, eCommerce stores and retail corporations will begin to use social commerce in order to increase their sales and revenue. The phenomenal growth of social networking sites like twitter, Facebook, Pinterest, LinkedIn and Tumblr has allowed marketing professionals to take a moment and observe why it is so important to make social commerce a priority.
Instead of having an e-store that no one knows about, the idea is to make sure that people are talking about you sell, and actively purchase it through social media. One can also increase a company's social media activity by offering freebies, coupons, gifts, discounts and running events that ultimately lead to purchases. Just like companies have real life events to promote products, it is necessary to get netizens talking about your products and services. That is one of the crucial aspects of social commerce.
What should you take home?
Allocate the right amount of funds and use it diligently. Do not overspend and try to choose platforms which are suitable for your business and products,. Not every social networking site is relevant to your product or service. A good social media expert would be able to help you to optimize your social commerce strategy. Listening and speaking to experienced professionals in the business is always the key. And that always brings great results and increases sales in the long run.
Subscribe to our Newsletter