back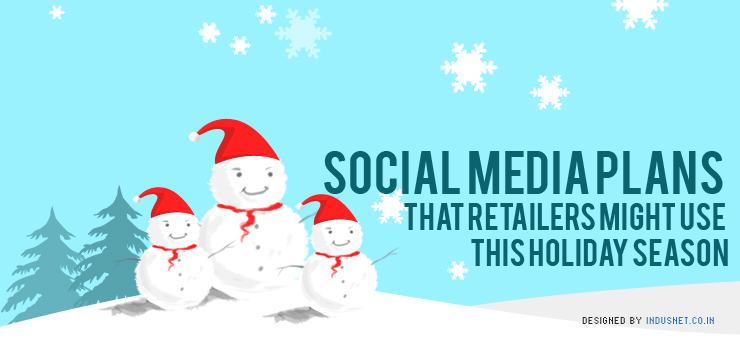 Digital Marketing
Social Networking
Social Media Plans That Retailers Might Use This Holiday Season
For any retailer, holiday session is one of the most important times when they maximize their sales. Usually, holidays are associated with festivals and the custom of buying gifts during the festivals is something that triggers their sales. People also love to pamper themselves by buying gifts for their own. Thus, an effective digital marketing strategy during this time can boost sales for a retailer.
Go aggressive on Social:
Having presence in social profiles is mandatory as part of modern marketing strategy. It helps to stay connected with your buyer everyday and thus, helping in Top of Mind Recall. During holidays, you may roll out special offers in terms of discounts and free gifts, which can provide a strong reason to visit your store. Promote the products with images and a strong message along with the offers. Facebook allows paid promotion of posts. So, you can spend few dollars to boost the post and reach out to a larger audience beyond your Facebook fan base.
Run Contests:
One of the best ways to engage people is by running contests. Don't make the contest too tough, else you will not get good number of participants. The objective is not to test the knowledge of users but to encourage them to participate so that the desired engagement happens. This will help you to collect the email ids of the participants which can be used for Email Marketing at a later stage.
SMS Marketing:
Sending SMS with offers is a new trend. If you have a large data base of mobile numbers, then use it in SMS Marketing. You can send a promo code through SMS showing which a customer can get extra discount. Trust me it works.
Targeting Existing Customers:
Targeting existing customers can give you good amount of repeat business. Engage them on Facebook and Twitter. Announce an award for Customer of the Week. These recognitions become viral very easily and give huge publicity.
Video Marketing:
Either shoot a video or create an animated video on your store and products. Develop an interesting storyline with a strong message to the society and publish on sites like YouTube, Vimeo etc. These videos can be shared on other social platforms like Facebook and Twitter, which helps in making the content viral. More people share the video, more importance the content gets. If you can attach the emotion of the festival with the content, then the video becomes more relevant and hence, you get more value out of it.
Setup an e-store
If you don't have an e-store yet, then it's time to build one. E–commerce market is booming and you can target buyers outside your geography, if you have the right delivery logistics. Successful social campaigns for an e-store also indulge in impulsive buying. During holidays, you can run special offers with promo codes and offer lucrative discounts. Lots of people prefer to shop online. So, why miss them?
Don't neglect the power of Pinterest/Instagram
Facebook influences 30% of American women when deciding what professional clothing to buy while Pinterest influences 22%, according to a joint study by Netbase and Edison Research. When it comes to clothing for a special occasion, Pinterest influences 28% of American women and Instagram influences 17%. (Source: http://www.businessinsider.in/)
As you know a picture speaks a thousand words, proper content marketing with beautiful product images in Pinterest and Instagram can help you to gain customers in festive season.
All of the above are some small ideas you can work upon to create a big impact. A right cocktail of all can help you to achieve more footfalls and hence, more sales.
This article is part of the employee experience sharing & content contribution initiative for Indus Net Technologies' Blog site.
Content Credit: Santanu Mukherjee – Senior Manager – Operations (Digital Marketing)
Subscribe to our Newsletter