back

Digital Buzz
Technology
Software Solutions Reshaping The Digital Landscape Of Pharma
Coming into the Covid-19 crisis, virtual healthcare has become a survival imperative. But, the concept has been in the scene for quite some time. The demand for innovation encouraging improvement in health outcomes, affordability, quality, and access had already started gaining momentum over the years. The pandemic has just accelerated it. Moving forward, Healthcare is going to be more accessible and affordable, promising better patient outcomes, reports McKinsey.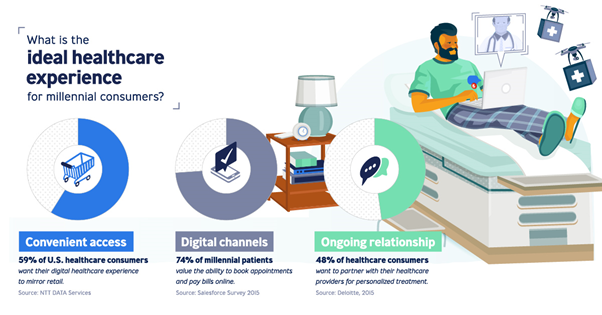 Source: Deloitte
Electronic Prescribing
E-prescriptions are making things seamlessly accessible to the patients without involving the hassles of handwritten notes. It enables medical practitioners to create accurate and understandable prescriptions, considerably improving the quality of patient care. E-prescriptions allow both doctors and patients to keep track of their medication history, thus making things easier for both the parties. E-prescribing platforms like MediTab comes integrated with multiple features, from practice management, telemedicine to medical billing" that makes healthcare more accessible to the patients from all levels.
Telemedicine
Telemedicine has already gained momentum by the time World faces the Covid-19 crisis. However, in the wake of the pandemic, the adoption has been quite high across all levels. The recent trend already indicates towards the massive growth of the global telemedicine market in the coming years.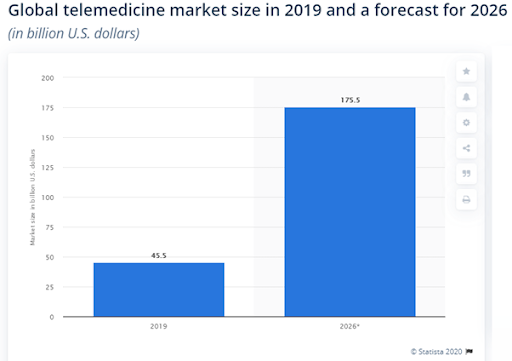 Source: Statista
In fact, telemedicine becomes the safety valve for edgy healthcare set up, when the pandemic restricts in-person visit to the physician. Providing utmost convenience, telemedicine software allows healthcare professionals to carry out appointments with patients online, either via a web browser or a mobile app. Popular Telemedicine apps like Amwell comes with a secure, intuitive, and integrated platform, where patients can avail the benefits of health insurance plans, EHR, telemedicine carts, alongside discussion
Appointment Scheduling
Booking software helps clinics, hospitals, as well as individual healthcare practitioners by streamlining the hassles of patient management. Appointment Scheduling platforms like Simplybook.me come with a patient panel, where one can schedule appointments via an app or website 24/7. On the other hand, hospitals, and clinics can also manage their appointments online without worrying about double bookings and no shows. Typically, scheduling software comes integrated with features like email notification system and automatic reminders for doctors and patients about upcoming appointments. According to a report published in the Daily Chronicle, scheduling software is going to witness staggering popularity in the new wave of healthcare innovation.
Medical Billing
Medical billing software is an integral part of the digital transformation in Healthcare. The market of medical billing software is expected to rise at a significant rate by next 2024. It seamlessly keeps a track of patient invoices, payments, and other financial operations that have so far been painstaking and manual. Top-notch billing software like Epic Care comes integrated with features like EHR, appointment scheduling, and more.
Field Force Management
Pharma sales are one of the important segments of the industry and with the recent digital wave, the scenario has changed completely. With a field force management tool in place, managing your field force is easier than ever. You can control multiple medical representatives and sales-people by connecting them with relevant leads, thus allowing them to close more leads without any hassles. It's more of a customer collaboration tool that allows stakeholders to access information, make queries, track progress, manage purchases, and approve tasks.
The Takeaway
"Mobile communications, the cloud, advanced analytics, and the IoT have already brought in disruptive innovation in Pharma. They transform the healthcare industry in the ways they have already transformed the media, retail, and banking industries so far", says Amit Singha, Leading Pharma Practice at INT. Over the past few years, INT. is taking a proactive role in the digital disruption in the Pharma industry, by partnering with the industry players and curating scalable digital solutions for them.
Subscribe to our Newsletter