back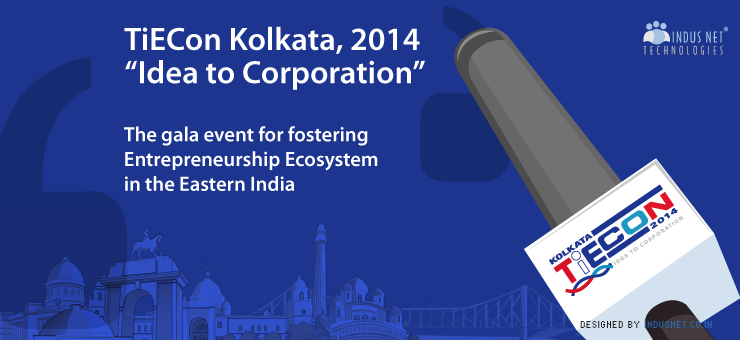 Events
Inside Indus Net
TiECon Kolkata, 2014 – "Idea to Corporation"
Kolkata, the capital city of West Bengal is all set to host yet another major event – Kolkata TiECon 2014. TiECon is the flagship event of TiE (The Indus Entrepreneurs), a global organization established in 1992 with the mission of fostering entrepreneurship worldwide. Aimed at creating, nurturing as well as encouraging the next generation of entrepreneurs of the state, this mega event will bring together some of the renowned thought leaders and industry veterans.
Scheduled to be held on 31st January, 2014 at Hotel Grand Oberoi, this daylong gala event is based on the theme "Idea to Corporation". With illustrious speakers like Chanda Zaveri, CEO Actiogen, Mr. Ashok Rao, CEO Excalibur Pictures and Chairman TiE Global USA, Mr. P.K Agarwal, CEO TiE Global and Deep Kalra, Owner, MakeMyTrip, the event comprises three major parts – "B2B Lounge", "Hot Pitch! Get Funded" and "Thought-provoking Panel Discussions".
Apart from Mr. Bikram Dasgupta, Founder & Executive Chairman Globsyn Group of Companies who is the President of TiE's Kolkata Chapter, there are a few personalities who are behind holding this mega branded event in the state of West Bengal. One of the most important among them is Mr. Abhishek Rungta, the Convenor of Kolkata TiECon 2014 & CEO of Indus Net Technologies.
There has always been a myth regarding West Bengal that this state of India is not a favorable location for entrepreneurship; and this is what Mr. Abhishek Rungta along with the President of TiE Kolkata wants to prove wrong. According to Mr. Rungta, "Kolkata is very much a hub of entrepreneurship; however, it is not marketed as one. There are several successful companies and they are doing great work. It is only an issue of perception. We are trying to create a buzzing eco-system, which will create positive energy and virtuous cycle of growth." In fact, his success as an entrepreneur and business strategist proves the prospect of entrepreneurship in West Bengal.
Speaking on the occasion he adds, "A unique facet of the Kolkata TiECon 2014 is its one-to-one mentoring approach – which pairs an experienced and successful entrepreneur with someone who is relatively new on the block – combined with a global platform which makes available the experience of a galaxy of successful entrepreneurs from the global TiE community to the mentee entrepreneur."
For more information and registration log on to www.kolkatatiecon.com
Subscribe to our Newsletter