back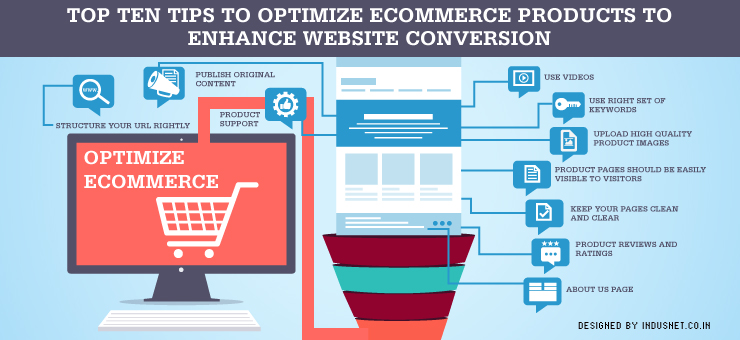 E-commerce
General
Top Ten Tips to Optimize eCommerce Products to Enhance Website Conversion
Marketers spend a lot of time and money in building their ecommerce website. But many out of them are unable to reap the benefits of their e-store. It is not that they lack product range or have unreasonable prices. The primary reason that turns of the visitors is bad experience. Bad experience can be in the form of poor customer support, poor navigation, lack of SEO tactics, unsmooth transaction process and various other harsh incidents.
Such incidences hamper the growth of the online business accompanied by low conversion rate. The job of the marketer is to work upon continuously to improve visitor experience. Similarly, optimization of products is a critical factor to enhance website conversion.
Product optimization improves the rating of your website and gives you significant ranking on the SERP. Marketers often fail to deal with this matter owing to unawareness and lack of understanding. This article will discuss ten important tips to optimize your ecommerce products.
1. Use right set of keywords
It is very easy for the marketer to write about his product description, technical details, additional information and miscellaneous details. Marketers can choose to write in whatever words they feel like. But it will not be useful from search engine and visitors point of view. Using a right set of keywords is part of website design and structure. Customers can find you only when you use optimal keywords.
Conduct a keyword research and find relevant phrases through tools like Google AdWords. Focus on the long-tail of keywords to get more specific about the words that best describe your products. Avoid using general keywords as visitors are unable to find you through them. Avoid stuffing keywords as well as it may attract penalty and relegate your ranking.
2. Publish original content
Don't ever commit a blunder of copying and pasting content from other websites. Despite similarity in products with your competitors, the product description should be your own. Write exciting and interesting product description that engages the visitors. Publishing duplicate content will again attract penalty. Apart from that, identify all pages of your website and create original content for each of them.
When a website grows big in size and the number of products being showcased is increased, it becomes extremely important to plan your content requirement. Before you publish content, take a look at what others are publishing. Keep reforming your product description from time to time when you make changes or add features. When you add new products to your store, make sure you don't so in a scurry. Take time to proofread and recheck before publishing rather than changing it again and again.
3. Structure your URL rightly
Correct URL structure is essential to get the search engine robots to find your web page. This will ensure smooth crawling and indexing of your pages. A structured and well classified URL will enhance the quality of your page and make it easier for the visitor to understand product categories, sub categories and the entire navigation system on your site.
If a visitor is impressed by the structuring technique used by you, they tend to stay for a longer duration. A longer duration in turn can result in conversion. Keep your products portfolio in a classified and precise form to generate a good URL.
4. Upload high quality product images
Customers love to see what they are going to buy. A bright, clear and high-quality product image plays a major role in influencing buying decision. Try to use the actual image of the product rather than a representative image to avoid disappointment at a later stage. It is important because you want the customers to repurchase from your website. Once you select the right image, the next step is to add relevant keywords into the ALT tags of your images. Keywords should appropriately match the image of the product.
5. Product pages should be easily visible to visitors
The basic idea of forming an e-store is to sell your products. Selling can be easier only when customers are able to locate your products on the website. Many marketers fail to place a link to their product pages on their home page resulting in poor sales. Highlight your product links as much as you can. Place them on other sections of the website as well.
Classify the links as top selling, new arrivals, favorites, all time best etc to help the visitors choose and like from what is available on your store. When you place your product links on other websites as part of your ad campaign, make sure customers land on the specific product page. It even makes it easier for search engines to find you easily.
6. Keep your pages clean and clear
A visitor should not feel suffocated on your website. You are here to sell. Emphasize on your products with as little text as possible at the storefront. Let the customer choose to view more details about the product. Don't use designs in the background that overpower the presence of the images. It is always better to use clean white space.
7. Product reviews and ratings
It is one of the most important factors that contribute towards selling. Once the purchase and delivery is done, request your customers to review your product and rate them after a week or so. Remind them through phone, SMS or email. Original reviews have a lot of credibility as compared to paid reviews. Highlight the images and quotes of happy customers on your front page.
Some marketers express a lot of concern over product reviews because rivals deliberately post bad product reviews to downgrade the market of your product. You have to act instantly and moderate your website to avoid misuse by them. Reviews should remain posted by customers who have genuinely expressed their dissatisfaction. Talk to your unhappy customers and address their concern.
8. About us page
The sole purpose of your e-store is to sell your products. But how do you infuse a sense of confidence in first-time customers to purchase from your website. About us page gives an opportunity to emphasize on what you sell, product range, product quality, product delivery and shipping services, and secure payment gateway.
Express the authenticity of your existence and service record. Share your USP and tell your customers how you are different from competitors. Also, talk about rewards, gifts and loyalty program taken up by your company. Assure your customers about the benefits promised by your company and that you offer the best value for the price.
9. Use videos
We have been only talking about images but videos play an equally important role in optimizing products to enhance website conversion. Upload short but high quality videos on your website showing your new products and its features. You can upload a video on how you receive orders and ship them. The information on chain of processes creates excitement among the consumers and they are likely to purchase from you.
Creating a high quality professional video does cost you some money, but it goes a long way to convert visitors. You can even request your customers to upload a video showing how they use your product and how it has helped them. Video testimony leaves a far stronger an effect as compared to pictures.
10. Product support
While customer service support helps the customers in choosing the product by providing missing information on the website, it also helps in answering their queries related to order tracking, after-sales support and product return. Product support goes far beyond that. If your product is complex, your customers may need technical clarity, understanding, how to use product guide.
Are your executives trained enough to support your visitors? Include live chat and phone number so that customers get instant support if they have any doubt while browsing through your products.
Conclusion
Optimization is a continuous process and as a marketer you should strive to improve it. Google changes it algorithm from time to time and marketers should stay updated about the best SEO practices.
E-store is not just about your products but about the customers interested to buy it. When you describe your products, make sure it strikes a chord with your target audience. Pay attention to your website design. Include different type of content for various stages of the buying cycle to increase conversion. Also, include FAQs to answer the most common questions of the visitors.
Subscribe to our Newsletter