back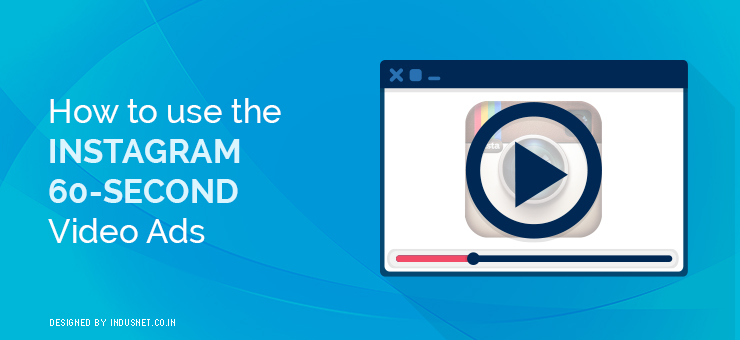 Digital Marketing
How to use the Instagram 60-Second Video Ads
It was only last year when Instagram fully opened its gateway to advertisers. This rapidly expanding photo and video application rolled out a suite of ad formats to serve advertising content to users.
Today, Instagram serves as the most powerful mobile advertising platform. The USP of advertising on Instagram is that it is least intrusive as compared with its contemporary platforms.
Instagram allows advertisers to market their product through static photo ads with embedded links, carousel ads where advertisers can rotate multiple photos in a single post, and video clips of up to 15 sec and recently up to 30 sec.
Instagram introduces 60-second video Ads
The new update allows marketers to add videos of up to 60 sec length. This move, that was long awaited, is welcomed by digital marketers and startups across the world.
This surely is a cautious approach to incorporate sponsored content keeping in mind users' convenience as a priority. Nevertheless, Instagram, owned by Facebook, hopes to improve its bottom line through this new feature.
What does this mean for digital marketers?
In a competitive advertising environment, every marketer is looking for the right spot. The new 60-second video ads will help businesses of all sizes to share their brand story in a much better manner with their Instagram audience. Advertisers are full of creative ideas and this new feature will further help them to advance their business goals and give them more flexibility of content creation to market their products.
[php snippet=1]
Instagram initially tested this feature with the T-Mobile USA, a leading wireless operator; by experimenting with extended version of its successful ad campaign "Super Bowl" starring musician "Drake", and Warner Bros that created a 60-sec trailer for its upcoming film "How to be Single".
It is interesting to note that 60-sec video ad is rolled out keeping in mind the length of an average commercial Ad. This will save advertisers from doing additional production work and expense. Besides that, it will give them more time to convey their message.
The following article shares how marketers and advertises can utilize this new update to their benefit.
Mobile video providers and marketers' approach towards mobile advertising
Marketers use various mobile video provider platforms like YouTube, Facebook, Twitter, Vine, Snapchat etc to share videos about products and company. All mobile video providers keep looking out for ways to generate more value for advertisers while causing minimum interruption to their users.
Since every mobile video provider follows a different approach to video ads; every platform requires a different production strategy to appeal to the target audience on that platform.
Instagram's challenge and marketers' opportunity
Marketers are fast shifting their advertisement spend from TV to digital media and Instagram is all set to soak up that trend.
Marketers need to customize content for Instagram
Ideally, users spend only few seconds to look at a photo on Instagram or occasionally 15 seconds to watch a video clip.
Many marketers use time lapse videos especially in a 15 seconds bracket. However, marketers realize that 15 seconds are too less to share a brand's story.
Looking forward, Instagram's elongated video ad will require marketers to work out different ideas to create interesting video content.
Smart marketers may create content that can be ubiquitously used on TV, Facebook or Instagram.
First few seconds are extremely important to grab user's attention
Video on Instagram is by default muted. Users are supposed to tap the screen for volume. Furthermore, they will prefer to watch it on mute especially when browsing at public places.
There is a clear signal for marketers that a first few seconds of video will matter a lot to grab user's attention.
Among this entire clamor, Instagram wants to be sure that they don't discourage marketers to produce content that is proprietary only for Instagram. This is the reason why Instagram allows landscape video ads which is similar to TV format.
Instagram algorithm to enhance user experience will aid video marketers
Instagram is working on an algorithm to display images and videos it thinks users want to see rather than follow a chronological order.
This algorithm will enhance user experience and show them content in order of their affinity for it.
It will diminish reliance on organic results.
This will help advertisers to reach a more targeted audience.
It will be necessary for brands to be selective about the content they post.
They will have to pay more attention to maintaining quality and relevance of content.
Interaction with branded content will improve and businesses can have a strong presence across the platform.
Marketers will get an opportunity to stay relevant in time-sensitive events amidst ever-updating feed.
Other initiatives by Instagram
Instagram launched a premier product named as Marquee. This product is specifically designers to help brands drive mass awareness and have expanded reach in a short period of time. This would be ideal for event promotion like movie premiers or new product launch.
Instagram is also testing 3D Touch ads.
Advertisers will also be able to track the number of views on their video apart from usual likes and comments.
Time will test the success of 60-second video Ads on Instagram
Since it is a new feature, it depends whether users will be comfortable to watch long ads on Instagram. Long ads could be boring and visitors can simply scroll past them after a few seconds. Apart from that, Instagram may look a little more commercial than before.
This feature is only applicable to advertisers whereas normal users can upload only up to 15 sec video.
It is yet to be seen how brands utilize video ads on Instagram if they do. Many advertising agencies are still skeptical about the success of video advertising on Instagram. A lot will depend on the evolution of users' behavior on Instagram. Would they like to stop often and watch longer videos? Do they still consider short videos more engaging? Are companies able to engage more visitors and generate more revenue by investing in long videos?
Subscribe to our Newsletter