back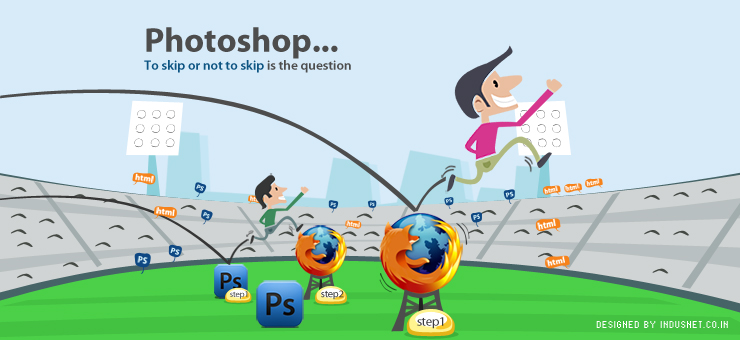 Design
Inside Indus Net
Reviews
Technology
Web design
Photoshop: To Skip or Not to Skip?
Web designers can be roughly classified into two groups:
The first group chooses to translate ideas and sketches into Photoshop, and then design the website in HTML and CSS.
The second group directly dives into HTML and CSS by skipping the option of working with Photoshop.
There are arguments to support both the choices and it is difficult to conclude which could be a better way to design websites. In truth, each client must be considered individually and depending on the kind of project that the designer has to tackle, an appropriate method can be chosen.
Why Skipping Photoshop May Be Necessary
Web designers who choose to directly work with HTML and CSS after initial sketches do so successfully, and have several arguments to back their decision.
Photoshop Is Static
A Photoshop mock-up is static, and can't easily be edited, updated and changed as and when it may be required. One would have to make changes to the original Photoshop file, and then upload the file through FTP servers in order to make the changes available real time. A website that has been designed entirely in HTML and CSS can be edited and changed very easily.
In a content-rich world where one uses a lot of text, using HTML and CSS could be a better way to design websites than diving into the complex world that Photoshop presents us with. Working with typography is always easier on an HTML website.
Photoshop Is Complex

HTML and CSS based websites are minimalistic in nature and are best suited for those websites that are text-heavy and dynamic. Websites that use only HTML and CS allow more interactivity and team-work. It is easy for coders and web designers to maintain sites that make use of only HTML as codes can be written, rewritten or altered in a matter of seconds to minutes. HTML websites also allow for more accurate feedback instantly.
Using Photoshop Always May Not Be Economical
Content-driven websites rely heavily upon linking, and it is not possible to link Photoshop mock-ups as easily as HTML-based websites can be. Photoshop gives prominence to details and production of a website, and can be very important when designing feature-rich websites that incorporate layers, textures, colours and designs. However, much time and effort, and valuable money is spent unnecessarily when web designers choose to work with Photoshop and then use HTML and CSS.
HTML and CSS Are Simple, Interactive and Easy to Edit

Thus, by skipping Photoshop web designers can make sure that the websites are more interactive in nature and that they are text-friendly. Making changes to the layout, editing, and reformatting websites can be extremely easy when one chooses to work with HTML and CSS. HTML and CSS websites provide the simplicity that many clients have begun to love, and there is nothing wrong with websites that are not complex to handle.
Sometimes, Photoshop Can't Be Skipped

At the same time, one cannot dismiss Photoshop. It offers the most complex and most detailed tools to design static pages, and layouts which are simply not possible with HTML and CSS. The minimalism and simplicity that HTML and CSS offer may not be well-suited for websites that require rich-graphics, colors and images.
Thus, Photoshop-based websites are better suited when clients specifically require feature-rich websites that are eye-candy. Using Photoshop is very important while designing websites for fashion, luxury, entertainment and art. Though web designers stand to save time and effort when they choose to use only HTML and CSS, but such websites are best suited for clients who need webpage that are text-driven, and seek minimalist and simplistic layouts.
Skipping or Not Skipping Photoshop Depends on the Context
At the end of the day, skipping Photoshop or relying heavily upon it are not mutually exclusive. Regardless of what web designers prefer using, it is important to be at ease with designing websites that do not need Photoshop, and also that which need this wonderful tool.
It is as simple as assuming that certain kinds of websites do better with Photoshop and certain kinds of websites just do not need it. Depending on the context, content, target audience and maintenance goals of a website, the choice of skipping or not skipping Photoshop must be made.
This article has been contributed by the Indus Net Technologies Web Design team, based on experience of few team members, while they produced websites for our numerous clients.
Subscribe to our Newsletter