back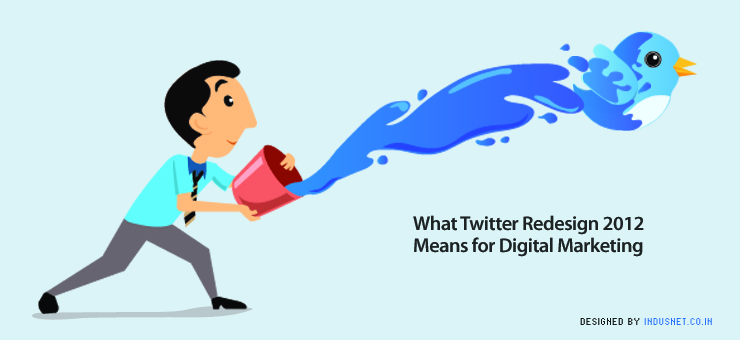 Digital Marketing
Marketing
What Twitter Redesign 2012 Means for Digital Marketing
Just a few weeks ago, Twitter completely redesigned the way its users' profiles look. The redesign places more emphasis on photographs and personalization. In fact, it reminds users of a possibility that twitter is trying to look like Facebook in a subtle way, yet emphasizing the niche it has already carved out for itself. The redesign is great and it supports digital marketing in a positive manner. In fact, redesigned Twitter gives companies and individuals more space to reveal more about what they do, who they are and what they look like.
What is in Store in the Twitter Redesign
The new Twitter design was announced on the 18th of September, in a blog post titled "Because You Have More to Show". This certainly suggests that twitter is trying to help companies and businesses to customize their Twitter profiles more efficiently than ever. The single-most striking feature is the all new header photo for iPad, iPhone, Android Twitter apps and also for its browser version.
The image that is set as the all-new header photo will appear each time someone views your company's profile on the apps or the browser. The new header photo can easily be uploaded from any app or even from a computer. It gives more real estate to twitter users. User information can be read by swiping the touchscreen or tap a thumbnail to view images in full screen. An additional 'background photo' complements your header and profile photos. Twitter claims that this redesign will make users presence on twitter more meaningful.
How Companies Can Adapt to Changes
Earlier, most companies has just one profile picture to display and they used the rest of the screen to personalize their profiles. The area outside the profile box can still be used to highlight information about your company, products and services. However, the updated Twitter profile also allows you to upload a header photo, which can be optimized to suit your business. In fact, it is good practice to keep your profile picture consistent and change your header photo often. Your profile picture is the picture that appears next to each of your tweets and the header photo appears on your profile page, similar to the banner photo on Facebook.
Reveal your Human Side
By changing header photo often, a company can give hint to news, updates, events and achievements. In fact, by changing a picture when there was a team outing or an office party, a company can display its more humane side. There is nothing more exciting than giving a closer look to what is happening behind the scenes. Twitter followers can instantly surmise that your company is not all about the products and services that you offer, but that you also have a unique lifestyle that matches the quality of products and services you offer.
Feature New Products and Services
Sometimes, it may be a good idea to change the header photo to reveal a product or service, if it has been launched newly. The header photo can reveal information about a new product to your followers that looks exciting. By changing the header photo each time you have a new product or service, you can utilize this screen real estate to prominently promote your product and services.
Communicate with Followers and Visitors to your Twitter Profile
Another way of using the header photo is to ask questions, communicate directly with who visits your profile. If you have upgrades for a software program or if you are offering a discount for a certain service, you can display that in an image after playing with fonts. There is nothing more promotional than having a text image that loudly tells visitors what they should be doing.
The best part about the header photo is that your twitter practices and habits do not have to change. It is an added feature that can be optimized to suit your business' needs. Depending on how creative you are and how imaginatively you can utilize this space, you will be able to optimize and promote your products and services on Twitter better than ever before. Probably it is time to get your designers to start working on images and header photos that can be rotated occasionally or if you would like to change them randomly and surprise your followers, that is a good idea too.
Subscribe to our Newsletter