back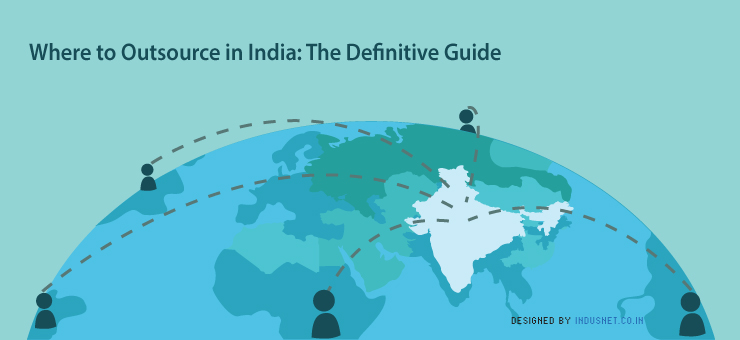 Offshore outsourcing
Where to Outsource in India: The Definitive Guide
When global outsourcers found the pristine market of India their elation was similar to that of a girl who finds a new flea market in her neighborhood that offers everything that she wants. It is safe to say that India has pioneered in business processes outsourcing services and has retained this position for the past few years.
The outsourcing industry has been able to tap the huge potential offered by this country and has increased multifold since its inception in the early 1980s. Emergence of this country as the number one outsourcing destination is due to the availability of much talented work force at a fairly less cost, the cost-factor attracts the European and US outsourcing companies like bees to honey.
Outsourcing industry in India
The outsourcing industry in India has remained unperturbed even during severe banking and financial crisis, this speaks volumes about the market's potential and has given this country an edge over other upcoming outsourcing destinations in the world like China, Malaysia and Ireland. India's market may have a lot to offer to the outsourcing industry, but not all cities in this country can be considered hotspots for outsourcing.
It is extremely important for the outsourcers to review the market conditions of the city where they plan to outsource their business processes, especially in a country like India where cities are widely diverse and culturally different from one another. Most of the tier 1 cities in India play good host to the outsourcing industry , but there are few Tier 2 cities which have proved to be the upcoming outsourcing destinations.  Here is a comprehensive list of all the cities in India, which outsourcing companies see fit for outsourcing.
Glitzy and Glamorous Mumbai
Mumbai, also touted as the financial capital of the country, has all that it takes for a city to qualify for the title of being an outstanding outsourcing destination. It is the capital of the state of Maharashtra and was formerly known as Bombay. The city has the highest GDP among Indian cities and more than 23 million people live in and around its suburbs.
What sets Mumbai apart from other Indian cities is the sheer number of unemployed graduates who come to the city looking for jobs. They usually possess technical degrees from the Indian hinterland and are great to employ, as they are willing to work hard and build careers. The city's infrastructure is creaking under its weight and it experiences problems related to overcrowding, flooding during the monsoons and a perennial problem of traffic jams.
Green and Spacious Delhi
New Delhi is the political capital of India and is part of the larger Delhi NCR metropolitan area. It consists of Gurgaon, Noida, Faridabad, Ghaziabad and Greater Noida, all of which are hot destinations for western companies looking to open offshore offices. The rentals can be a tad expensive but that is made up for by the good infrastructure.
Being the capital of the country, Delhi boasts of vast green spaces, broad roads and an excellent public infrastructure which is considered the best in India. English is not commonly spoken and it may be difficult to find technical graduates who speak fluent English. That is one of the downsides of the Indian capital;. However, there is also a larger migrant population which speaks English, especially because of a spurt of offices in and around Gurgaon.
Quaint and Cultural Kolkata
India's third largest city and former capital, Kolkata (or Calcutta, as it is alternatively known) is an important outsourcing destination. The city has good infrastructure, a large talent pool of English speaking graduates and a working culture that is international in nature. In fact, our head office is located in Kolkata and we can swear by its advantages.
There are of course disadvantages like political rallies and terrible jams but almost every Indian city has these problems. Calcutta is also known as India's capital of culture.  A number of writers in English originate from Calcutta. The government has been proactive in helping corporations to set up IT businesses in and around Calcutta.
Southern Metropolis of Chennai
The southern metropolis of Chennai is known for its educational institutions and their quality. Madras Christian College, Loyola College and others have often been described as the best institutions in the country. It's no surprise then, that a lot of outsourcing offices and companies are located in Chennai. The city was earlier known as Madras and was one of the most important cities of Colonial India. Today, the city is home to a diverse group of IT professionals and engineers who work in many of the city's companies. If you were wondering where to outsource in India, Chennai is probably one of the cities that you must look at. Some of the disadvantages of the city are its humid and hot climate. However, that should not be a concern as much of India is hot and humid anyway.
Silicon Valley of India, Bangalore
The silicon valley of India is home to most of the software and biotechnology companies in the country. Much of its workforce comes from all parts of the country and it thus the most cosmopolitan city in India. The country's lingual franca is English and almost everyone speaks some amount of English. This is one of the reasons why call centers and customer service offices are stations in Bangalore.
Moreover, the city's pleasant climate which is neither too hot nor never too cold, appeals to people who might want to cut costs on heating and cooling. Bangalore is also home to a number of technical and liberal arts educational institutions. The Indian Institute of Science and other research institutes often bring out the best in Indian research publications.
Added to this, the cost of living is significantly lower than Mumbai or Delhi and that helps to mitigate overall costs as well. However, the city experiences a number of problems such as overcrowding, lack of infrastructure and increased domestic migration.
City of Nawabs, Hyderabad
The sixth of India gained prominence in the 1990s when a number of pharmaceutical and gene therapy companies set up their labs. The city is now one of the most important outsourcing destinations in India thanks to its business friendly atmosphere and a sizeable professional population. Hyderabad attracts migrants from other parts of the country and is a great place to find offshore employees. The city is a good option for outsourcing IT and biotech related work. There are a number of R&D organizations as well, which help the city to innovate.
Affordable Tier-II cities in India
Apart from these 6 cities, there are a number of Tier-2 cities, as they are known in India, which are good and affordable options as well. Some of these cities include Pune, Bhubaneswar, Dehradun and the tiny state of Goa. Each of these cities has a good number of English speaking professionals. The low cost of living and a lack of political instability help these cities to be great offshoring destinations. Pune for instance is known for its great climate and educational institutions. The city is home to a number of software companies. Dehradun on the other hand is rising as a call center destination thanks to low living costs.
Choose what you need and prioritize
At the end of the company, companies must choose their outsourcing destinations depending on their own needs. It does not make sense to outsource to a company that is headquartered in Mumbai if all that one wants is a website built. For something like that, a company in Kolkata or Bangalore is a better option because they tend to be more affordable.
Again, one must consider renting options, cost of living, level of English that is generally spoken in the city and a host of other factors that an outsourcing agent will be able to guide you better with. India can be a very complex and a confusing place. However, when one does a little research and prioritizes what they need, they will be able to not only cut costs but also find outsourcing companies that are highly innovative, talented and great to work with.
At the end of the day, you must understand that there is nothing more important than making sure that your ROI is impressive. That can only happen when you choose the right country and the right destination within that country.
Subscribe to our Newsletter